Serving industries of all types and sizes.
We may be one of the country's top manufacturers of high-caliber, self-service kiosks, but we pride ourselves on being agile and versatile enough to adapt to a variety of different industries, as well as customers both large and small. It's this dedication to service that has helped us become one of the country's top manufacturers of self-service kiosks.
Our project managers and our network of more than 2,500 field technicians help make the installation of your kiosks easy. We handle logistics, timing, site survey, site prep, and installation services across the U.S., Canada and Mexico.
Pre-installation
In order to streamline turnaround time, Olea technicians visit each location prior to the scheduled installation to assess the environment and determine the readiness of each site. While on location, the technicians complete a readiness checklist, take digital photos, and coordinate with onsite contacts and other service providers. The information collected is cataloged in a report and shared with you.
Test and Turn-up
Olea provides test and turn-up services for our kiosks throughout North America and Europe. Typically, test and turn-up services include:
WAN ping tests and NOC confirmation
LAN connectivity testing
Unpacking, installation and/or securing in place and cleanup
Equipment connectivity testing (kiosk, digital signage, etc.)
Dial-up and circuit connectivity verification
Preventative Maintenance (PM)
Olea can provide system maintenance services to extend the life of your equipment as well as reduce reactive service requests, which can result in increased service costs. By scheduling preventative kiosk system maintenance visits, you can proactively reduce potential problems that may require immediate attention at a higher service rate.
Onsite service can be one of the most crucial decisions you make with a kiosk deployment of any size. Depending on the type of warranty you chose at the time of placing your order, your kiosk can include an onsite tech service agreement. This means if a part needs to be replaced on your kiosk, a field technician will be deployed with a replacement part to your kiosks site.
Quick Resolution Our network of more than 2,500 field technicians means we are standing by, ready to repair a kiosk anywhere in the U.S., Canada and Mexico. All it takes is a phone call to 800.927.8063 to speak with our service desk. Our talented technicians can typically assess an issue within 10 minutes or less, resulting in a repair by phone 90% of the time.
Tech by the Hour If you have decided to purchase a kiosk with a standard warranty or your warranty has expired, you still have the option to have Olea deploy a field technician at an hourly rate. Please contact your Olea customer service specialist for pricing and details.
1-Year Basic Warranty
Olea Kiosks® Inc., Inc. hereby warrants that each component manufactured or supplied directly by Olea will be free of defects in material and workmanship for a period of one (1) year following the date of invoice or shipment, whichever occurs first (the "Warranty Period"). Any product invoiced but not shipped will have its Warranty Period started as of that date.
During the Warranty Period, Customer shall return defective parts to Olea at Customer's expense. Olea shall repair or replace any defective component within thirty (30) days of receipt, at Olea's expense, including all return shipping expenses. Notwithstanding the foregoing, this warranty shall include, without limitation, all metal and plastic parts, fabrications, and formations whether or not a warranty is provided by the manufacturer, subcontractor, or supplier thereof. Olea does not warrant any component supplied by customer or its suppliers. Olea's warranty may be voided by misuse, accident, modification, unsuitable physical or operating environment, improper maintenance by Customer or Customer's service organizations, removal or alteration of part identification, or failure caused by a product for which Olea is not responsible.
1 Year Warranty With Advance Replacement and 48 hours Tech on Site
As an additional upgrade from the Basic Warranty, the Advance Replacement and 48 hours Tech on Site Warranty provides for a qualified service technician to be on site and repair/replace the defective component. This decreases the repair time of the components from 30+ days to 3-7 business days and adds service personnel to complete the repair.
3-Year Basic Warranty Same as basic warranty but for 3 years
3 Year Basic with Advance Replacement 3-year term with Advance Replacement components to decrease downtime
3 Year Warranty with Advance Replacement and 48 hours Tech on Site Extended Advance Replacement with technician on site for repairs – our longest most comprehensive warranty available
The ability to login to a kiosk from a remote location is one of the many benefits of deploying a kiosk. Olea offers kiosk monitoring software that will allow you to remotely login to your kiosk for repairs and updates, or have your kiosk notify you of any issues. Items like low printer paper, a paper jam, or a full bill acceptor are just a few examples of the items that can be remotely monitored and managed.
ADA compliance is not just a nice option to have. It's the law. In fact, if your kiosk is out of compliance with the ADA standards, you could be fined. Olea designs and produces kiosks for two types of ADA compliance: the 2010 ADA Standards for Accessible Design and the ADA 508, which is a requirement if your company is purchasing and deploying a kiosk for the government or are using federal government funds. Please note, standard ADA compliance requires that any item the user needs to make the kiosk function be no higher than 48 inches off the ground. This applies to a touch screen and any other components, such as card readers or telephone handsets.
Sideways and Forward Approach (Figure A.):
The diagram shows that the same 48" height rule applies to either sideways or forward approach. Other rules also come into play when installing your kiosk. You can read the ADA standards document here: http://www.ada.gov/2010ADAstandards_index.htm or call and speak to an Olea Kiosk specialist about ADA.
Wall Mounted Kiosks (Figure B.):
In addition to the 48" maximum height as described above, a wall mount kiosk cannot exceed 4" in depth.
ADA 508 (Figure C.):
Unlike standard ADA, ADA 508 notes that any item on the kiosk that the user has to touch in order to interact with it should not exceed 54" in height for a sideways approach. It does however have stipulations for software layout and hardware configurations that allow the hearing and vision impaired to use the kiosk as well. For more information on ADA 508 please contact your Olea Kiosks® Inc. specialist or visit http://www.ada.gov/508/index.html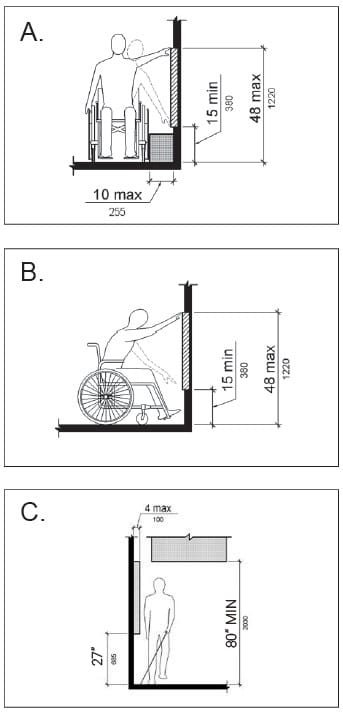 Oftentimes, organizations that are placing self-service kiosks or other technologies within their facilities are required to have UL, CE, and FCC certification. Most times, we see this as a requirement for healthcare, self-service, government, airport, and outdoor kiosks as well as kiosks for larger retailers. The good news is, all of the standard kiosk solutions we design and manufacture are built to UL standards. Each certifying agency has its own set of tests and requirements, but in general they are looking to ensure electrical and fire safety. Beyond that, each group tests things like radio interference, tip resistance, physical safety, and in the case of outdoor kiosks, the ability to endure the elements. Because of all these unique tests, Olea offers UL, cUL, CE, CSA, FCC, TUV and ETL testing services for all the kiosks we manufacture.
Olea's internal process puts an emphasis on everything from design and engineering to manufacturing, shipping, and support to produce the best quality kiosk possible. But a developed process means nothing if the design is subpar and there are mediocre expectations of the final outcome. Being a legacy of master craftsmen, the Olea family doesn't tolerate poor quality products. In this spirit, Olea kiosks are built on the foundation of fine details and expert craftsmanship. Kiosks have changed greatly in the past 15 to 20 years, which is why we are constantly improving and adjusting our process to meet the demands of an ever-changing market. To boldly face the challenges and technological advances to come requires a forward-thinking company with a proven history of industry success.
As a company that has been manufacturing domestically for more than 40 years, we have seen firsthand the detrimental impact to our economy of off-shoring jobs and buying from overseas companies. By manufacturing our products in the U.S., Olea is a steady supplier of well-paying jobs in engineering, design, maintenance, assembly, welding, and painting.
Buying American is the Right Choice
Buying American is the right choice for our economy and the smart choice from a business perspective. We can deliver a customized standard kiosk in as little as two weeks to our customers. Our kiosks don't have to travel six weeks by boat. Fast deployment counters the rising fuel costs that are only increasing by the day. Additionally, if your kiosk ever needs service, you can call a company in the U.S. that has the parts, knowledge and expertise to get you back up and running on a much shorter time frame.
Invested in the Next Generation
As invested members of our community, the last three generations of Olea have worked closely with local schools and community leaders to promote the trades and educate the future generation of the benefits and opportunities of manufacturing in the U.S.
Please fill out the form for an immediate consultation or a quote. Tell us about your application, project scope and requirements and we will contact you as quickly as we can. Or give us a call!
13845 Artesia Blvd.
Cerritos, California 90703
800 927 8063
562 924 2644
[email protected]
Manufactured in the USA
Olea Kiosks Inc.
Olea Kiosks Inc.
Olea Kiosks Inc.
13845 Artesia Blvd.

Cerritos

,

California

90703
p: 800 927 8063
p: 562 924 2644
[email protected]
Manufactured in the USA [related-links][the_application_list]