Benefits of self-service payment kiosks:
Ability to accept all forms of bill payments, including cash or credit and debit cards
Simplify cash transactions
Solve the problem of collecting bill payments from people who do not have debit or credit cards or a bank account
Increase revenue
Lower labor costs
Enhanced customer satisfaction
Why Choose Olea Self-Service Payment Kiosks?
Today's consumers are more self-sufficient than ever; they want to handle their financial transactions on their own time, in their own way. Some are underbanked or unbanked, which means they must have alternative options to pay bills that do not involve a bank account or credit or debit card. Self-service kiosks from Olea bring a focus on inclusivity and accessibility, enabling you to meet all of your customers' payment needs—no matter their bank status or financial situation.
Your business's digital transformation in payment collection is no longer optional—it's mandatory to keep up with consumer expectations and the competition. Failure to offer secure, convenient self-service payment options may lead to non-payment, collection costs, or the risk of pushing customers away to competitors. With our secure bill payment kiosk solutions, you can ensure your business is inclusive and competitive while collecting bill payments in a timely fashion and boosting your bottom line.
Most Common Kiosk Uses for Bill Payment
Olea's secure bill payment kiosks solutions remove potential barriers that often keep customers from paying their bills and performing other transactions. Deploying these solutions will help you deepen customer relationships, attract new customers, and improve the bill payments collection experience.
Some of the most common purposes for bill payment kiosks include:
Municipal and State Government Offices
Utilities
Child Support Payments
Insurance Offices
Buy Here/Pay Here Auto Dealerships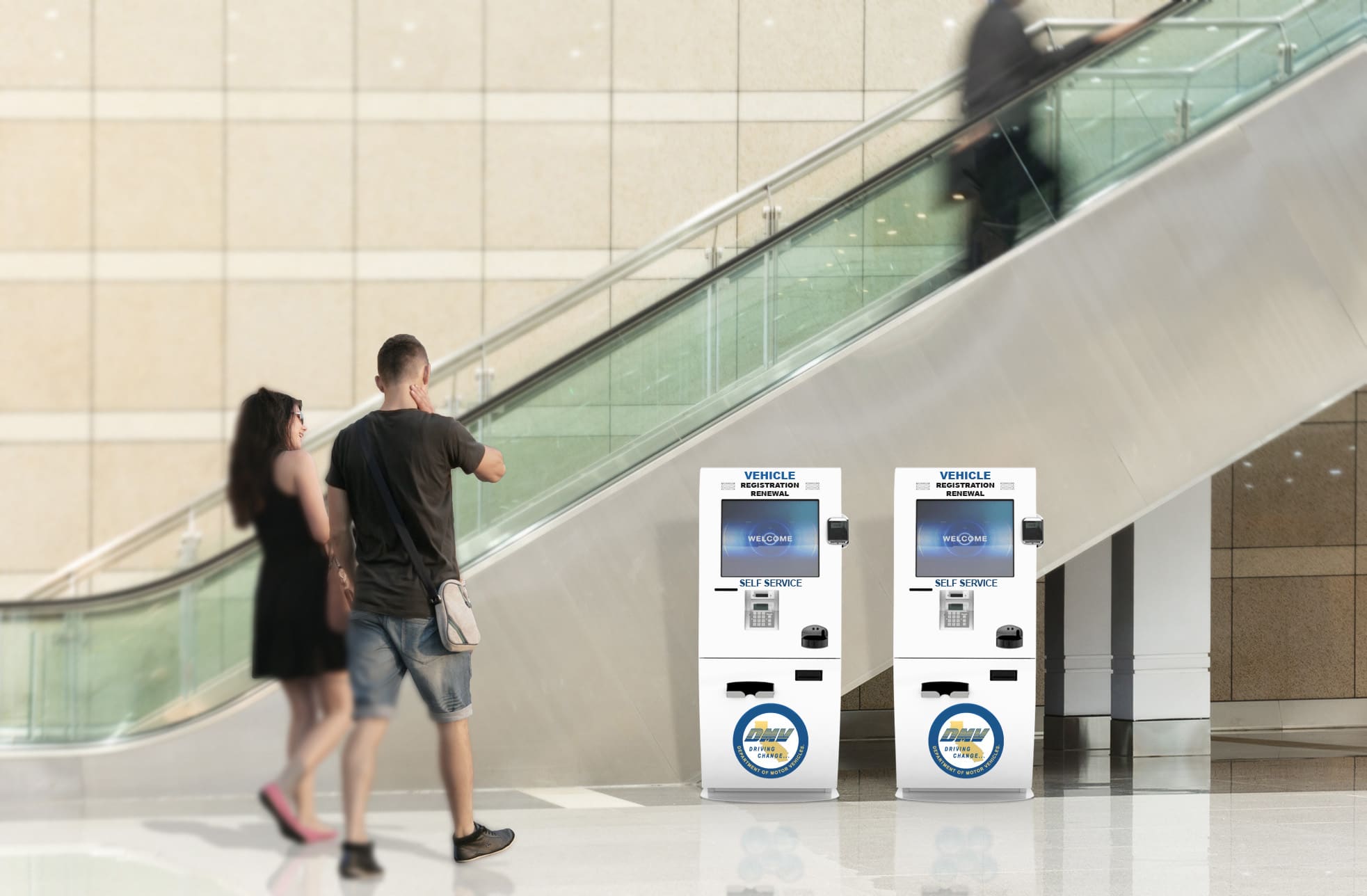 v
When you turn to Olea for your kiosk solution, you can choose from various unit sizes and types, including indoor, outdoor, desk-top, and thru-wall kiosks. In addition, we offer customization so you can get exactly what you want from your bill payment kiosk. Accept cash just as easily as you accept debit or credit cards.
Municipal and State Government Offices
Residents enjoy the convenience of self-service when it comes to paying taxes, permit fees, fines, and other fees.  While full-service operating hours may be limited to 9 a.m. to 5 p.m., access to these offices is frequently 24 hours so the flexibility to deliver convenience with cash-accepting kiosks is appreciated.
Traffic or Parking Fines
Give residents the ultimate convenience when it comes to paying traffic and parking fines with self-service bill payment kiosks. With 24X7 access and cash-accepting capabilities, secure kiosks allow users to pay when and how it works for their lifestyles and budgets.
Building Permits
Using kiosks for building permit payments frees up your employees for higher-value tasks. Residents will appreciate the opportunity to pay when and how it is convenient for them—no need to deal with long lines or face-to-face contact.
Property Tax
Streamline property tax payments with a state-of-the-art kiosk that saves your residents time and hassle. They can pay when convenient for them and with the payment form of their choice. It's all about creating an accessible, inclusive bill payment option to serve every resident.
Department of Motor Vehicles
The DMV is often a challenging location to get to and within their service hour window.  When self-service kiosks are available in their offices and other locations throughout the community, users appreciate that level of convenience.
Courtrooms
Placing a payment kiosk directly outside the courtroom is a great way to encourage payment of citations when they happen. Convenience will help to deliver a better rate of compliance and revenue.
Utility Payments
More and more utility companies use bill payment kiosks to reduce manual counting and cash payment handling. With built-in ID readers, Olea's bill payment kiosks can scan a driver's license and capture all the relevant data as it processes payments in cash or via other payment methods.
Child Support Payments
Make it easy for parents to make child support payments with a dedicated bill payment kiosk. In-person payment options that accept cash break down barriers that some parents may encounter when they don't have a bank account or debit or credit card. Users can pay 24/7 with cash or their payment of choice.
Kiosks for Insurance
Bill payment kiosks allow insurance offices to deliver additional convenience and flexible payment options with solutions that accept co-payments and deductibles in cash, credit, debit, or via check.
Auto Dealerships
Cashiering kiosks at Buy Here Pay Here and franchise auto dealerships are very common. These turn-key solutions accept cash, make change, and also accept credit cards, debit cards, and checks for the greatest convenience.
Enhanced Privacy for Users with a Bill Payment Kiosk
When paying bills, privacy and security are crucial. Being able to pay bills at a secure self-service kiosk gives customers the experience and flexibility they desire. Olea's bill payment kiosks streamline the process, so your customers can pay bills quickly and go on their way, even if they don't have a debit or credit card. No need for long lines, paperwork, or interactions with staff. The simple and consistent process puts customers' minds at ease and makes paying bills less stressful.
Choose from Pre-Designed Kiosk Configurations
The Franklin Bill Payment Kiosk from Olea is one of the most modular and versatile kiosk solutions available. It is small, secure, and designed to handle payments and transactions of any kind. The kiosk comes in several configurations, which means you can customize it to meet your needs. Plus, the team at Olea understands how kiosks help to create an omni-channel experience so they can help you make your kiosk deployment fit your scenario.
With the ability to accept and dispense dollars, dispense coins, read checks, and take credit and debit card payments, the Franklin kiosk brings essential digital transformation to your bill payment process.
How Secure Kiosks Benefit Customers and Your Business
Olea's bill payment kiosks feature the latest hardware solutions and technology to engage your customers, streamline payment processes, and get more value out of each customer transaction without the need for dedicated staff.
With a secure bill payment kiosk, you can accept payments 24-hours a day, seven days a week. As a result, your business gets paid, and your customers appreciate the flexibility and convenience that helps them feel in control of their finances.
Take Your Customer Experience to the Next Level with Bill Payment Kiosks
Today's businesses are always looking for ways to outperform their competitors. Offering secure bill payment kiosks is a way to level up your transactions and services. With a bill payment kiosk from Olea, you can offer a streamlined, modern payment option that makes your customers' lives a little bit easier.
At Olea, our experts think about every detail to enhance your customer's experience—from kiosk placement and design to user-friendly devices. Count on us to deliver complete kiosk solutions with the highest quality hardware to give your business an optimal outcome.
Achieve a Seamless Customer Journey with Secure Bill Payment Kiosks
Your customer's journey should be as smooth as possible. To deliver that ideal experience, you need a bill payment kiosk that is simple. Too many options or buttons can be overwhelming and frustrating. At Olea, we understand what your customers want and design your kiosk solution accordingly.
Our kiosk experts will:
Help you choose the perfect kiosk placement.
Give you robust, reliable kiosk hardware and software recommendations.
Minimize kiosk downtime with high-quality devices and remote repair services.
Ensure your kiosk performs secure transactions accessible to all customers
Facilitate an optimal user experience from start to finish.
Bill Payment Kiosks to Match Your Brand
Whether you want a standard bill payment kiosk design or need customization to boost your business brand, Olea provides the right solutions.
Count on Olea for unparalleled craftsmanship that will give you a bill payment kiosk to exceed your expectations and give your customers an optimal experience.
If you would like to learn more about how Olea Kiosks® can help you change the dynamic of collecting payments and other transactions with our secure bill payment kiosk solutions, contact us today for a consultation.
Please fill out the form for an immediate consultation or a quote. Tell us about your application, project scope and requirements and we will contact you as quickly as we can. Or give us a call!
13845 Artesia Blvd.
Cerritos, California 90703
800 927 8063
562 924 2644
[email protected]
Manufactured in the USA