There's an old saying that goes something along the lines of "If you don't know where you've come from, you don't know where you're going." We've come a long way in our history here at Olea Kiosks, but with so many good things happening lately we thought it would be a good time to step back and take a quick look at our history.
Olea has always been about bringing our customers' ideas to life, and that passion began in 1975 when master carpenter Fernando Olea and his sons Rene and Mark began designing, engineering and producing furniture, cabinetry, display exhibits and commissioned works of art in a small, rented RV garage in Downey, Calif.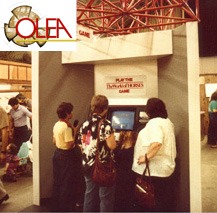 Between 1977 and 1986 the company grew and flourished. Olea extended its services across a multitude of industries, including a full-scale educational children's exhibit at the Museum of Science and Industry in Los Angeles that is still in use today.
In 1983, Olea built the first kiosk in company history for the Los Angeles County Fair. In 1993 Rene Olea's son Frank Olea came on board and under his own ambition became the main product developer for the new Olea kiosk division. The kiosk division experienced consistent growth under Frank's advisement and became the primary focus for the company in 2003.
Nearly 45 years after those humble beginnings Olea Kiosks remains a family-owned and operated company. We've expanded from that rented garage to our current state-of-the-art, vertically integrated design and manufacturing facility in Cerritos, Calif., but we continue to be driven by our founder's innovative spirit, with an old-fashioned commitment to quality, craftsmanship, and service. We continue to push the limits of kiosk design, using our curiosity and intuition to find new self-service solutions that create a lasting impact for our customers.
Olea Kiosks, Inc. Today
Olea employs some of the most talented designers, engineers, and metal craftsmen in the global kiosk industry. The company's full range of offerings include consulting services, industrial design, creative consulting and graphic creation, mechanical engineering, as well as OEM manufacturing and more. Controlling all phases of the project in-house allows Olea to control quality, pricing and delivery.
Today, Olea's kiosks fulfill multiple roles in a variety of verticals including gaming, loyalty, hotel self-check in, wayfinding, food and beverage purchases and more. The company's customer list includes companies such as Nike, Kaiser Permanente, Sephora, Venetian Casinos, FedEx and Fred Meyer. We design and produce kiosks for markets around the world, serving industries including retail, government, healthcare, hospitality, human resources, financial services, ticketing and access control.
In a testament to Olea's commitment to excellence, earlier this year consulting firm Frost & Sullivan recognized Olea with its 2019 Customer Value Leadership Award for the company's kiosk manufacturing and focus on designs for outdoor use. Frost & Sullivan evaluated Olea in two main areas: Customer Ownership Experience and Customer Service Experience. 
"Self-service kiosks in demanding environments, such as outdoor locations, face performance and frequent maintenance challenges," said Nandini Bhattacharya, Industry Manager, with Frost & Sullivan.
"With its superior product design knowledge and expertise, Olea has virtually eliminated outdoor maintenance issues for its clients," Bhattacharya said. "Such high levels of customer satisfaction have resulted in more than 400 Olea-built drive-thru kiosks installed across the United States, with more to come."
And recently, Olea introduced its Franklin Payment Kiosk as the newest addition to its self-service lineup to cater to industries that still have a high number of cash-paying customers. The Franklin Bill Pay kiosk has the ability to accept and dispense dollar bills, dispense coins, read checks and take credit card payments.  
Because it's a modular solution, the Franklin can be customized in several pre-designed configurations, making it easy to deploy in situations where time is of the essence. The unit can be equipped with several different models of bill acceptors and dispensers, which ensures compatibility with most existing software applications."
"In the past, cash-handling kiosks were very costly to deploy, but with this solution, we've implemented some standardizations which makes complete self-service operation attainable," said Frank Olea.
Four generations and tens of thousands of kiosks later, we're primed to help your business step into the world of self-service. One single philosophy has driven Olea Kiosks over the years: "Redefining Self-Service Technology"
Have a kiosk project in mind and need a partner to help make that vision a success? Olea Kiosks, with almost 50 years of expert experience, can help you succeed.
To find out more about Olea Kiosks, call us at 800.927.8063 or email us at [email protected].