Arizona's Department of Transportation (ADOT) is proud to announce that it has received the 2014 Public Affairs and Consumer Education (PACE) award. This award was given as praise for ADOT's self-service kiosk program that is being utilized in locations across the state. These kiosks improve efficiency and the customer experience by streamlining a variety of the ADOT processes such as vehicle registration and license renewal.
The ADOT self-service kiosk program consists of 20 kiosks customized kiosks developed and deployed by Olea Kiosks of Southern California. There are two types of digital custom kiosks in the program: the first is the Express Registration Renewal kiosk that accommodates customers needing only to renew their vehicle registration, making for a quick and easy way to conduct this transaction. Second, there is the more robust Motor Vehicle Department service kiosks which accommodates 19 different services for customers.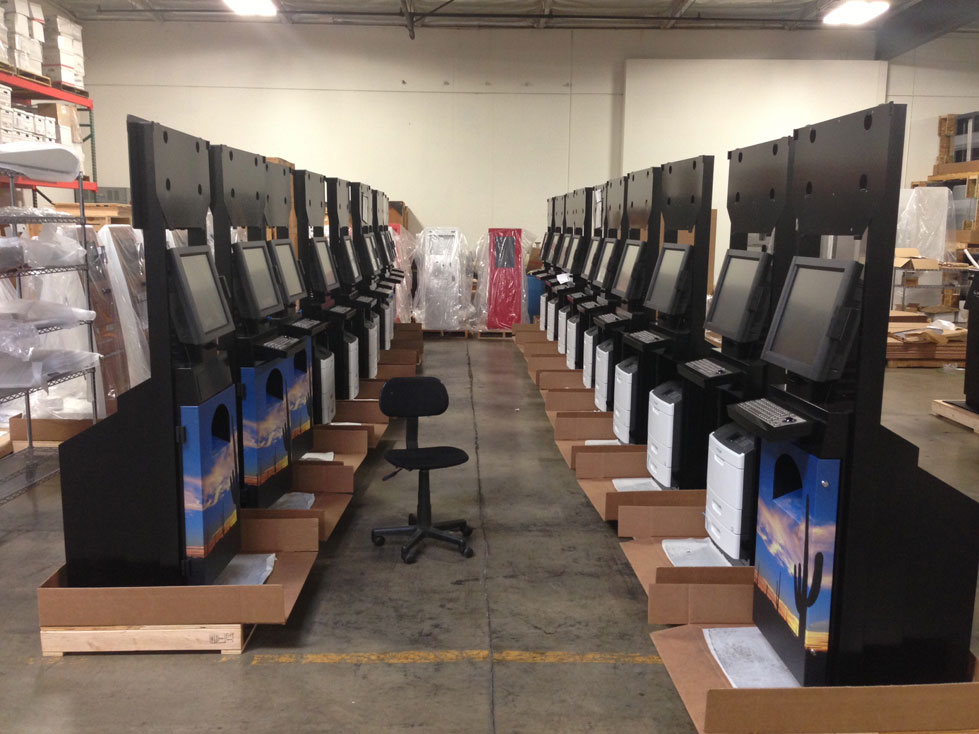 Although many of these services are available on the ADOT website, the kiosk program allows for greater access to services for those not wanting to, or unable to access services via the internet. The custom kiosks are placed in convenient locations so that customers visiting offices state-wide may take advantage of the new program, which alleviates the wait time for those customers who need to see a human customer service representative.
"These kiosks allow customers to quickly and efficiently complete their transaction and we're pleased that thousands are doing so each week," says Stacey Stanton, a Director at ADOT.
Olea Kiosks designed and deployed this project from the ground up as a complete customized solution. One unique feature is the addition of a durable high-volume Lexmark printer that can handle the large number of transactions that each of these kiosks is required to accommodate. Other features include an all-in-one touch screen, digital card reader, and a heavy duty keyboard and pointer.
A key project specification was to create a sleek, modern, and user-friendly design that not only would entice customers to use the kiosks, but would also hold up mechanically given the large volume of use. Olea Kiosks is proud to have created these unique kiosks that have directly contributed to shorter wait times and happier customers in the ADOT office locations.
Olea Kiosks provides a full service custom kiosk solution for projects both large and small. The ADOT project is a great example of a custom project that utilized various high-end features, such as heavy duty construction and printing capabilities. Contact Olea today to find out how they can build a custom kiosk for your government, retail, and private application.