With today's desire for instant gratification, the convenience and efficiency of self-service technology are no longer optional; they are necessities for large entertainment venues such as stadiums and amusement parks. From purchasing tickets to ordering food and navigating through attractions, self-service plays a critical role in shaping the guest experience. And, when optimized correctly, self-service technology can dramatically reduce lines and wait times, improve operational efficiency, and ultimately, drive up revenue.
However, the quality of these experiences is largely dependent on the technology behind them. There is frequently a temptation to cut initial costs by opting for the best-priced solution, but those choices may end up costing you significantly more in the long run. From durability to performance and even data security, the downsides are many and provide a compelling case for why investing in high-quality kiosks may offer a better return on investment over time.
Kiosk Enclosure
A robust kiosk enclosure offers a layer of physical security and durability that a simple pole mount cannot provide, especially in high-traffic areas like stadiums or amusement parks. In these environments, self-service stations are prone to high-volume use and occasional abuse, whether it's from exuberant children, overzealous sports fans, or simply the wear and tear of daily operations.
A strong, well-designed enclosure can protect not just the main display but also the peripheral components like printers, card readers, and barcode scanners from physical damage. This increased durability can extend the lifespan of the entire kiosk, reduce maintenance costs, and ensure a consistent, high-quality experience for guests.
In addition, a quality enclosure offers additional possibilities for integrated technology and features. While a pole-mount kiosk offers basic touch-screen capabilities, a full-fledged kiosk enclosure can house a variety of peripherals that allow for a more comprehensive service. For example, high-quality speakers can provide auditory guidance or promotional messages, and more advanced biometric scanners or ID readers can be added for age-restricted areas or VIP access. These features would be difficult, if not impossible, to securely and effectively add to a simple pole-mount unit. A robust enclosure provides the flexibility and capability to offer a more holistic, feature-rich experience to your guests, elevating their overall satisfaction and engagement with your venue.
Size and Quality of the Display
A quality touchscreen can make all the difference in the world to the user.
High-quality, large displays not only make it easier for guests to read options and navigate through menus, but they also allow for more vibrant visuals. Poor visibility due to smaller, low-resolution, low-cost displays can lead to user frustration as guests struggle to see their options clearly or tap the right buttons, which could result in mistakes during transactions. This becomes even more critical in outdoor settings where glare from sunlight can make screens difficult to read.
In higher-quality kiosks, look for anti-glare and high-brightness features that will ensure the display remains clear and readable in various lighting environments.
The quality and size of the display can be a make-or-break factor in determining how smoothly guests can complete their tasks, which in turn directly affects their overall satisfaction and likelihood to return.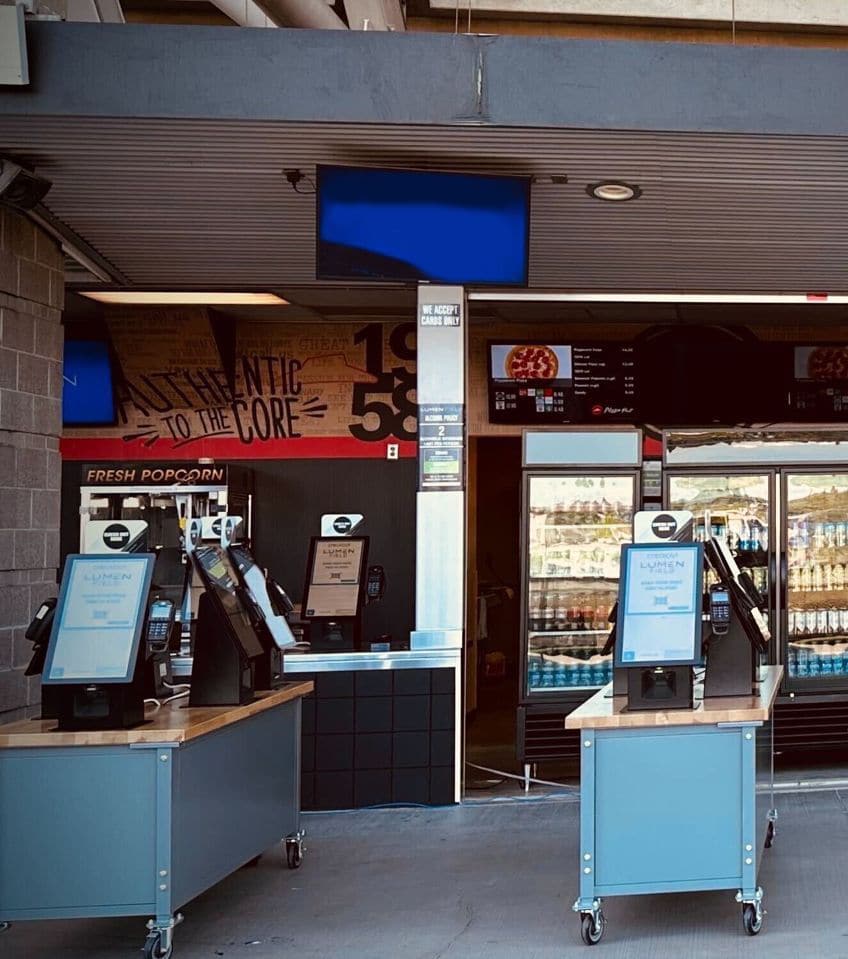 Touch Screen Responsiveness
Lower-cost solutions often feature screens that lack the touch responsiveness found in more premium options. There is nothing more frustrating than using a touchscreen that doesn't register your responses and this can significantly degrade the overall guest experience. In high-traffic entertainment venues like amusement parks and stadiums, where time is of the essence and customers are looking for quick and efficient service, even a minor delay can lead to bottlenecks and increased waiting times.
Additionally, poor touch responsiveness can lead to errors in transactions, whether it's selecting the wrong ticket type, entering incorrect personal details, or even making unintended purchases. These errors are not only frustrating for customers but also create additional work for staff, who must then spend time resolving issues instead of assisting other guests. In some cases, these issues can deter guests from using self-service options altogether, causing longer lines at manned stations and potentially leading to lost revenue.
Graphics and Branding Opportunities
Lower-cost kiosks often resemble 'tablets on a stick', and as a result, offer limited screen size and physical dimensions. Because of the lack of real estate, these units have limited ability for visual branding, advertisements, and any additional graphical elements that might enhance the user experience or promote your venue's identity. Simple signage on the top of the kiosk indicating Tickets, Food Ordering, or Check-in lets guests know exactly what the kiosk is for and gives them the visual cue from a distance.
When a kiosk lacks sufficient visual space, it can make it difficult to showcase your brand effectively. Branding is not just about logos; it's about creating an environment that resonates with the target audience and aligns with the venue's overall aesthetic. A premium venue deserves a premium kiosk.
Durability and Reliability
Opting for the lowest-price solution can have a pronounced impact on operational efficiency and guest satisfaction. While budget-friendly kiosks may offer short-term financial benefits, their frequent need for repairs or replacement can result in long-term costs that exceed the initial savings.
Olea's suggested life span for its kiosks is 5 to 7 years, emphasizing the value of investing in more durable and reliable components that are made for commercial deployments. While the upfront costs may be higher, the extended life of the kiosk can offer a better return on investment when you factor in downtime.
Speed and Performance
Processing speed and performance are critical factors in assessing self-service kiosks, especially for common tasks like ticket purchasing or food ordering. Slow response times, lagging screens, or even momentary freezes can transform what should be straightforward into a source of aggravation for guests. In high-traffic environments such as amusement parks and stadiums, where many people are looking to make quick transactions to maximize their time enjoying attractions or watching events, even a minor delay can have a significant impact.
Delays can lead to longer queues and increased wait times, causing a ripple effect throughout the venue. This can result in frustrated customers who may not only abandon their current transaction but also opt out of future spending, whether it's buying merchandise, ordering food, or even deciding against returning for a future visit.
Also, slow transactions can reduce the overall number of transactions that can be completed in a given time frame, directly impacting revenue. Especially at stadiums, concessions are only open for a limited time so they need to process guests as quickly as possible or lose the opportunity.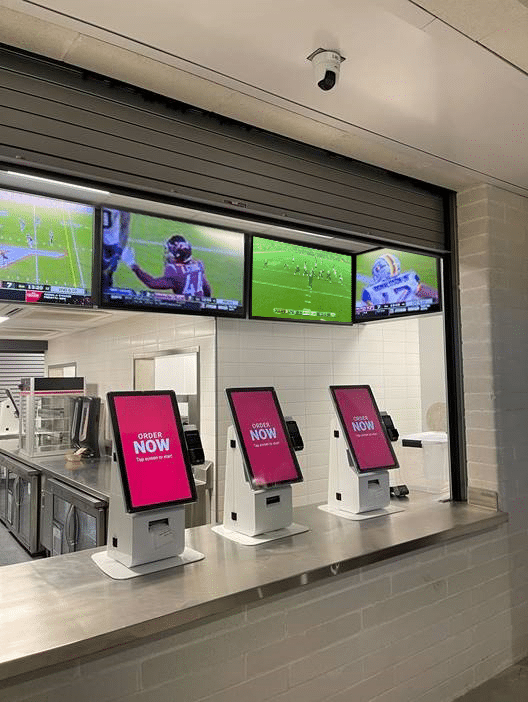 ADA Compliance
When it comes to accessibility, high-quality self-service kiosks often come equipped with a variety of features designed to make the technology usable for all guests, including those with disabilities. Lower-cost solutions may lack these specialized features, offering a one-size-fits-all approach that does not, in fact, adequately serve all users.
Failure to follow accessibility guidelines doesn't just create a poor user experience for guests with disabilities; it can also result in legal ramifications. Non-compliance with regulations like the ADA can expose venues to lawsuits, fines, and reputational damage. Beyond the immediate financial implications, a lawsuit for non-compliance can attract negative publicity, eroding customer trust and potentially impacting future revenue.
In the Real World: Shift4 Deploys Olea Kiosks for its Stadium Clients
In this real-world example, you can read all about Shift4's seamless commerce in large venues using POS, mobile ordering, and self-service kiosks. In these high-volume venues, Olea's streamlined, higher-quality kiosk delivers an enhanced guest experience and peace of mind deployment.
You can find the full case study here.
Cost vs. Value
The choice of self-service technology at large entertainment venues like amusement parks and stadiums is much more than just a question of upfront cost. Selecting lower-end solutions may offer short-term financial gains, but the long-term implications can be detrimental to guest experience, customer satisfaction, and overall revenue. Issues such as limited display size compromised touch responsiveness, and slower processing speeds not only impact the ease and convenience of transactions but can also contribute to operational inefficiencies, increased wait times, and ultimately, frustrated guests who may think twice before returning.
Poor technology choices result in a ripple effect from individual guest interactions to broader operational challenges and financial consequences. Downtime due to less durable and reliable components can lead to significant revenue loss, while the limitations in customization and branding can miss out on opportunities to engage customers more deeply. Investing in robust, high-quality kiosks should be viewed as a strategic investment in enhancing customer satisfaction and maximizing long-term profitability. Making the right technology choices today can set the foundation for smoother operations and happier, more loyal customers in the future.
Whether you're looking to deploy kiosks in a healthcare facility, at an amusement park for tickets or food ordering, the same principles apply as it relates to the quality of the kiosk. Olea has extensive expertise in working with high-volume stadiums, amusement parks, and attractions. Contact Olea today to find out how we can create a stellar kiosk for your organization.