Do you need a solution to help your business return to peak productivity and profitability following COVID-19? Explore our self-service kiosks.
As you return to business following the COVID-19 pandemic, do you have the solutions in place to help your business operate at peak productivity and profitability? If you are like most businesses, you may find you are operating at 50% capacity or less. Plus, you've likely increased cleaning costs to ensure you have a safe environment for your employees and customers. It can be an overwhelming prospect to stretch your employees to cover all the new responsibilities while attempting to meet your operational and profit goals.
At Olea, we are helping businesses like yours to deploy innovative self-service kiosks to perform repetitive tasks, so you can limit person-to-person contact while utilizing your staff to handle higher-value tasks. Rather than returning to business at a lower capacity, you can hit the ground running with optimal business operations—all through our easy-to-use kiosks that serve a variety of business applications.
Is a Self-Service Kiosk Right for Your Business?
Ensuring a safe and profitable return to business is the goal of every business and organization. Olea's self-service kiosks are a good match for the following:
Businesses or organizations with multiple locations
Office buildings
High-traffic manufacturing sites
Food distribution and processing centers
Healthcare and university campuses
Entertainment and recreational venues
Retail businesses, restaurants, and grocery stores
Self-service kiosks enable you to continue operations while reducing the risk of virus transmission between your employees, customers, and guests, which will continue to be a priority for the unforeseeable future. Even beyond the pandemic, your business will find that our kiosks are integral to optimizing your business tasks and staff productivity.
How to Use Self-Service Kiosks to Boost Business
At Olea, we are dedicated to assisting your business transition to the future. Our kiosks allow you to level-up your operations, rather than continue with the status quo. Here are the self-service kiosk solutions you can leverage to make your business thrive: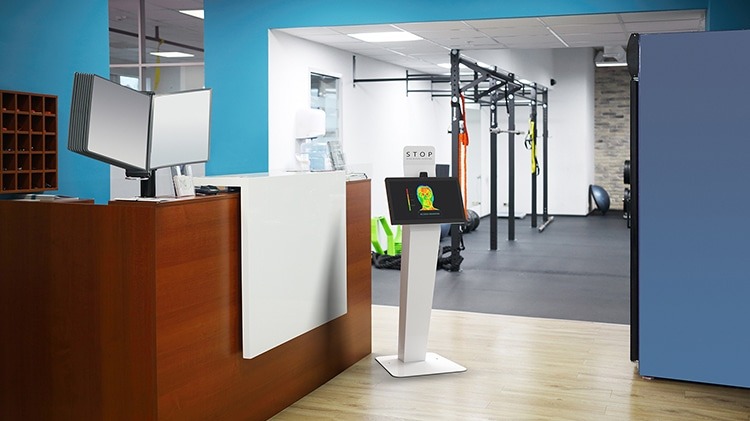 Temperature Screening
Temperature screening for employees, customers, and guests is sure to become the new normal for many businesses, organizations, and entertainment venues. Our self-service temperature screening kiosks make the process of taking the temperature of each person who enters your building fast and easy. This is a solution that can help your business to stem a potential crisis and keep your business safe. Even better, you can easily repurpose your temperature screening kiosk for other tasks in the future.
Wayfinding
A wayfinding kiosk is a solution designed to allow your visitors or customers to immediately pinpoint their location in your facility and conveniently access directions and information while limiting contact between guests and staff. In addition to facilitating social distancing, the kiosks decrease traffic congestion and provide higher levels of customer satisfaction by allowing customers to navigate to points of interest quickly and easily.
Check-In
Facilities around the country are using self check-in kiosks to limit human-to-human contact and streamline the process during patient and guest check-ins. From hospitals and hotels to doctors and dentist offices, visitors can interact with the kiosk rather than front desk staff. Decreased need for employees to run check-in points reduces costs and increases overall staff productivity.
For healthcare facilities, you can significantly reduce patient wait times, increase patient information accuracy, and even eliminate manual ID and insurance card scans with convenient self check-in kiosks.
Vendor Sign-In
Much like a patient check-in, vendor sign-in kiosks can help you reduce person-to-person contact while facilitating a faster and more streamlined sign-in process for vendor events, fairs, and more. Your vendors will appreciate being able to sign in when convenient for them without having to deal with long lines or tedious check-in processes. There's no need to have staff available to manage the sign-in process either, so they'll be able to focus on other higher-value tasks.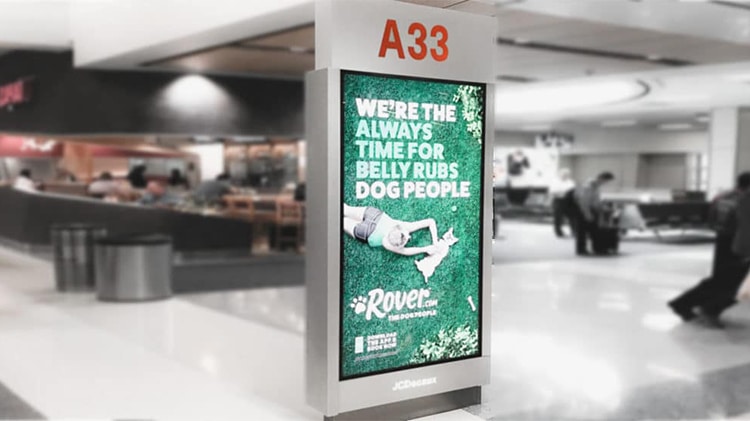 Digital Signage
Grabbing the attention of your customers and target audience has never been easier than it is with our digital signage kiosks. They provide a modern and effective way to engage and inform your customers. Both indoor and outdoor digital signage kiosks are available. Hit a home run with your branding and marketing efforts and customize your digital signs to meet the ever-evolving needs of your business and customers.
Retail/Endless Aisle
Retail businesses and establishments are embracing self-service kiosks as a way to minimize human contact and reduce costs. The kiosks streamline numerous aspects of the retail customer experience, including loyalty program management, out of stock orders, credit applications processing, gift registry management, and gift card purchases and balance inquiries.
Instead of using employees to handle these tasks, the retail kiosk takes care of it all effortlessly while reducing illness transmission risk. Retail business owners also love how the kiosk can serve as a useful point-of-service marketing tool, featuring on-screen branding and promotions.
Virtual Receptionist
Contactless virtual receptionist kiosks have the potential to allow companies and organizations the ability to limit person-to-person contact and increasing productivity of vital front-line personnel. Virtual receptionist kiosks allow one person to manage receptionist services for multiple locations—
The kiosk features an innovative motion detection sensor that greets visitors as soon as they arrive and immediately notifies you of their arrival. Your employees can easily connect with visitors through phone communication, video or voicemail messages, or even a one and two-way video connection.
Improve your efficiency and deliver a consistent experience to your visitors and customers while utilizing a user-friendly, interactive interface that augments your corporate identity. The self-service mode and top-grade digital signage monitors enable you to have 24/7 kiosk operation, freeing up staff to focus on other essential tasks.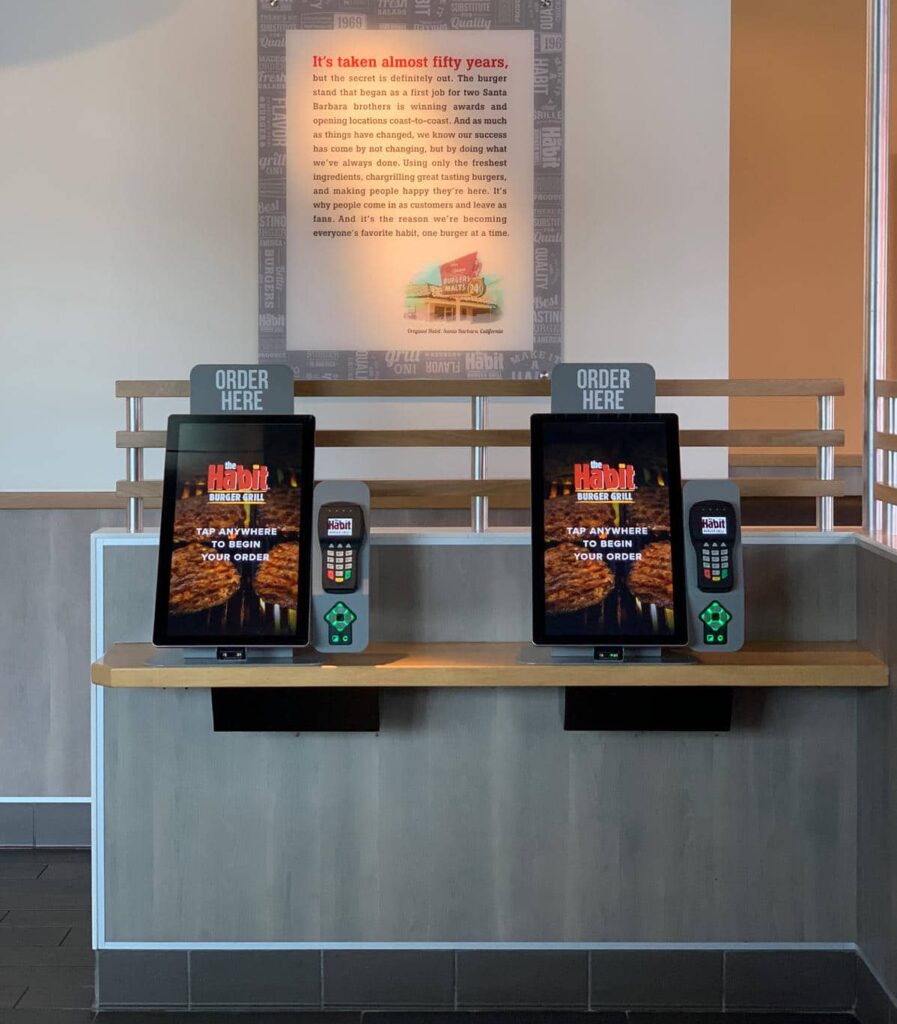 QSR/Food Ordering
Limiting human-to-human interaction during food ordering will continue to be a preference for your customers, even after the COVID-19 pandemic. Self-service QSR/food ordering kiosks let restaurants and hospitality venues maintain a high level of safety and efficiency while enhancing customer satisfaction. The kiosk process reduces customer wait times and increases your restaurant or venue staff's productivity. This kiosk application is ideal for restaurants, casinos, theaters, music halls, and other entertainment venues.
What Our Self-Service Kiosks Mean to Your ROI
Are you concerned about investing in self-service kiosks now, during a time when many businesses are struggling with profitability? You'll be happy to know that our kiosks can help you reduce overall operating costs and maximize your profits, helping to deliver to an impressive return on investment for your business.
By deploying these kiosks, you'll utilize your staff more efficiently, allowing you to increase the profit per employee. You'll also experience an enhancement of your workplace culture and overall customer experience—two primary goals of any business that wants to remain competitive in their industry.
Take a look at these ROI-related business benefits you can expect from Olea's self-service kiosks:
More personalized customer service – when employees aren't tied down to the mundane tasks a kiosk can handle instead, they are more available to provide a higher level of attentive customer service.
Greater customer satisfaction – less wait time and fewer incidences of human error mean your customers are happier.
Order accuracy – the kiosk technology facilitates a more accurate ordering process for your customers.
Enhanced employee satisfaction – with self-service kiosks, your employees no longer must spend time performing repetitive and tedious tasks, which improves their job experience.
Powerful branding and marketing – the nature of kiosks, no matter the application, allows them to promote your branding and marketing message when not actively performing a task; additionally, the kiosk can collect data on your customer behaviors and preferences that helps you maximize your future marketing efforts.
Positioning as a leader in your industry – using self-service kiosks means your business can be on the cutting-edge of technology. Your customers, employees, and competitors will notice, and you will emerge as an industry leader.
Get Back to Business Successfully with Self-Service Kiosks from Olea
As we move forward in a different business world than we faced just months ago, it's more important than ever to implement the necessary technology solutions to help your business remain competitive. Olea's self-service kiosks enable you to keep your employees, customers, and guests safe while allowing you to get your business back to 100% operational capacity sooner. It's an investment that will pay off today and for years to come.
Choosing Olea for your kiosk means you will have our expert consultation, superior product, service, and dedicated support. From helping you learn how to use your kiosk to delivering speedy problem resolution, we will be there to keep your self-service kiosk working its best.
Ready to learn more about the right kiosk solution to meet your unique business needs? Contact our team at Olea now through our online form to schedule a consultation or to get a quote for self-service kiosks.