Pressure is always on for healthcare providers to operate more efficiently while also providing better care and health outcomes. One way to accomplish this seemingly impossible task is a healthcare kiosk. This article addresses six benefits of patient check-in kiosks in a healthcare setting.
1) Healthcare Kiosks Streamline Patient Check-in
Checking-in-patients is the "low-hanging fruit" in healthcare kiosk deployment. Kiosk systems can be situated in close proximity to the entrance, and are the first thing the patient sees upon arrival. This approach is optimal compared to the traditional approach where bottlenecks occur at the reception area as patients may arrive in herds during high-traffic hours.
However, a well-planned self-service patient check-in kiosk system deployment can facilitate most patients being able to check in at their own leisure and notify staff of a patient's arrival. Patients can even complete their paperwork digitally via the kiosk therefore completing data fields on-the-spot rather than requiring manual data entry by office staff at a later time. Any forms requiring a signature can be processed digitally via a signature pad, or if preferred, forms can be printed directly from the kiosk machine. Lastly, after the patient has entered their information, wayfinding instructions can be displayed on the healthcare kiosk's screen to help direct the patient to their next location.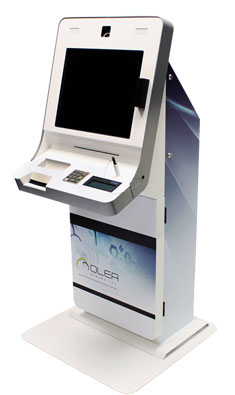 2) Healthcare Kiosk Systems Streamline Payments
Healthcare payments can be a cumbersome process to navigate due to complex insurance schemes. In many cases healthcare providers can be confident that they will collect from an insurance carrier; however, high deductible plans are becoming more popular and such plans require payment at service or even upfront. According to an article by Forbes [1], 48% of the nation's largest employers are offering high deductible plans. This may in some cases present a risk of non-payment.
Check-in kiosk machines offer numerous configurations to streamline the payments process, but most importantly can be equipped to configure with insurance providers and provide healthcare providers with instant billing capability at the time of service. Patients are able to arrive and check in, review their bill, and settle accounts, all while waiting for their appointment.
3) Healthcare Information While You Wait
Connecting with patients on an educational level is important to healthcare providers wanting to take a holistic approach to providing care. Interactive healthcare kiosks provide a great alternative to the traditional stack of magazines in the waiting room. These kiosk systems can provide a wealth of information related to general health care or can be loaded with information about the services offered at the particular provider.
4) Basic Healthcare Services
Here are just a few of the healthcare services that a healthcare kiosk can provide while a patients waits to be seen:
blood-pressure and temperature checks,
weight and height recording,
diabetes screening, and
vision and hearing tests.
As always, custom solutions can be customized in a healthcare kiosk machine to meet a host of other needs.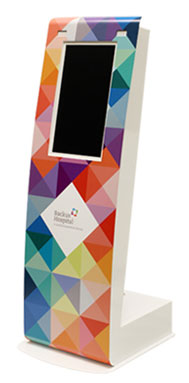 5) Healthcare Security
In a post-HIPAA world, on-site security has become a major objective. Healthcare kiosk machines are a great way to control access to the premises. Traditional security measures have been ID badges, but this system leaves much to be desired as it relates to occasional visitors. Without proper authentication throughout the facility, visitors could possibly gain unauthorized access to area where they are not permitted. Healthcare kiosks give security professionals a means to control access not only at the main point of entry, but also throughout the premises.
6) Healthcare Kiosks as a Pharmacy
The use of healthcare kiosks as a digital pharmacy is growing. In this sort of application, the healthcare kiosk is able to administer a limited number of common medications, enabling staff to focus their attention on other mission-critical tasks. It also streamlines the process for patients and reduces wait time. This scenario is another example of where patient check-in kiosk systems can be a win-win.
To learn more about how kiosk machines can help your organization, call Olea Kiosks, the leader in healthcare kiosk design.
References:
[1] http://www.forbes.com/sites/brucejapsen/2014/11/19/half-of-employers-pushing-high-deductible-plans-onto-workers/