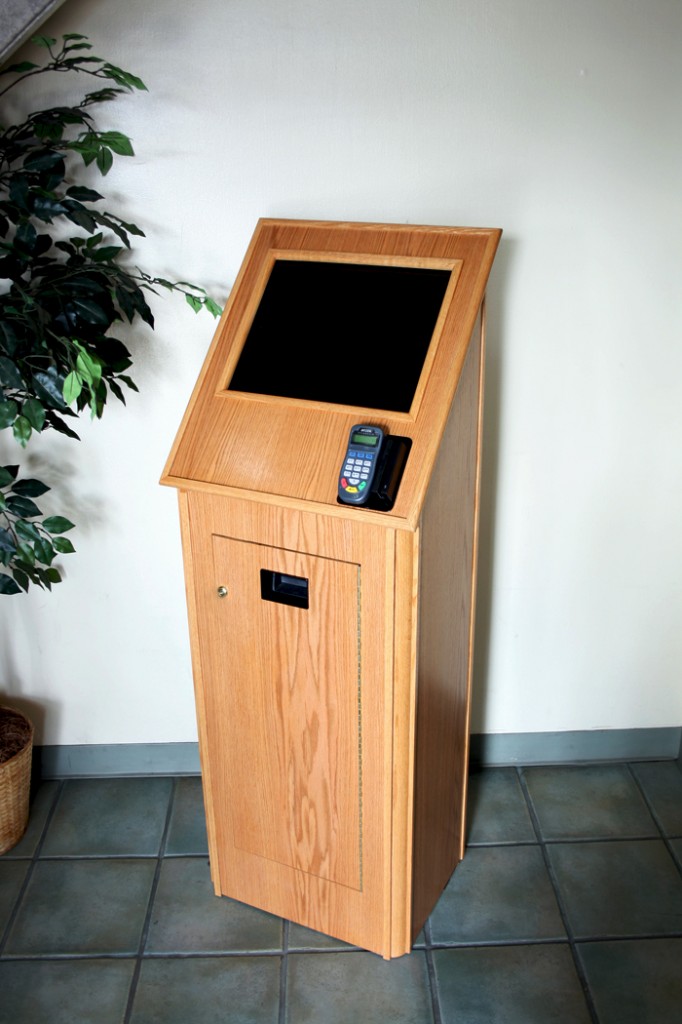 It seems every so often we have a potential client call, and ask if we make kiosks out of something other than steel. The simple answer is yes. The more complex answer is it really depends on your goals for the kiosk, how many you are making, and where they are going. We'll get more into that on another post.
For now, I want to talk about these beautiful Oak wood kiosks that we're making for a client of ours called SecureGive. This is a kiosk design I came up with a few years back to help with the churches that said most of our kiosks are "too high tech" looking for them. I set out to create a design that would look like it belonged in a church. We also had a bit of an opportunity to create something a little less expensive at the same time. We came up with this "lectern" type of shape, as it is something that you'd see in almost any church across America. Simple, elegant, and very easy to produce.
Olea Kiosks, as many people may not know, started over 37 years ago as a custom cabinet shop. Our Founders Ferd, Rene', and Mark are all trained Journeyman cabinet makers. This most recent batch of kiosks is the first wood kiosks we've produced since moving into our new building last summer. So Rene' jumped at the chance to blow some dust off the wood working tools and get to making sawdust. As you can see Rene' is a true craftsmen going so far as to make his own custom molding profiles to create the corners of the cabinet. The flat panels interlock into the molding to make assembly easier and to give the corners a very nice furniture like finish.
We offer these custom kiosks in a clear stain, dark stain, and a white painted finish. They feature a 19″ touch screen, POS style receipt printer, card reader, pin pad, and a PC system.
We don't get to make wood kiosks very often but it is real fun when you can go back to your roots and create new products using thousand year old techniques. So if you have a project that just seems like it shouldn't be made out of steel but needs a softer feel or other treatment give us a call. We love working with all sorts of materials.