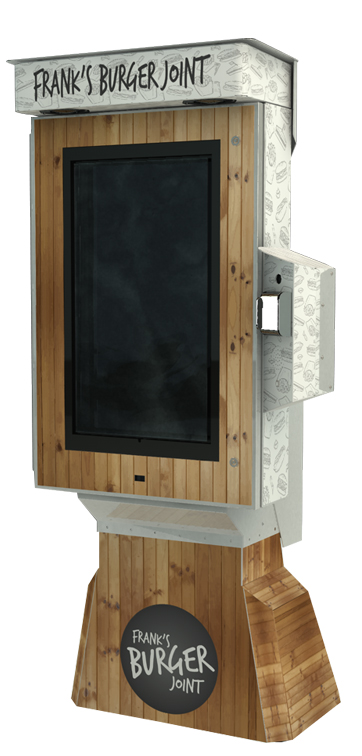 The next thing to shake up both the fast food and QSR industries will be drive-thru kiosks. Self-service has long been on the minds of restaurateurs, not just because of its ability to control labor costs, but also because of its efficient nature, more accurate order entry, and the ability to increase sales.
By design, drive-thru kiosks will be one of the most efficient innovations to hit the food service industry since the drive-thru itself.
McDonald's revolutionized the drive-thru window by building an entire company around the concept. The concept of a drive-thru window had been in existence since 1947, but it was McDonald's that in 1975 began a campaign of growing their brand as food on-the-go and developed their growth strategy around locating new restaurants in areas with high motor vehicle traffic, namely interstates. By offering food through a window to countless drivers, a completely new high-growth consumer segment was born: the on-the-go motorist.
Who Wants to be the Next McDonalds?
Who wants to be the innovator that changes the landscape through innovation, the way McDonald's did? With the deployment of drive-thru kiosks, there is an opportunity to capitalize on the benefits of a drive-thru with the magic of self-service.
70% of all transactions at major fast food chains take place at the drive-thru. Couple that with the fact that self-service order-entry kiosks out-perform their human counterparts by never missing the chance to offer upgrades, or suggest cross-selling. Taco Bell saw an average 20% higher check size as a result of self-service ordering, for example.
Customers order more through self-service because of its simplicity and because inhibitions are lowered when ordering through a machine versus orders taken by a human. Cinemark saw 32 consecutive quarters of increased concessions spending once they implemented self-service concession stands.
The early returns on the use of drive-thru kiosks show similar increases in sales. One major national sandwich chain has seen their drive-thru sales increase by 15% at locations where they have deployed an Olea drive-thru kiosk. This level of sales increase means that most locations are seeing the technology investment paid back in six months or less!
Drive-thru Kiosks Are What Customers Want
Operators everywhere are talking about attracting younger demographics, especially millennials, as millennials are now the most populous demographic in the United States. Over two-thirds of them actually prefer self-service ordering. Older demographics are not far behind with over half of consumers age 35-54, and one-third of consumers over the age of 55, preferring self-service ordering.
By utilizing drive-thru kiosks, casual restaurants are providing greater convenience while servicing their audience's demand for self-service ordering options, thus increasing overall customer satisfaction, all while also generating higher average sales per order!
Learn More about Olea's Drive-Thru Kiosks Today!
Over the course of our 40 year history, Olea Kiosks has earned its spot as a top kiosk manufacturer of self-service kiosk solutions. The outdoor drive-thru kiosk systems are built tough to withstand weather and high volume use. Contact Olea Kiosks today for a quote on a self-service drive-thru kiosk system for your restaurants.
Additional Sources: