The use of interactive kiosks by educational institutions is on the rise and for good reason – they provide unparalleled access to information as well as a means for the school's administration to communicate with the student body, faculty, alumni and visitors. The use of educational kiosks can provide a wealth of benefits including streamlining staff in customer service positions, increased accessibility to news and events through the 24/7 availability of the kiosks, and the potential to increase revenue and endowments through advertising and ecommerce opportunities integrated into the kiosks.
Around-the-clock Customer Service
Educational institutions are required to maintain a fairly large customer service staff to provide services ranging from class registration to assisting with wayfinding during campus tours of new prospective students. With the use of educational kiosks, the kiosk can be customized to provide information such as up-to-date class schedules, the ability to allow students to register for classes, and also provide interactive map functionality to route students and visitors to their desired locations on the campus. In addition, kiosks can be outfitted with customized biometric security devices ranging from fingerprint readers to retina scanners to ensure that the highest level of security is maintained in the handling of private information such as class registration data.
Facilitate Communication of News & Events
The use of computer kiosks at an educational institution can be a great way to communicate latest news and events to your students, faculty, and visitors. The same kiosks that are outfitted to handle customer service functions, such as wayfinding and class schedule information, can also be configured to present the user with the latest campus news and event information. This is a great way to increase outreach to your student body to help disseminate important information. In addition, the news and event data feeds can be used to communicate emergency messages such as severe weather warnings, helping to keep your students, faculty, and visitors appraised of the latest updates that are critically important to them.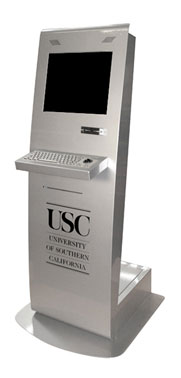 Advertising, e-commerce & Revenue Generation
In addition to all of the automation and functional aspects of an educational kiosk, the kiosk can also be used as revenue generator for your campus. There are multiple methods in which a kiosk can be configured to increase a school's bottom line. Direct advertising, through sponsor logo placement either within the interactive interface or on the external casing of a kiosk, can provide a newfound source of revenue for an academic institution. In addition, adding an ecommerce function in your on-campus kiosks can allow for students, alumni, and visitors to buy logowear from your student store in an easy-to-use interactive venue that is available 24/7.
Endowment Opportunities
Most alumni associations engage in constant outreach efforts via direct mail, email, and phone calls in order to encourage their alumni to donate back to their alma mater. Adding interactive kiosks to the endowment outreach strategy can be a great way to passively reach your alumni and encourage their donations. By integrating endowment donation features through the same kiosks that provide other functions, such as wayfinding, you will be able to promote endowment to an even larger audience, and through card-reading functionality, the kiosks can directly take donations on-the-spot!
Olea Kiosks is the leading manufacturer of standard and customized interactive kiosks. Our kiosk solutions use the latest technologies to ensure the most intuitive and user-friendly interactive functionality, but are also built with the strongest materials to provide a kiosk solution that can withstand the high traffic and high usage that is typically encountered on the campus of an educational institution.
Contact Olea Kiosks today to find out how our interactive kiosks can benefit your academic institution.