How Healthcare Kiosks Are Changing the Healthcare Industry
March 14, 2014
Next generation healthcare kiosk systems are quickly disrupting the healthcare industry in a very positive way. The healthcare industry has undergone an abundance of recent changes as a result of the Affordable Care Act. Many of these changes impact customer service because they have an impact on billing. The emergence of healthcare kiosks can help address these challenges by providing streamlined customer service.
Past generations of healthcare kiosks were simple digital blood-pressure units that were commonly placed in drug and grocery stores. Now, the landscape of healthcare kiosk technology is vast. Today, people have the ability to monitor weight, check vision, and even communicate with healthcare professionals via a healthcare kiosk. Custom kiosk systems can even assist in administering basic questionnaires to help collect basic data prior to the patient communicating with a live healthcare professional. Lastly, the billing and payment process can be administered effectively via healthcare kiosks.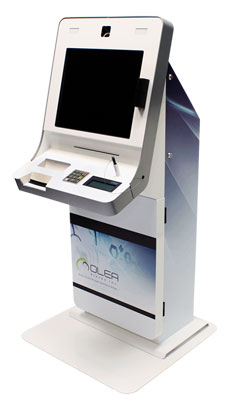 The Versatility of Modern Healthcare Kiosk Systems
Internet enabled healthcare kiosks can act as a conduit between a person in a remote setting and live medical professionals anywhere in the world. At the very least, interactive kiosks placed in a setting such as a drug store can help individuals not yet needing professional medical advice to discover and locate proper over-the-counter medications within the drugstore.
In private settings, healthcare kiosk machines can provide round-the-clock monitoring for patients who may have difficulty treating themselves in certain circumstances. For example, diabetes patients can rely on healthcare kiosks to perform home diagnostics and connect the patient, via internet video, to a medical professional should a situation arise in which the patient needed live assistance.
Targeted Marketing with Healthcare Kiosks
Healthcare kiosk machines are a great way for medical business organizations to market products and services in a targeted manner. Traditional means of marketing such as brochures and signage must address the entire audience and sometimes do a poor job at pinpointing specific needs. With the healthcare kiosk, healthcare businesses organizations have a better way to tailor messaging based on the medical records of the individual with whom the kiosk is interacting.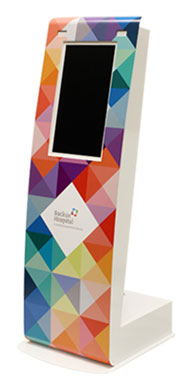 Healthcare Kiosks Help Increase Revenue and Patient Outcomes
Expanding on the section above, other industries, such as the hospitality industry, have effectively used kiosks to up-sell and cross-sell, and have seen average check size balloon by 20% as a result of such technology. Studies suggest that kiosks are more effective at capturing these opportunities because they do not skip steps or make errors that their human counterparts may be prone to making. Coupling the ability to target patient needs with the ability to offer relevant services and medical products is a unique opportunity to not only increase revenue, but to potentially expose patients to goods and services that may have a positive impact on their wellbeing.
Misconceptions about Healthcare Kiosks
One negative misconception about healthcare kiosks is that they limit the live human interaction that many patients feel is a critical component in a quality healthcare experience. However, with the expansion of telemedicine, the opposite is often the case. Healthcare kiosk system streamline the many mundane steps of a routine healthcare visit and free up resources for medical professionals to focus more attention on the actual patients when the time has come for the face-to-face part of the appointment. Overall, there may be less paperwork processing and more individualized attention.
Another reason for misconceptions is that many people have not experienced the benefits of an interactive health care kiosk experience first-hand. The only way to overcome this obstacle is for increased marketplace acceptance, which can be accomplished through education and live instruction as patients enter a facility and are exposed to a healthcare kiosk for the first time.
Many healthcare workers' standpoint is that hospital kiosks enable patients to receive pertinent information, check-in, and otherwise conduct their business casually, prior to visiting the nurse or doctor. This is a benefit that many patients will recognize the first time they interact with a healthcare kiosk.
Lastly, there is a myth that healthcare kiosk machines require more time to enter information than do traditional paper forms. Though this may be true in some cases, a properly designed system can collect data much faster when tested against its manual alternative.
Contact Olea today to find out about how their award-winning healthcare kiosk machines can provide benefits to your organization.