Energize Patient Participation through Healthcare Kiosks
September 28, 2016
As healthcare providers seek cost-efficient ways to improve patient care, many organizations are finding that healthcare kiosks can increase net margins while providing the self-service experience that patients are increasingly demanding.
By employing the agile capabilities of ADA-compliant kiosks, many medical providers are empowering patients to be proactive about their own health. In turn, providers are seeing a sizable boost in patient satisfaction ratings, which according to one study, can lead to a net margin increase of nearly 5 percent.
Greater Efficiency and More Accurate Data through Kiosks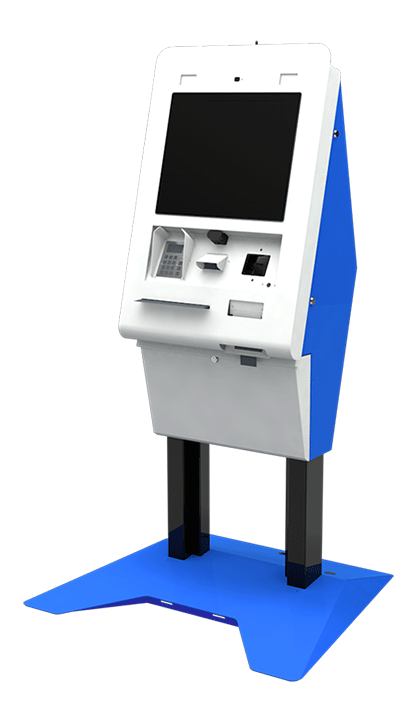 Experts predict that one of the biggest challenges the healthcare industry will face in the coming years is how to economically manage more in-depth health data at an accelerated rate. Many healthcare providers are deploying medical kiosks that are compatible with their existing internal software platforms, and this can create efficiencies for both the patient and provider.
For the provider, the ability to have patients create new records or update old ones alleviates the burden of data entry for the provider's administrative staff while also increasing the likelihood that the medical records are updated without error.
In 2012, there were an estimated 1.2 billion doctor visits in the United States. If each visit required administrative staff to take five minutes to process paperwork related to the check-in and check-out processes, then over 150 million hours were spent entering patient data that could be completely automated through healthcare kiosks.
Additionally, self-service kiosks in a healthcare setting have been shown to improve efficiency of the patient check-in process by over 50 percent. As a result, the use of healthcare kiosks can save medical patients in the United States literally hundreds of millions of hours each year.
Furthermore, patients continue to demand more efficient access to more of their medical records and information, and this can be facilitated through healthcare kiosks. Providers are finding that above and beyond check-in/check-out capabilities, busy clinics can provide additional up-to-the-minute information for the patients through self-service kiosks, including test results and prescription statuses. Because healthcare kiosks can be made highly secure through biometric devices, these machines provide a convenient and secure interface for providers to communicate directly with their patients.
In addition to the improved efficiency for both patient and administrators, research shows that organizations that invest in self-service healthcare kiosks have experienced tremendous ROI on their technology investments, and one hospital saw a net ROI of 11 times their investment in healthcare kiosks.
Promote Healthy Habits Through Digital Signage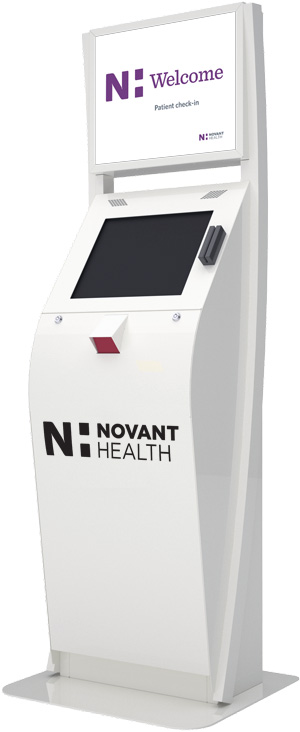 While kiosk implementation use often cuts waiting times, many healthcare providers are maximizing the moment by engaging customers in wellness education through kiosk screens. This layer of communication can be beneficial to keeping the patient informed about new research findings, treatment options or best health practices.
Using digital signage as an education tool can help support patients in taking an active role in their own health which improves overall patient satisfaction. One study showed that 89 percent of patients who participated in their treatment decisions rated the quality of care they received as very good or excellent.
Collect Cutting Edge Health Data Through Kiosks
A byproduct of empowering patients to manage wellness is the ability to collect an unprecedented amount of off-campus data. According to one healthcare expert, over 22 percent of people in the United States use wearable devices to track health data.
Configuring healthcare kiosks to securely collect information about individual wellness items such as sleeping patterns, average heart and pulse rates, or exercise habits can help pinpoint treatment plans more accurately and more quickly.
It also has the added benefit of allowing patients to easily opt-in to incentive programs, which not only helps strengthen brand loyalty and increase referrals, but keeps patients accountable to their goals.
In addition, collecting this information can help institutions further research efforts, which can lead to higher treatment success rates and increased funding.
Contact Olea Kiosks Today
More and more healthcare providers are realizing the benefits of using healthcare kiosks to energize patient participation and improve communication. Our ADA-compliant solutions have easy-to-use interfaces and are ideal solutions for the complex nature of today's sophisticated healthcare environment. Contact Olea Kiosks today to find out how to increase efficiency and patient satisfaction with our customizable, award-winning healthcare kiosks.