Since February 2020, healthcare has seen a mass exit as more than 500,000 industry workers have left their jobs. While nearly 1 in 5 healthcare workers quit, approximately 12% have been laid off or lost a job, and some workers have been fired or resigned over vaccination mandates. As hospitals struggle to fill staffing gaps, healthcare organizations are looking to self-service options to supplement these positions.
As a long-time kiosk provider in the healthcare field, Olea Kiosks® has designed and delivered a variety of kiosks for the market. While check-in models have seen the largest number of deployments to date, we are seeing increased interest as software options may expand their use. In addition, telehealth and telemedicine are likely to see greater volume in the coming years as the healthcare delivery model changes drastically.
We also expect that other healthcare services like pharmacy and the popularity of non-hospital-based clinics will grow. Treatment centers that focus on blood, dialysis and radiology are expected to grow as are the number of specialty centers addressing behavioral health, physical therapy, and drug treatment centers.
Consumers are becoming more self-sufficient and empowered to access information wherever they are. At that same time, organizations are struggling to meet the increasing demands of their customers.
This is why many are turning to self-service kiosks. Kiosks are a key piece of healthcare's digital transformation that will assist in enhancing productivity and the patient experience. These kiosks are not only able to fulfill the customer's need for autonomy, but also decrease the effort administrative staff are required to invest in every patient interaction.
Check-in Kiosks—A Great Start
Most healthcare providers start with check-in kiosks. While the concept is very simple, the outcomes are extremely desirable for both the healthcare provider and the patient.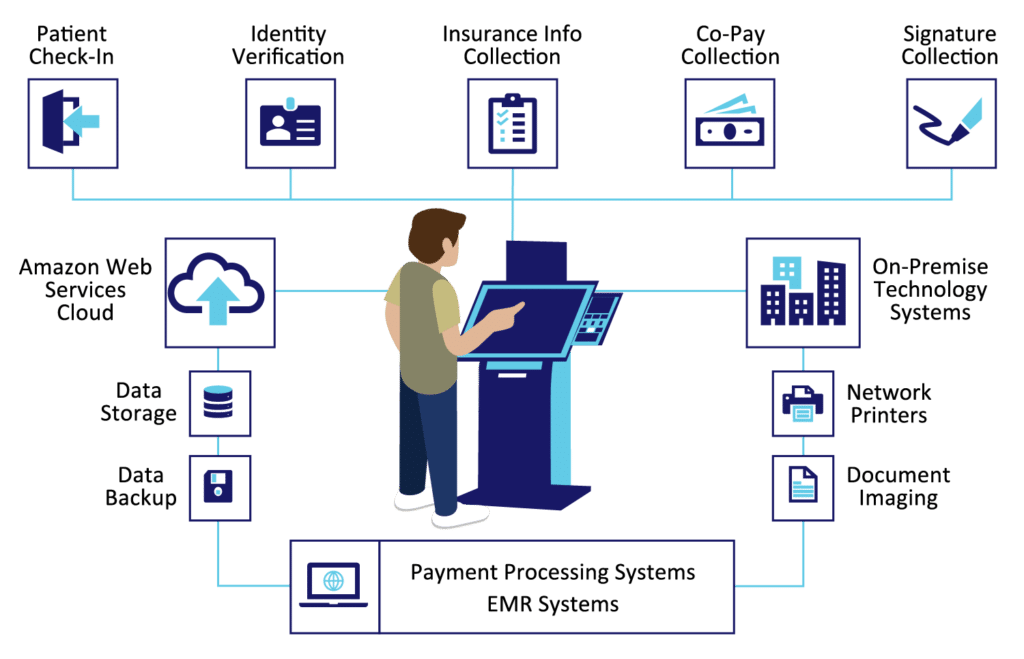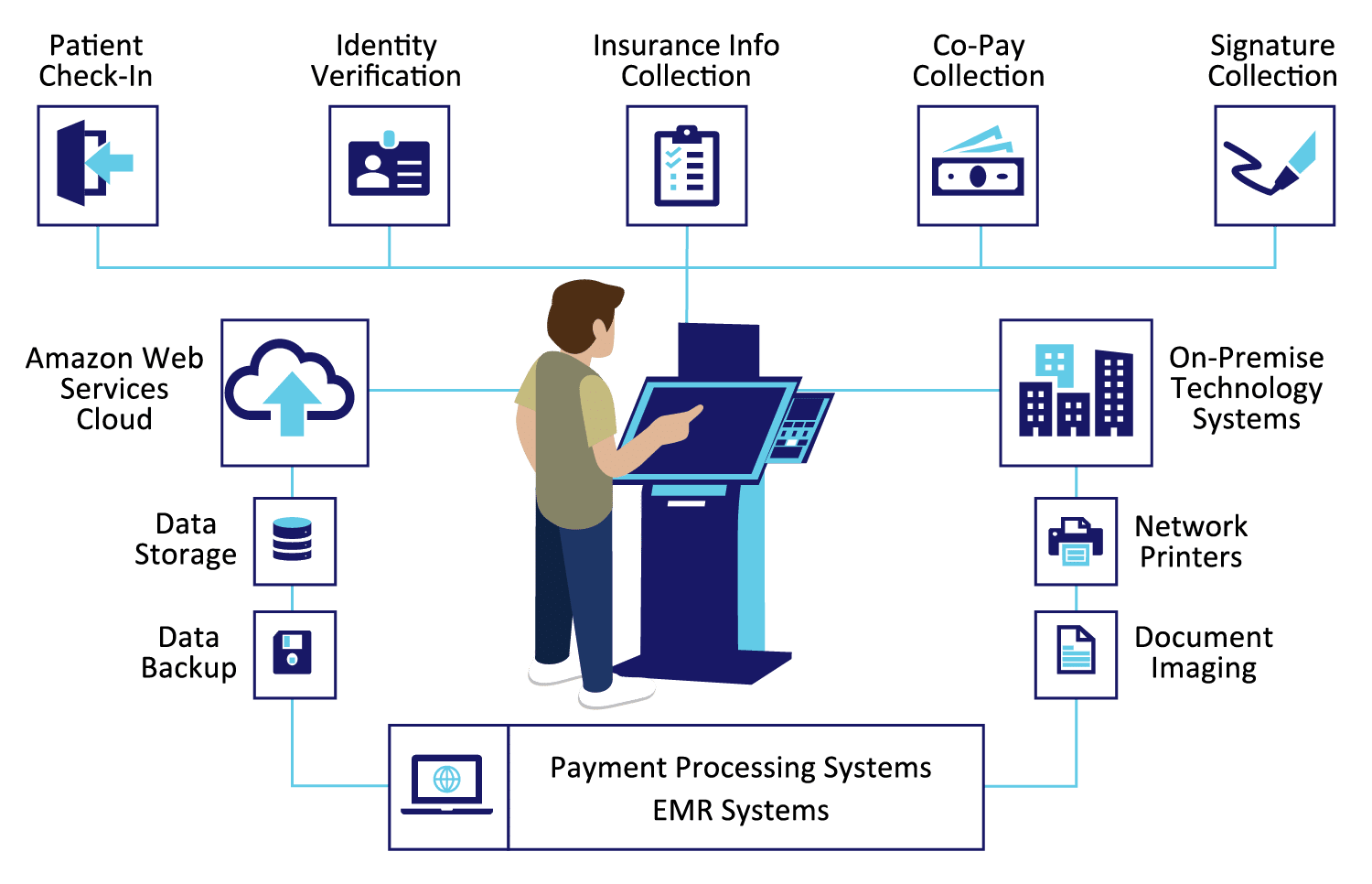 As patient's arrive for their appointments, they self-serve by checking in at the kiosk where they will verify their identity, provide their insurance information, pay any co-pay required, and deliver their signature for acknowledgement of requested services.
In most situations, the healthcare provider will have some kind of software that integrates the check-in process with their EHR (electronic health record system) where those records are designed to easily share information with other health care providers, such as laboratories and specialists, so they contain information from all the clinicians involved in the patient's care.
In most situations, the healthcare provider will have some kind of software that integrates the check-in process with their EHR (electronic health record system) where those records are designed to easily share information with other health care providers, such as laboratories and specialists, so they contain information from all the clinicians involved in the patient's care.
In some cases, the EHR will have its own check-in module built for kiosks. For example, EPIC, the EHR used by many of the largest and most prominent healthcare systems in the US, has the EPICWelcome module for kiosk check-in.
Other EHRs like Cerner, Meditech, Allscripts, etc., may require another software like PatientWorks or CERTIFY Health to integrate its patient self-service software with the EHR platform.
The benefits of healthcare check-in software include the following:
Faster check-in
Reduced wait times
More accurate patient data as the patient inputs it themselves
Greater visibility over patient flow
Increased payment collection before the service is performed
Increased collections for past due amounts
Enhanced patient privacy
Other services being added to check-in kiosks include identity verification with biometrics devices using fingerprint scanning, facial recognition, or iris scanning. Services like voice recognition and video chat are also being added to these systems to enhance the quality of services.
There is tremendous growth in check-in kiosks as they are now being deployed across more specialty offices, dialysis units, physical therapy centers, drug treatment facilities, and just about every other clinical environment due to ease of use and the ability to serve patients faster.
Telehealth Kiosks
Telehealth kiosks typically refer to a broader scope of remote healthcare services which includes non-clinical services, reminders, monitoring and training, administrative meetings, and continuing education.
Telehealth is often referred to as virtual care. It's a method of delivering health services to patients at a distance using interactive audio and video communications. The US and other countries experienced a great deal of growth in this space in the wake of the pandemic. Initially, with just about every manner of healthcare, but we've since learned that there are certain areas of healthcare where virtual care works very well.
For example, mental health services as well as some drug treatment programs have adopted regular use of telehealth appointments to serve patients.
Telemedicine Kiosks or Carts
Telemedicine involves the use of electronic communications and software to provide clinical services to patients. It's much more than just virtual capability. It requires technology and clinical expertise.
It's not always possible to meet with the best heart surgeon or oncologist in the world, because there's a finite number of them.
Claus Jensen, chief innovation officer at Teladoc Health said, "If you can do cancer care in a hybrid setting, you can do most things in the hybrid setting."
The question then is how do we use technology to bridge that gap and that's where telemedicine kiosks can play a role.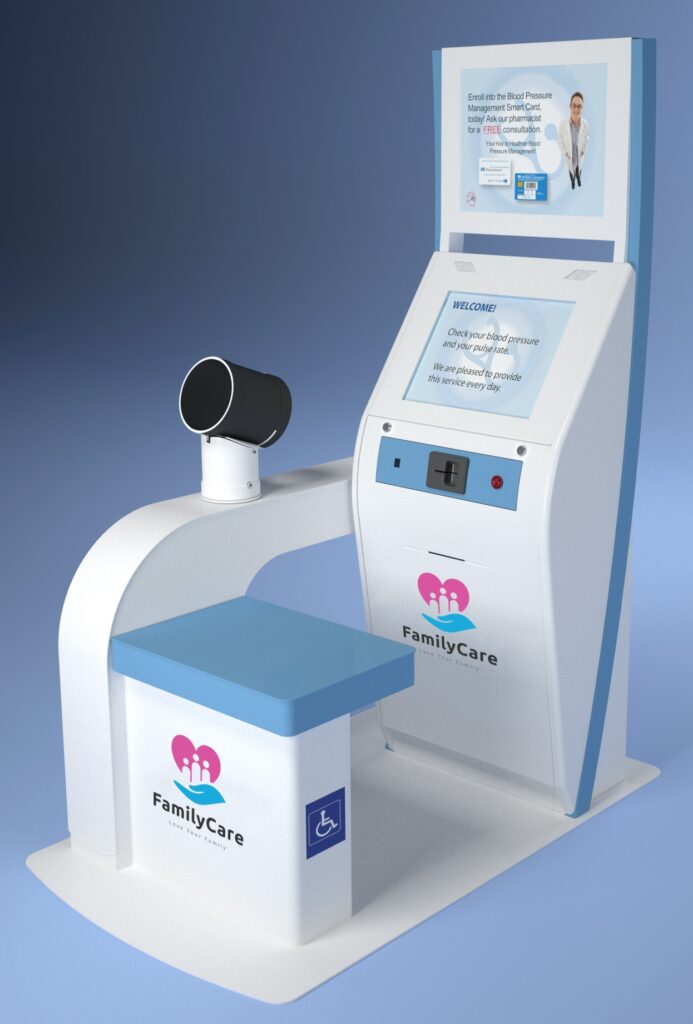 Telemedicine will continue to evolve from the blood pressure kiosks of yesterday found in pharmacies to more complex kiosks that integrate basic medical devices like blood pressure cuffs and more advanced diagnostic devices. Today's kiosks and carts often include dermascopes, a handheld visual device for assessment of skin conditions, along with a stethoscope, and HD camera, and in some cases, a 12-lead EKG for cardiac assessment.
These appointments could take place in today's large-scale retail pharmacies that include healthcare clinics, on-site employee clinics offered at many Fortune 500 companies, and by hospitals and healthcare systems. The future will bring even more complex kiosks and carts with even more sophisticated technology to connect clinical expertise with the patient. And while many of these patients will still need some in-person visits, telemedicine appointments can assist in continuing patient services to assist with patient convenience and potential staffing challenges.
Elevate the Patient Experience
Patients want convenience with sophistication to ensure they're getting treatment and not just an appointment. Both telehealth and telemedicine provide improved access to care that the patient might not have otherwise been able to secure. While this should enable easy, accessible multiple touchpoints, it should also deliver better health outcomes.
Improving Employee Satisfaction
While patient experience is a huge consideration, it's also important to think about improving employee satisfaction. Self-service kiosks free up employees to focus on what's really important—patient care. This includes more time to focus on greeting patients, answering questions, completing paperwork, and processing insurance information.
With self-service kiosks, the healthcare team has more time to finish the tasks that lead to better care and a better patient experience, which leads to increased accuracy, reduction in errors, and less time spent trying to catch up. This ultimately leads to increased employee satisfaction.
The Future
We are experiencing a foundational change in the way medical care is delivered and this model will continue to evolve. As we progress with the development of cutting-edge imaging and innovative treatments, healthcare itself is poised to transform. The growth opportunities include digital solutions that include virtual visits, remote patient monitoring, and on-demand access to care.
As patients become more technologically savvy, they want integrated health journeys and believe digital and highly integrated solutions provide that. The benefits for patients include faster care delivery, more accessible care, and improved chronic disease management and patient outcomes.
Self-service kiosks can play a critical role in helping healthcare providers face the current labor shortage difficulties. Not only can they help reduce operational costs and divert human resources to higher-value tasks, they can also help to create new service offerings to reach different groups of patients and new revenue streams.
While there are many questions about the future of healthcare, one thing is clear–healthcare delivery is changing and the future looks promising for both patients and healthcare providers.