Anybody that has ever traveled through an airport understands that sometimes the experience can leave much to be desired. Traffic congestion near the airport can make passengers late, but that is just the beginning. Next there are the long lines at the check-in counter, multiplied by slow-moving security checkpoints. With so many things that can go wrong it makes sense to try and automate as much of the check-in process as possible, and that's where travel kiosks come in.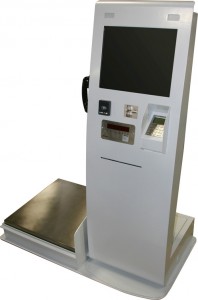 Travel kiosks are a very efficient way to get passengers from the terminal's entrance and to their gates in record time. Here are a few examples of how travel kiosks can help:
Check-in: Travel check-in kiosks allow arriving passengers to immediately enter the terminal and begin checking in without having to wait in line for a live agent. Passengers can check themselves in at a bank of kiosks quickly and efficiently and even print their boarding passes. Over time, these kiosks often prove so effective that human counterparts are either eliminated or very much scaled back so that the kiosks become the primary method of customer check-in. In addition, because these units often have a fairly small footprint, it is typically feasible for a transportation company to provide a large number of these kiosks which greatly increase check-in efficiency and thus, create much happier travelers.
Wait Times: The travel kiosk can quickly determine queue times for various steps of the check-in process: from security to boarding. Passengers, especially those pressed for time, will find comfort in knowing how much time remains before boarding. Additionally, should a passenger arrive to the airport and check-in at a time that exceeds the amount of time it is going to take to board, then the travel kiosks can alert the passenger.
Ticket Printing: Travel kiosks equipped with printing services can quickly and easily print tickets, bag tags, claims tickets and more, and provide these printed materials to the passenger.
Increased Revenue: As discussed in a previous article about retail kiosks, travel kiosks are also able out-perform their human counterparts at cross-selling and up-selling. Travel kiosks can be programmed to offer upgrades such as First Class seating or checked baggage. At times, live agents may forget to mention these services whereas a travel kiosk will not.
Wayfinding: Airport travel kiosks can also be installed at various points throughout the terminal to assist passengers in finding their gates, and other amenities such as dining and newsstands. Additionally wayfinding kiosk can be placed throughout the airport that provide real-time information about gate assignments, arrival and departure times, and other useful travel information as passengers navigate throughout the terminal.
Branding: If at any time a kiosk is in stand-by mode, the travel kiosk's screen can be programmed to allow for promotional messages of varying types. Examples include airline branding, or advertisements for dining establishments at the terminal.
Loyalty Programs: Travel kiosks are also a convenient way to sign passengers up for rewards programs. Travel kiosks can even dispense loyalty program magnetic stripe cards.
Access Wi-Fi, and directions to charging stations and other airport travel services.