HR Kiosks Can Help Optimize Your Benefits Packages
November 12, 2014
As is commonly known, employee turnover can be quite costly, as not only is time invested in the recruitment and interviewing process, but once a viable candidate is found, that new hire must be trained in order to become efficient in their new workplace. Having appropriately structured benefits packages can be very beneficial in helping to increase employee retention and limit turnover. Human resources kiosks can not only streamline your application and interview process, but they can also serve as a very useful tool to manage your employee benefit package enrollment and help your HR managers optimize your benefit programs.
Hiring new employees is costly
A survey of 610 CEOs found that when hiring a new mid-level manager, the break-even point does not occur until after the new employee has been with the company for six months . As a result, it is more important than ever to ensure that your benefits packages are optimized to provide the programs that are most valuable to your staff, and ultimately, will generate the highest levels of employee retention.
A rise in demand for non-traditional benefits
Nearly 10% of corporate dollars that are spent on human resources services are spent developing and managing a human resources strategy, including selecting the best benefits packages to meet employee demand. Benefits packages traditionally have included standard programs such as healthcare, dental insurance, paid time off (PTO), and retirement/pension plans. Many forward-thinking companies are now implementing non-standard programs that can be very attractive to their employees, such as child care subsidization, vocational training stipends, transportation reimbursement, and free on-site services such as dining, dry cleaning, and even automotive care. In competitive employment industries, it is often the non-traditional benefits that can set apart a firm and attract the highest quality applicants.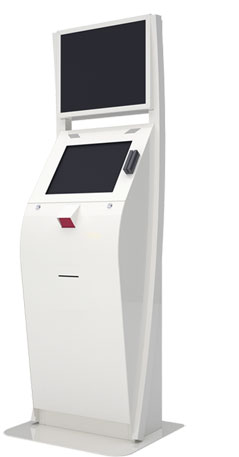 HR kiosks help to ensure your benefits suit your staff
By using HR kiosks to manage your benefit enrollment process, you not only provide a streamlined user-friendly interactive venue that allows employees to browse through the different benefit package options and find more information through on-screen options, but you also ensure that all of your enrollment data is immediately captured in an electronic format. Having the data immediately captured electronically allows you to export the data directly or import it directly to other software/database programs that can be used for data mining and management. Once you have the data in an electronic format, it is very easy to see which programs have the highest enrollment, and which are not generating much interest from your staff.
Low enrollment in benefits can cause the costs to rise
Most benefit packages can be implemented at a discounted rate to the employer based on economies of scale. When a benefit package does not have high enrollment, an employer often loses some of the cost savings that can be achieved through a high level of enrollment. Through frequent review of the benefit enrollment data, which is easily available through an HR kiosk, a company can ensure that their benefits packages are well optimized and suited for their employee base.
Get feedback on your benefits packages directly through your HR kiosks
In addition, employers have the ability to implement other feedback methods directly through their human resources kiosks that allow them to gather information on the effectiveness of their employee benefits packages. For example, by implementing an electronic survey directly through the HR kiosks, employers can inquire about employee satisfaction with current benefits packages as well as gather data on new benefits that employees would like added to the program. All of this data can then be exported into other database/spreadsheet software so your HR staff can easily review the results.
Olea Kiosks have the expertise to develop the most effective HR kiosks
HR kiosks can be a powerful tool in not only making your benefits signup process efficient, but also can help your HR staff to optimize your packages to ensure that you are providing benefits that best suit your staff. Contact Olea Kiosks today to find out how an HR kiosk can help you to manage your human resources needs.