If you missed part one of our roadmap to convincing colleagues to buy-in to a self-service kiosk project, we discussed effective ways to communicate the revenue generating possibilities of automated customer service with busy executives.
As business executives tend to be bottom-line oriented, a conversation about return on investment is critical, and studies consistently show that kiosk deployment, regardless of industry, is a consistent catalyst in increasing profits through improved transaction efficiency, shorter lines, higher customer satisfaction, greater brand loyalty and improvement in upselling and cross-selling.
Here, in part two of our series, we examine how industry leading-kiosk manufacturers, such as Olea Kiosks, collaborate with existing IT resources to ensure that any kiosk project has a seamless deployment, has locked down security and is easy to maintain, manage and upgrade. While C-level executives value how digital kiosks can help improve net margins, IT departments, in contrast, have their own set of values that must be weighed. If those concerns aren't addressed proactively, it's entirely possible your project could be torpedoed covertly without your ever having a chance to defend it from an information technology perspective.
Painless Installation and Seamless Integration
When it comes to IT, any new technology starts with installation. For your in-house IT team, working with an unfamiliar process and hardware system can prove challenging to implement. As a response, the best kiosk manufacturers make installation painless from the start.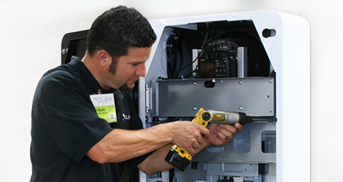 Innovative kiosk manufacturers such as Olea know that each organization has proprietary ways to collect and process data or handle tasks through various types of complex software. Olea has extensive experience integrating kiosk data collection systems with existing platforms, and as such, can offer invaluable expertise in ensuring that new systems fully interact with existing platforms.
In the pre-installation phase, kiosk technicians perform on-location readiness checks, take photos of the site and environment, and coordinate with IT professionals and necessary service providers. IT departments have full access to the pre-installation reports in order to help streamline the overall integration process.
At launch, test and turn-up services such as manual hardware installation and connectivity tests help ensure an effortless deployment. During migration, IT departments can work in conjunction with Olea's best-in-class service technicians to optimize kiosk performance, assuring a smooth launch.
Security as a Standard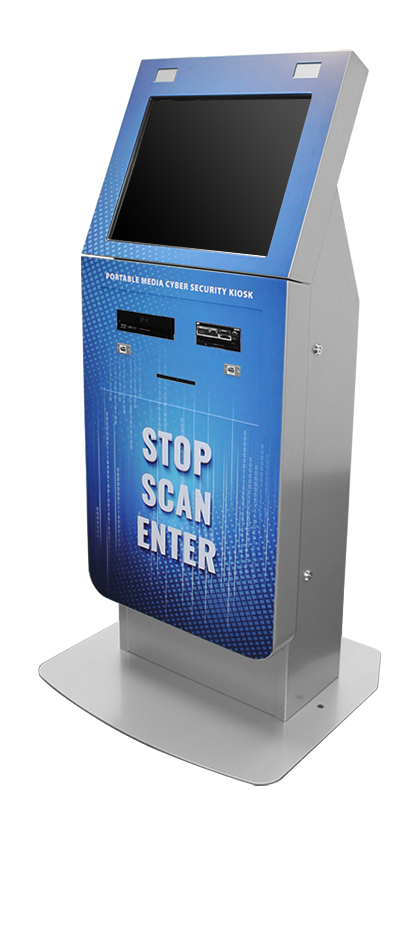 IT teams are constantly on watch to prevent network security threats. While adding more machines to a network can seem like letting the guard down, leading-edge self-service kiosk designers go to great lengths to protect against breaches.
State-of-the-art scanners can be deployed along with remote monitoring to help protect against malware,
ransomware and viruses. The most hyper-secure kiosks can even protect against the unwitting transport of threats from thumbdrives and SD cards.
Increasingly, hackers are targeting offline machines with malicious threats. The top kiosk manufacturers offer remote-monitoring services which help reduce the duration that a kiosk is offline during updates and kiosk malfunctions.
In order to ensure that digital kiosks securely let customers process payments, check balances, review personal data and access rewards programs benefits, logins and other sensitive customer data can be stored on a remote host server that uses an encrypted connection. This gives an IT department another controllable layer of security.
Furthermore, digital kiosks can be programmed to clear themselves of cookies and caches, and session timeouts after short periods of inactivity are an automatic way to help prevent identity theft and promote privacy.
Lastly, as kiosks are fully capable of accessing the web, IT departments can quickly blacklist sites that become known as threats.
Accessible Hardware and Remote Monitoring Maximize Performance
While American-made, superior-crafted kiosks are durable and come with excellent warranties, IT departments can count on self-service machines designed with built-in, preventive maintenance measures to further hedge against malfunction.
Self-repair options include the ability of digital kiosks to diagnose minor errors and fix themselves on the spot, while built-in recovery mechanisms provide a safety net to protect data, maintain security and continue base-level kiosk operation until a more complete repair can be made if needed.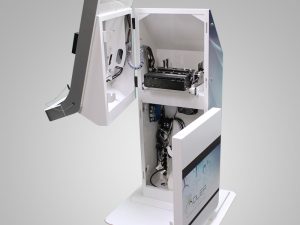 Remote diagnostics and monitoring allow IT professionals to assess and access digital kiosks from a distance, allowing them to perform emergency servicing or routine checkups from anywhere.
Furthermore, mobile alerts and alarms can bring attention to prospective errors, malfunctions, or crashes before they happen, so they can be attended to before an interruption of service. Preventing digital service interruptions can save industries upwards of $25 million annually and also help reduce entrance points for security threats.
In addition to the full range of maintenance and preventative measures built-in, IT departments can easily configure kiosks for automated routine checkups, speed tests, and cleanings to help enhance performance.
IT specialists can also work with experienced kiosk technicians to develop a schedule for routine maintenance at regular intervals, a service that helps maximize the use kiosk analytics.
Around-the-Clock Backup Support
Best-in-class digital kiosk vendors such as Olea offer superior customer service and a collaborative, solution-focused support system. Technical help is available 24/7 under an all-inclusive warranty, so less time is spent diagnosing problems and more time is devoted to implementing solutions.
As experienced kiosk engineers understand the intricacies of the system, quick, over-the-phone help for diagnosing minor technical issues can save IT workers time, energy and expenses.
Contact Olea Kiosks Today
IT departments are the backbone of any company's internal infrastructure, helping business leaders stay ahead of the game through technology. Digital kiosks are designed with the needs of IT professionals in mind, lessening the burdens of convoluted installation, maintenance and security concerns. Contact Olea Kiosks today to find out how Olea's on-call support crew can help your IT team succeed.