As self-service kiosks continue to revolutionize customer service across various industries, including healthcare facilities, movie theaters, amusement parks, fast-food establishments, and retail stores, the importance of integrating a human touch cannot be overstated. Greeters play a crucial role in enhancing the overall customer experience by providing assistance and a welcoming presence.
We always encourage the use of greeters to facilitate and encourage patients and guests to use the self-service kiosks, but we also feel there's a need to help organizations understand how to get the greatest benefit from a greeter program. Review this comprehensive checklist to see how your organization might be able to improve its self-service program.
1. Define the Greeter's Role and Responsibilities
Before deploying greeters, it's important to outline their specific roles and responsibilities. This will help to ensure there are no gaps in your service plan. These may include:
Welcoming customers and directing them to available kiosks
Providing assistance and guidance on using the kiosks
Answering questions and resolving guest issues
Informing customers about promotions, discounts, or new products and services
Ensuring accessibility for customers with disabilities or special needs
Monitoring kiosk usage and providing feedback for improvements
2. Develop a Training Program
A well-designed training program is essential for preparing greeters to effectively fulfill their responsibilities. This program should cover:
An overview of the self-service kiosk's features and functionalities
Troubleshooting common issues and providing solutions (receipt paper, ticket stock, wristbands)
Interacting with customers and offering personalized assistance
Identifying upselling and cross-selling opportunities
Understanding and addressing the unique needs of customers with disabilities or special needs
Recognizing and reporting potential security risks or fraudulent activities
3. Create a Greeter's Handbook
A comprehensive handbook can serve as a valuable resource for your greeters, providing them with essential information and guidelines related to their role. Having this information documented ensures consistency in performance as individuals in this role turnover and new employees are recruited. This handbook should include:
A detailed description of the greeter's duties and responsibilities
Step-by-step instructions for assisting customers with kiosk usage
Tips for providing exceptional customer service
Information about company policies and procedures, including accessibility and security measures
An FAQ section addressing common customer inquiries
4. Establish a Dress Code and Appearance Standards
Greeters serve as the first point of contact for customers, making their appearance and presentation crucial in creating a positive impression. Establish a dress code and appearance standards that reflect your organization's brand image and values and ensure this information gets added to the Handbook.
5. Designate a Specific Area for Greeters
To ensure maximum visibility and accessibility, designate a specific area near the self-service kiosks for greeters to stand. This area should be clearly marked and easily identifiable, allowing customers to quickly locate the greeter for assistance.
6. Implement a Performance Evaluation System
Regularly evaluating the performance of greeters can help identify areas for improvement and ensure they continue to provide exceptional service. Establish a performance evaluation system that includes:
Regular feedback sessions with supervisors or managers
Customer feedback surveys or comment cards
Performance metrics such as customer satisfaction ratings, wait times, and upselling success
7. Provide Ongoing Support and Resources
Greeters serve as a valuable source of feedback, helping businesses identify and address customer pain points related to the use of self-service kiosks. By observing and interacting with customers, greeters can pinpoint common issues or areas of confusion, allowing businesses to make necessary improvements to enhance the overall user experience.
To help greeters stay up-to-date with the latest developments in self-service kiosk technology and customer service best practices, provide ongoing support and resources, such as:
Regular training sessions and workshops
Access to industry conferences and seminars
Online resources and forums for professional development
Regular opportunities to collect internal feedback on systems and processes to enable continuous improvement
8. Foster a Positive Work Environment
A positive work environment can significantly impact the performance and job satisfaction of greeters. Encourage open communication, provide opportunities for career growth, and recognize and reward exceptional performance.
Greeters are your first line of communication so it's important to recognize and appreciate their value.
9. Plan for Peak Hours and Seasonal Fluctuations
During peak hours or seasonal fluctuations, additional greeters may be needed to handle the increased volume of customers. Plan ahead by hiring and training temporary greeters or cross-training existing staff members to assist with kiosk support during these periods.
10. Encourage Collaboration between Greeters and Other Staff Members
Promote a collaborative work environment by encouraging greeters to work closely with other staff members, such as cashiers, customer service representatives, and management. This teamwork can lead to a better understanding of customer needs and more effective problem-solving. Because greeters are on the front lines and physically accessible, it is possible that guests will share and confide in them, so it's important to gather that intelligence and use it wisely.
11. Monitor and Adjust Your Greeter Deployment Strategy
Continuously monitor the effectiveness of your greeter deployment strategy, adjusting as necessary based on customer feedback, performance metrics, and changes in your business operations. Regularly reviewing and updating your strategy can help ensure that greeters continue to provide value and enhance the overall customer experience.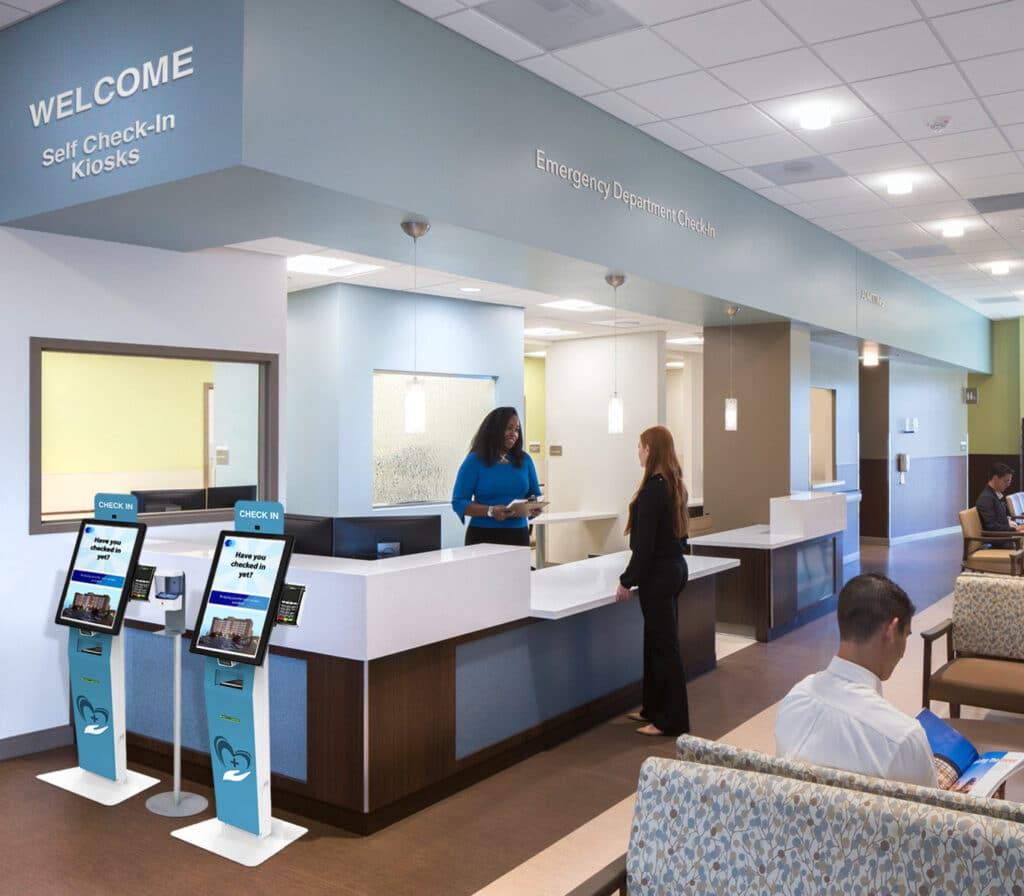 12. Share Success Stories and Best Practices
Highlight and share success stories and best practices among your greeters and other staff members. This can serve as a source of inspiration and motivation while also providing valuable insights for improving customer service.
As we've said many times before, deploying greeters alongside self-service kiosks can significantly enhance the overall customer experience, bridging the gap between technology and human interaction. By following this comprehensive checklist, organizations across various industries can effectively employ greeters to assist with their self-service kiosks, leading to improved customer satisfaction, increased sales, and long-term success. The key to maximizing the benefits of greeters is to invest in their training and development while fostering a positive and collaborative work environment.
Kiosks transform check-ins and ticket purchases, replacing box offices and easing reception desk traffic. Although customers appreciate self-service, they still value human interaction. Greeters bridge this gap, promoting long-term kiosk usage. Interested in implementing kiosks in your facility? Contact us to explore suitable options for your organization.