Most of us in today's world of high-tech personal devices are very familiar with the touch screen. Mobile phones, tablets, and even laptop computers come equipped with touchscreens. Many of us probably even take them for granted. But a multi-touch kiosk is a newer technology that allows for multiple points of contact on the screen that can control simultaneous movements. Instead of being limited to using one finger to manipulate the screen, multi-touch kiosks allow the user to employ numerous points of contact and increase functionality. One key benefit to a multi-touch kiosk is that more than one person can interact with the kiosk at the same time.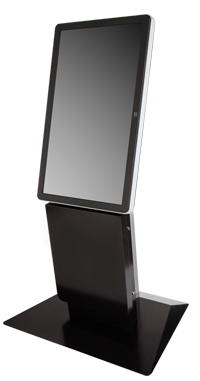 A popular application for multi-touch kiosks is wayfinding. Retailers, hospitals, airports, museums and other public venues all rely on wayfinding kiosks to improve visitor experiences. Clearly, many people attend these types of destinations in groups, and multi-touch kiosks allow for more than one individual of the group to experience the thrill that is interacting with a device as intriguing as a large and brilliant kiosk display. Utilizing multi-touch kiosk technology makes wayfinding extremely easy to use and navigation seamless; and can even accommodate large groups of people all wanting to participate.
Popular Uses for Multi-touch Kiosks
In a retail or other commercial setting, multi-touch kiosk can be used to present multiple products and services at the same time. For example, shoppers visiting a department store could use a multi-touch kiosk to simultaneously browse for a particular piece of clothing and use a second point of contact to carousel through different colors of the same garment. Perhaps even the shopper could use one point of contact to choose a pair of pants, and employ a second point of contact to browse through different options for a coordinating top.
Multi-touch kiosks have also increased efficiency by allowing users whom speak different languages than the default language to have a choice in which language they would prefer to use at the kiosk. The multi-touch functionality helps to enable the selection process by allowing multiple users to view different language content for different sections of the screen.
The last example of an interesting application is in photo kiosks where users can use a multi-touch kiosk to edit their photos either before printing or sharing on social media. In particular, when used in high-traffic public attractions, such as Olea's Seattle Space Needle Kiosks, the use of a multi-touch screen can allow multiple users to select, edit, and share photos at the same time, greatly increasing potential revenue as well as customer satisfaction.
Olea Kiosks is constantly adding new features and functionality to its designs. Both the private and public sectors have found multi-touch kiosks to be a valuable solution for creating a more interactive experience that is enhanced through the use of multi-touch technology.