"Omnichannel" retail refers to the ability to provide an integrated shopping experience to the user regardless of whether they are shopping in-store, using a mobile app, browsing the retailer's website, or using an interactive retail kiosk.

In 2013, 84% of retailers polled by Retail Systems Research acknowledged that creating a consistent omnichannel shopping experience was very important, yet the same survey found that less than 1 in 5 of the retailers polled had integrated the 13 most important aspects of the omnichannel experience across multiple retailing channels[1].
The growth of online retail
In the past few years, retailers have seen growth in their online retail sales, but few major U.S. retailers can claim that online sales are a major source of revenue.  Major retailers Wal-Mart, Target, and Bed Bath & Beyond all report less than 3% of their total sales from online channels.
Meanwhile, overall online sales are increasing significantly.  In 2006, online sales accounted for approximately 2.5% of net retail sales in the U.S.  This number grew to roughly 6% in 2013, and it's expected to continue to rise to 9% in the next five years.
As consumers continue to gravitate toward using computers, tablets, and mobile devices to complete a retail transaction, it is more important than ever for retailers to develop an "omnichannel" shopping strategy that integrates the online and offline experiences – a combination of "bricks and clicks."
Interactive kiosks are the foundation of an omnichannel retail strategy
Through the use of self-service retail kiosks, retailers have the ability to quickly and efficiently make the jump to an omnichannel retailing experience.  Retail kiosks can bring an integrated shopping experience through a number of methods, including: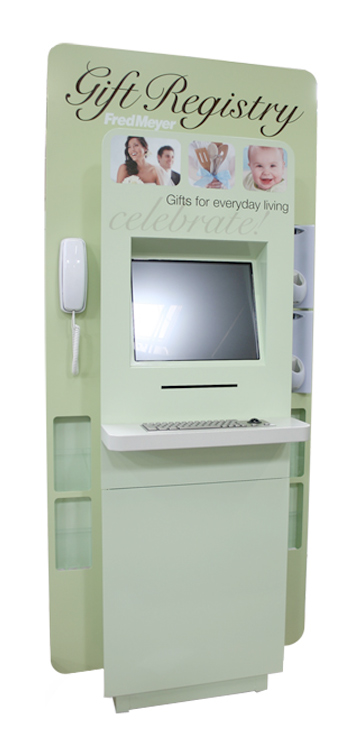 Utilizing a large touchscreen kiosk monitor to allow a user to interact directly with your website and resume their online shopping experience while in-store. By integrating inventory data into the in-store retail kiosk version of the website, consumers can be directed to a product's location in the store.
Integrating bar code scanners and mobile-friendly payment methods into an in-store kiosk allow a user to begin their shopping experience by scanning a product through the kiosk, then using highly efficient mobile check-out systems such as Apple Pay to complete their transaction.
Similarly, a user can begin their shopping experience at a remote location through the retailer's website, reserve the items they want to purchase through the website, arrive in-store with their items waiting for them, and complete their transaction through the in-store kiosk.
Millennials and the "Gen Z" consumer demographic account for a growing segment of the retail consumer base.  These users are highly digitally connected, and typically interact with at least five screens per day, meaning that it is more important than ever to provide as many electronic and interactive shopping options as possible.  The use of an interactive retail kiosk can be an important step in bridging the gap between the online and offline shopping experience, which is particularly beneficial for retailers that target this younger demographic.
Olea Kiosks is recognized as the world's leading developer of custom interactive retail kiosks.  Contact Olea today to find out how an interactive retail kiosk can help you to build an innovative omnichannel retail shopping experience.
[1] http://www.forbes.com/sites/greatspeculations/2015/02/12/why-is-omni-channel-retailing-so-important-for-bed-bath-beyond/