Self-service kiosks act like the silent ambassadors of convenience. They've transformed the way we check-in, transact, and access information. And now we're seeing them as the point at which technology meets the public in open spaces.
From bustling airport car parks to Subway drive-thrus, these kiosks brave the elements to offer services ranging from EV charging services to food and movie tickets.  As they continue to deliver services across a wide range of venues, it's important to understand the nuances and challenges surrounding outdoor kiosks. Dive in as we explore what you need to validate to ensure your outdoor kiosk is effective, resilient, and user-friendly.
When considering outdoor kiosks, the following key factors are essential in ensuring a quality product for your environment:
Weatherproofing. Since the kiosk will be deployed outside, it must be resistant to rain, snow, dust, and other environmental factors. Inquire as to how the unit has been tested to ensure it is weatherproof.
When touring Olea's manufacturing facility, you can see how it tests its kiosks to ensure high-quality weatherproofing.
Temperature Resistance. Outdoor kiosks should be able to function effectively in both high and low temperatures. Components such as the monitor, motherboard, and other electronic equipment should be rated for extreme conditions. Some kiosks may have built-in heaters or cooling systems to provide additional protection.
Screen Brightness. Outdoor lighting can vary significantly, so the kiosk's screen should be equipped with high brightness and contrast ratios to ensure it is visible in direct sunlight. Note that there are monitors that are outdoor-rated but they still have limitations and CANNOT be placed in direct sunlight. Be sure to know exactly what you are buying.
Anti-Vandalism Features. Given the kiosk is located outdoors, it can be prone to vandalism. Features like tamper-resistant screws and thick and durable materials, and scratch-resistant screens are important.
Consider locks, alarms, and possibly a surveillance system to deter theft and tampering.
Accessibility. It is important to ensure the kiosk is accessible to everyone, including those with disabilities. This means you should consider including features like audio-navigation assistance, screen readers, and wheelchair accessibility.
Connectivity. Most kiosks require a network connection. Consider ethernet, Wi-Fi, and even cellular depending on location and use. Redundant connectivity options are also recommended.
Power Source. Evaluate the power options available at the intended installation site. While direct power is often the most reliable, consider backup power solutions, like solar panels or battery backups, especially for critical applications.
Ease of Maintenance. Over time, the kiosk will require some maintenance, cleaning, and software updates. Consider how you can access the peripheral cavities to ensure paper changes and regular cleaning are relatively easy and require little time and effort.
Cost of Ownership. It's important to consider the total cost of ownership which extends beyond the initial investment. Understand the maintenance requirements and potential repairs and upgrades for peripherals. Understand how easy or difficult it might be to perform a field upgrade if necessary.
High-quality peripherals might cost a little more upfront, however, in our experience, they provide much better value in the long run. They fail less frequently and typically offer longer life so operations staff are not on-site troubleshooting.
Integration with Other Systems/Peripherals. All of the peripherals within the kiosk will need to be integrated to ensure they work together with the software. Ensure the vendor understands how to integrate the various peripherals.
An important point of differentiation here is who does that peripheral integration. Because Olea has extensive experience integrating and installing peripherals, they are intimately familiar with their performance and can recommend the best options.
Kiosk Location. Positioning the kiosk in an optimal location is crucial for success. While some say avoid the general flow of foot traffic, experience tells us that the kiosk must be in the flow, otherwise users will avoid them.
Aesthetics and Branding. The design and appearance of the kiosk should be in line with the brand or environment it's part of. It should be inviting and fit into its surroundings.
While researching outdoor self-service kiosks and the vendors that provide them, it's also a good idea to consider the specific requirements and challenges of your location, purpose of the kiosk, up-time, and how the kiosks fit into your overall service strategy.
Olea has designed several custom outdoor kiosks in a variety of styles for several high-volume venues. Below you'll see outdoor kiosks, both custom and universal designs, deployed around the country for a variety of use cases.
Universal Studios (Hollywood and Orlando) chose a custom design to greet its visitors as they approached the park.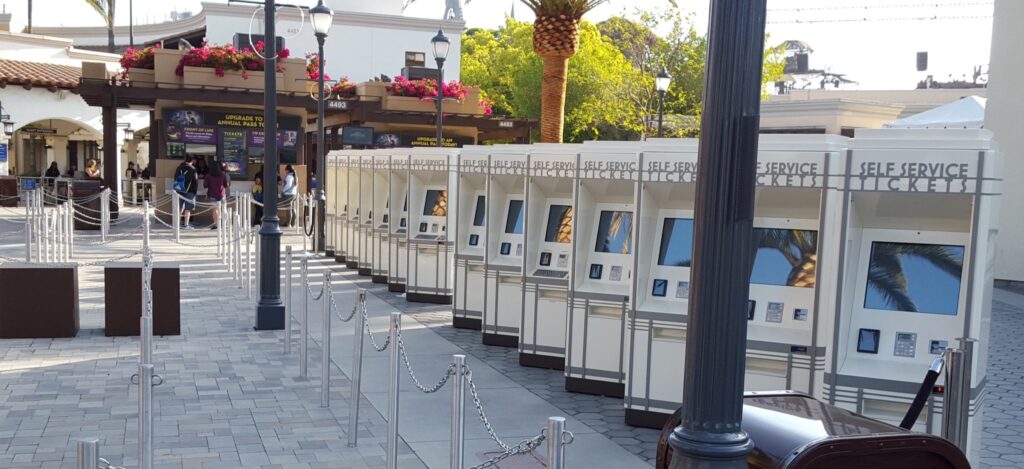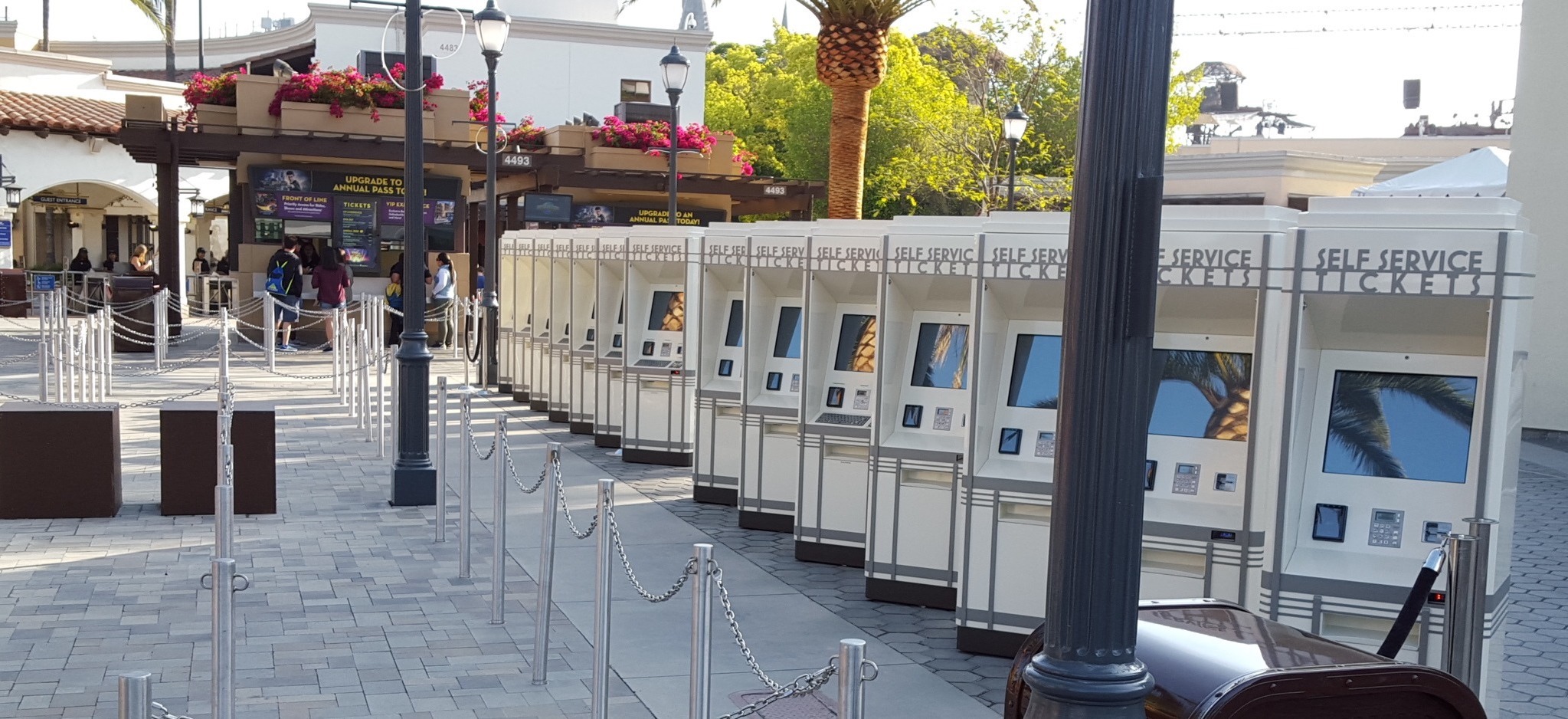 AMC Theaters selected the Seattle model to make ticket purchases easier for all patrons just outside the theater.
Subway Sandwiches uses the Detroit Drive-Thru. Unlike a typical drive-thru, this kiosk does not use a microphone and speaker for order. Instead, it is equipped with a touchscreen for self-ordering.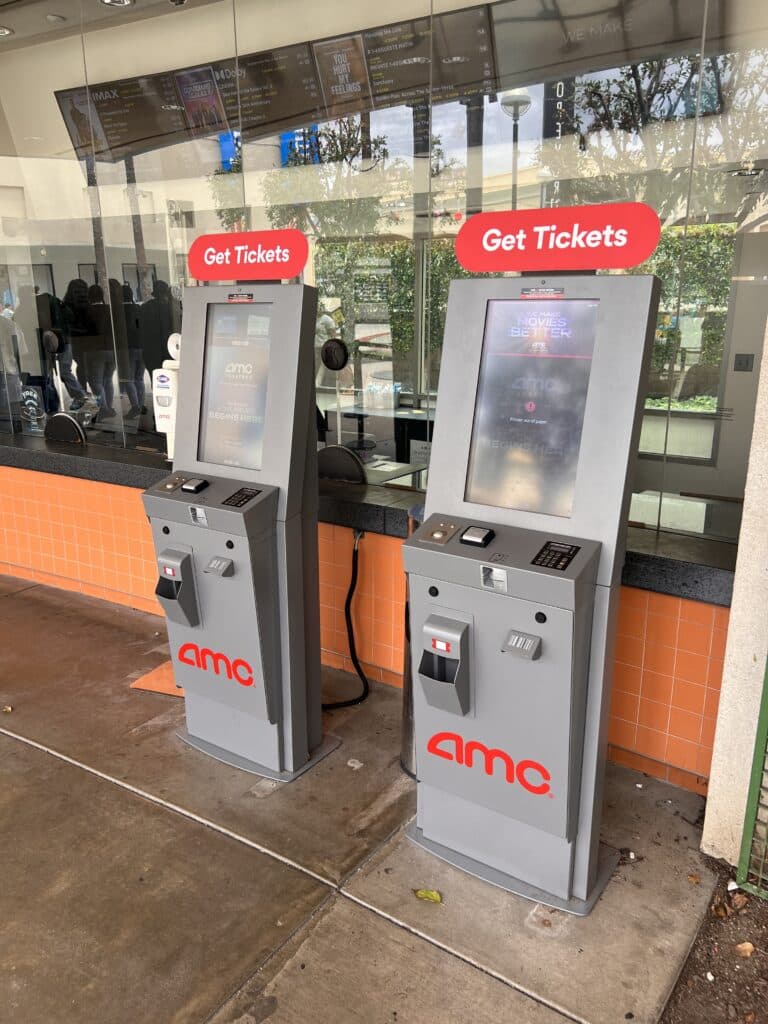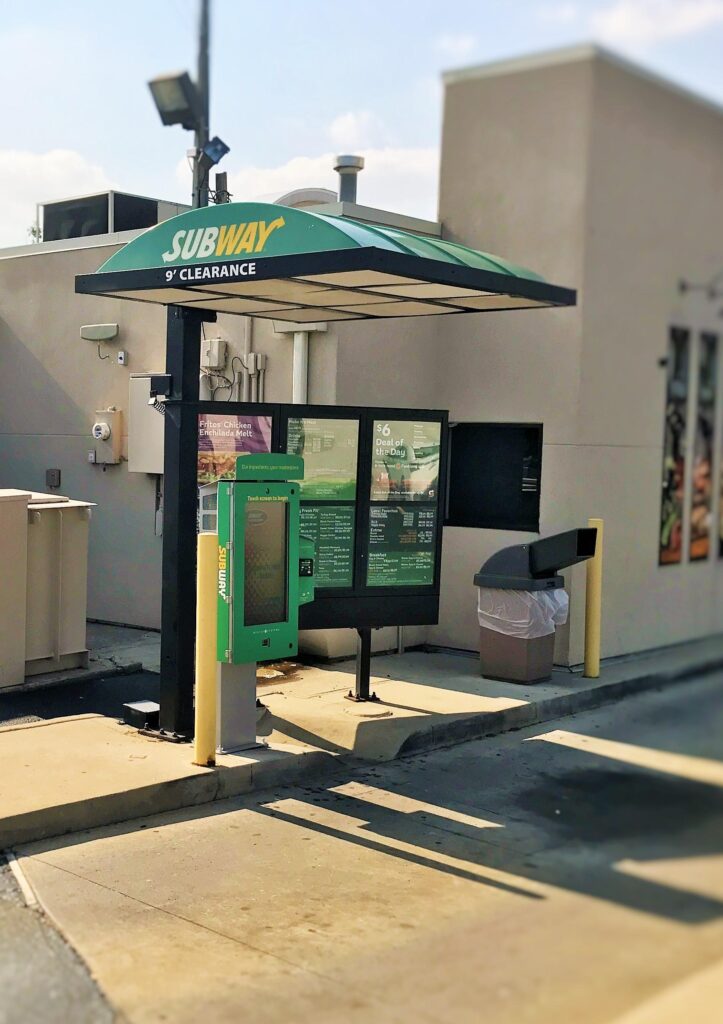 Café Zupas uses a similar version of the Detroit Drive-Thru kiosk.
San Diego Zoo deployed the Seattle model in a three-sided enclosure to give users a brief break from the hot sun.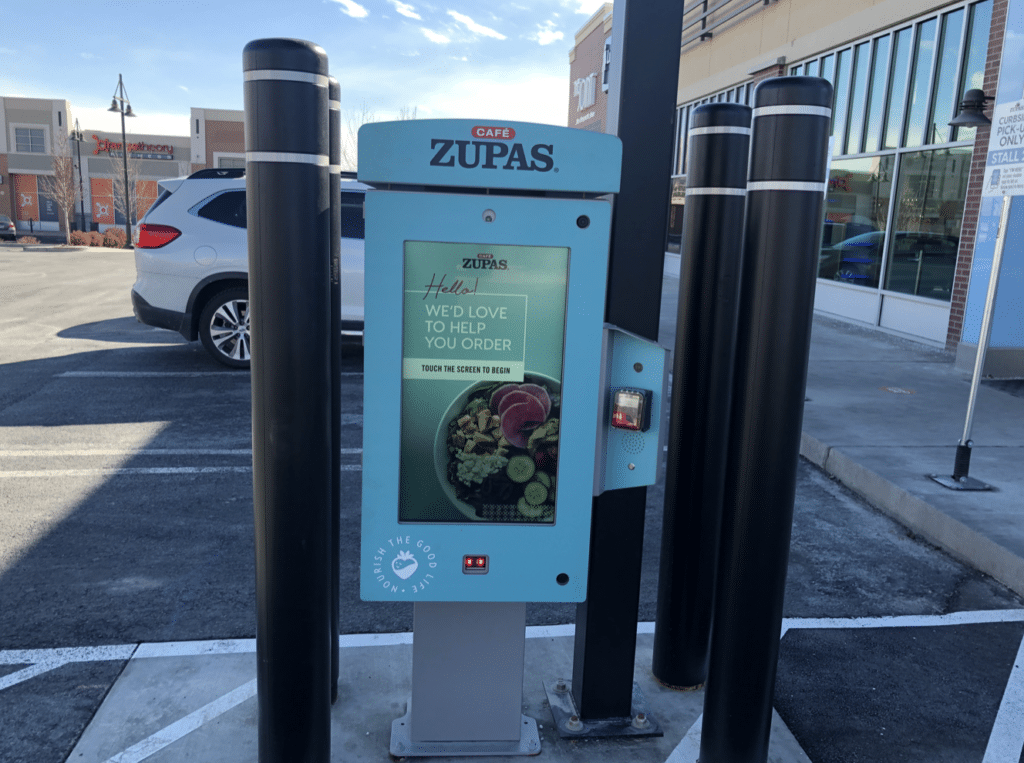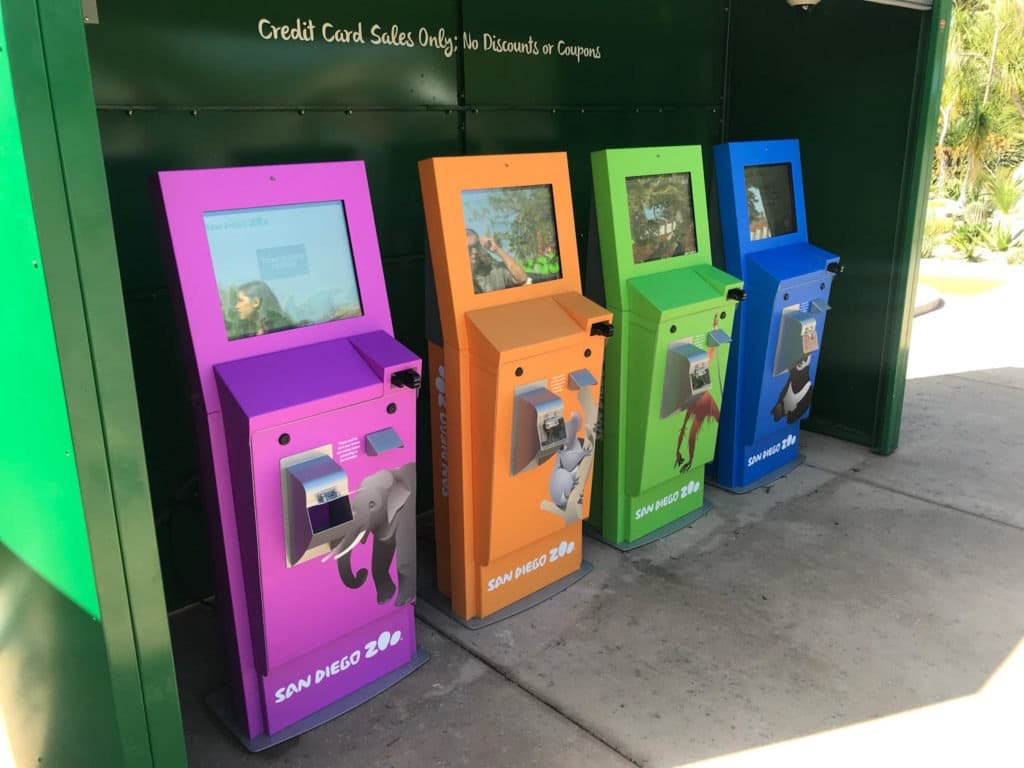 Kennedy Space Center was looking for a completely unique and custom kiosk design as they wanted to retrofit their box office windows with kiosks. The challenge was to design the kiosks such that no modifications would be made to the building itself.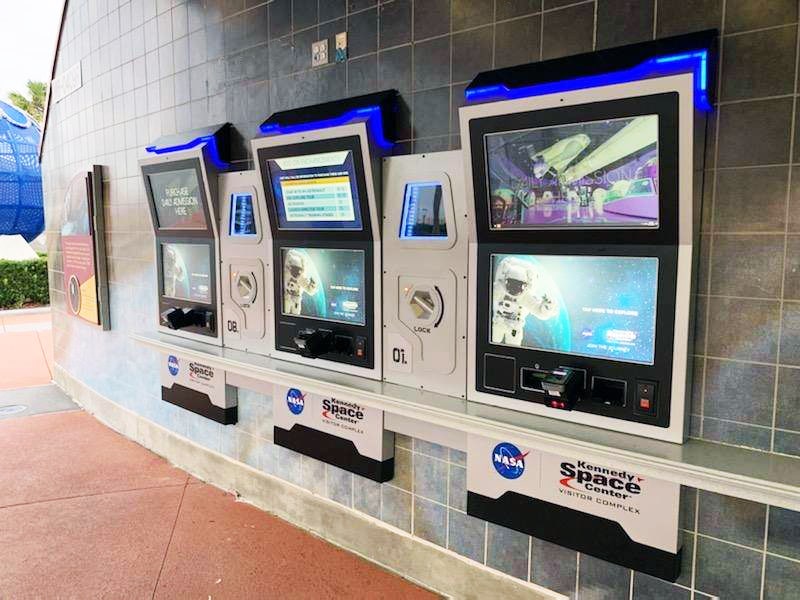 Olea has been delivering outdoor kiosk solutions for many years and is well-versed in the requirements for delivering a high-quality product that will thrive in extreme heat and cold throughout Canada and the United States. We'd be happy to help you identify the right solution for your situation. Contact us to schedule a discussion.