For retailers seeking to grow, retail kiosks provide numerous advantages that not only make them a great idea for the retailer, but for consumers as well. Retailers can enjoy more efficient operations with healthier profits, and consumers can avoid the frustrations of waiting in line by using the self-service options provided by kiosks.
Benefits of Retail Kiosks for the Retailer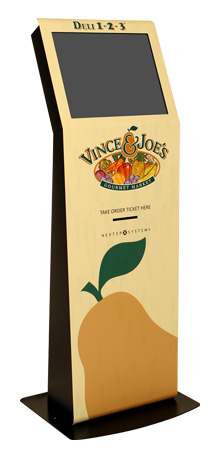 Supercharge your sales staff with retail kiosks. These devices can be programmed with an endless amount of product and inventory data. Retail kiosks actually provide the advantage of being "virtual sales people" that can help a customer with wayfinding, provide inventory status, suggest upsell items and even complete orders. What's more, when the kiosk is not being used to engage one-on-one with a customer, the screen can display promotional messaging and branding, such as discounts, promotions or other messaging aimed at driving sales.
Retail kiosks also allow retailers to expand their footprint outside of the confines of the store itself. Large national retailers have been deploying retail kiosks in public locations such as airport terminals as yet another touchpoint with consumers. Not only does this retail strategy provide another place to do business, it also drives brand awareness because consumers are able to interface with your brand even if they are not present in one of your stores.
With kiosks on hand to take over basic customer service and sales tasks, retailers can control labor costs by decreasing the number of floor staff. With labor costs on the rise—and potentially going to continue rising—retail kiosks are an initial investment with minimal on-going expense that can greatly help mitigate the damage of those higher labor costs. In addition, retail kiosks can support sales teams and contribute to increased commissions. Because kiosks will typically handle more of the simple customer service tasks, the commissioned staff can dedicate nearly all of their time and energy on increasing revenues, and thus maximizing their incentives.
In addition to wayfinding, product look-ups and check-out functions, many retailers are use their retail kiosks to handle a bevy of additional ancillary tasks such as administering job applications, providing credit applications, selling gift cards, managing wedding and gift registries and more. Because retail kiosks are highly customizable, each kiosk deployment can be catered to the specifications of each retailer to ensure that the retail kiosk offers the functionality that is most relevant to that retailer's business model.
What about the Customers?
Perhaps the most compelling argument for retail kiosks from the consumer perspective is that retail kiosks can greatly alleviate long lines, and waiting in line has been shown to be a major factor that can negatively impact the consumer's opinion of a retail establishment. One study found that waiting in long lines will cause nearly 50 percent of customers to conclude that the business is run poorly, and over 50 percent of consumers will take their business elsewhere if they feel the line is too long. For this reason, 87 percent of retail shoppers say they would be happy to use a kiosk if it meant less time waiting in line.
Additionally, as many consumers become more technologically savvy, there is a growing interest in using self-service technologies such as kiosks to complete a purchase. Studies have shown that 71 percent of consumers between the ages of 18-34 actually prefer to use self-service check-out options when they are available.
By providing consumers the option of using retail kiosks to browse and buy, retailers are not only ensuring that their tech-savvy consumers are satisfied with a self-service option, they are also helping all consumers enjoy shorter lines and experience greater satisfaction.
Contact Olea Kiosks Today
With benefits for both retailers and consumers, retail kiosks are being deployed by retailers across the country and around the world. Not only do retail kiosks increase sales opportunities, they streamline operations and increase customer satisfaction. Olea has been building award-winning kiosks for over 40 years. Contact us today to find out how we can make your vision for a retail kiosk a reality.