Are you looking for a way to return to business safely during the COVID-19 pandemic and beyond? What features are necessary for your organization.
Amid all the changes in the world, one thing is clear: Your people are your most valuable investment. Keeping employees safe and healthy is critical as you move forward in a world still living with COVID-19. Temperature Screening Kiosks makes protecting your employees and your business easier. As venues open up, you can ensure you have a screening solution in place to limit person-to-person interaction, curb the spread of the virus, and stem a potential crisis, all while preventing costly and time-consuming contamination clean-up.
There are many products on the market with a variety of features. You will need to assess which of those features are right for your organization by asking a few simple questions.
What is the primary purpose of using temperature screening?
Is it for creating a safer environment?
Is it because of local legal mandates? The mandates will dictate the features.
Is it to ensure that no one who fails a temperature screening or health questionnaire is permitted access?
In our experience, most organizations are simply looking to reduce the risk of infection spread at their location and to keep their employees and visitors safe.
The details below have been prepared to help you understand those features and what you need to know about each to ensure the solution you select will deliver the desired outcome.

Passive Temperature Screening
Passive systems can be highly effective at protecting employees and workplaces from the risk of infection spread. A passive system is not connected to your network and simply takes the temperature of individuals as they enter. It responds back indicating a pass or fail message.
For many smaller organizations, like restaurants, fitness studios, dental offices, schools, etc., this solution is perfect. The plug-and-play nature of a passive screening solution makes it easy to deploy quickly and effortlessly, provides lower labor costs over manual screenings, and reduces the risk of person-to-person contact.
Data Reporting
Many larger organizations want data gathering and reporting features to monitor their work force and ensure that all precautionary measures are in place and are working as expected. Having the ability to gather, record and analyze data enables an organization to report that data to health officials if necessary, to dig a little deeper if an issue occurs, and continuously improve its processes.
An organization will want to understand if the system is equipped with a dashboard for quick viewing of high-level information and whether or not that data can be easily be exported to allow for further analysis. For reporting purposes, exporting the data and using other tools like a spreadsheet for further evaluation will result in the most flexible reporting.
The typical data that is captured is as follows:
Date and Time Stamp
Entry Point Kiosk—this might include building number, entrance number, kiosk number
Temperature and/or Pass or Fail (some may not report the temp but pass or fail)
Health Screening Questionnaire Data
Health Screening Questionnaires
For some organizations and in some jurisdictions, it may be necessary to also administer a health screening questionnaire with temperature screening. If you want this option, you will need to determine if you will use the standard questions recommended by the CDC or other governing body or if you need further ability to customize the questions and answers. Note that the current CDC COVID-19 screening has only yes or no questions so some tools have been created with that type of questioning.
If you plan to use a health screening questionnaire, that questionnaire might be delivered in different formats across different kiosk solutions.
Those formats include the following:
Directly within the temperature screening, shows up on the screen after or before the temperature screening
Mobile app or QR code
Web site
Facial Recognition
Facial recognition may be necessary for any company that needs to deliver data for legal compliance. This feature is usually implemented when a company wants to ensure everybody has checked in and passed their screening. In order to deliver this feature securely, no facial or health information can be left on the kiosk itself.
Facial recognition is necessary for any company that wants to also deploy occupancy and contact tracing purposes.
Note that facial recognition is complex, so the solution will be more expensive and a little more challenging to deploy and take more time to set up. Most organizations will not need facial recognition.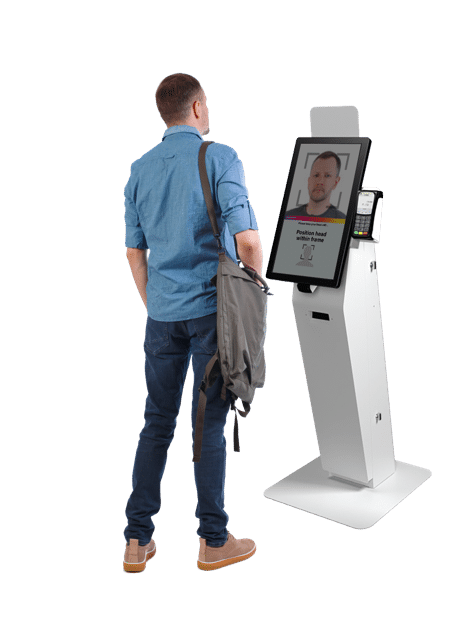 Access Control
For larger organizations, it may be desirable to integrate the temperature screening solution with the Access Control system (security doors) where access to the building or facility is granted when the temperature screening system receives a passed test for an individual.
Again, this will also require some additional budget to deploy this kind of system. It will require additional time and effort to complete the integration and then test it. Larger brand access control systems may already have the API that allows for control of this functionality. All endpoints that need to be controlled must be equipped with this API.
Temperature scanning kiosks provide a solution for businesses and organizations to return to business safely and efficiently during the COVID-19 pandemic and beyond. At Olea Kiosks®, we've listened to our clients' feedback about the current options available on the market and have three Temperature Screening Kiosks for organizations looking for non-invasive screening. Each of the Olea solutions feature a slim footprint, innovative technology, and an attractive design, making it effortless to repurpose when it is no longer needed for temperature screening purposes.   If you would like assistance with Temperature Screening Kiosks, contact your Olea sales rep or click here and a member of our team will get back to you quickly.