Companies that are not already using self-service HR applications may be accruing unnecessary costs on HR and administrative tasks. Due to the evident financial and convenience related benefits of using self-service applications, HR Kiosks are becoming mainstream as a tool for many companies. Industries that have adopted of this technology include government, manufacturing, retail and healthcare. Businesses are streamlining applications with HR kiosks that offer various levels of functionality. Generally, the benefits of these kiosks can be measured in tangible units as well as intangible units.
Capabilities of Human Resources Kiosks Include:
Reduce paper waste and administrative costs with printing on demand for documents and pay stubs.
Reduce administrative costs and accelerate hiring process with hiring kiosks that help with the pre-screening and processing of applicant data.
Increase convenience with round the clock accessibility to HR Information.
Self-service functions for employees without access to a computer, or off-site employees.
Virtual assistants for scheduling, employee training and other functions.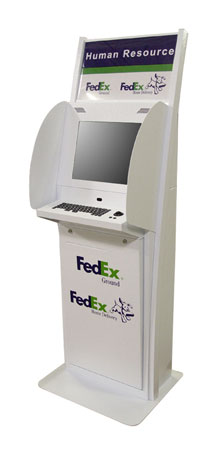 Hard Benefits
Transaction based interactions typically account for hard financial benefits for businesses using human resources kiosks. When an application such as electronic pay stub creation, has direct reduction of transaction costs, the owner can calculate the percentage of savings of using it versus not.
Soft Benefits
Soft benefits refer to the indirect benefits of utilizing self-service applications such as employee satisfaction as well as increased efficiency. Automating many of these HR and administrative tasks allows owners to redistribute their work load to more value-added functions such as employee relations or process improvement. This can reduce the overall need for HR staff, thereby reducing overhead costs.