Traveling to an unfamiliar destination increases the chance that people will get lost at some point. There are many places to get lost, especially if they are traveling in a crowded Metropolitan City like Los Angeles. Wayfinding Kiosks can help people find their way if they need assistance getting back on track. While a kiosk won't help them while driving down the road, it certainly can help them navigate their way to venues including shopping malls, business buildings, business parks, amusement parks, sports arenas, department stores, shopping districts, tourist attractions and restaurants.
Aside from helping someone find their way, wayfinding kiosks can also generate revenue in a few different ways. Some wayfinding software incorporates an ad scheduler which allows the kiosk owner/administrator to sell ad space to businesses in the area. Truly intuitive wayfinding software can also make product recommendations or alert a user of a sale that is happening that matches their search criteria. Using various delivery methods like on screen QR codes, text messages, emails, or even physical print outs; a wayfinding kiosk can effectively disseminate loads of information about the user's surroundings.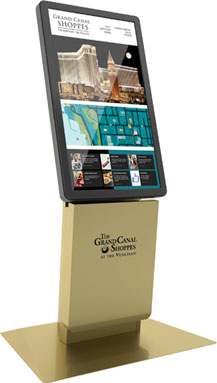 Often times, people will find a type of wayfinding kiosk called an "e-concierge" in the lobby of hotels. The kiosk can tell guests about entertainment and dining options in the area and even assist in making reservations or purchasing tickets.
There are numerous wayfinding kiosk software choices, but Olea recommends Jibestream's Novomap and Novotouch products.
Call us today to find out how you can get started with your wayfinding project. (800) 927 8063