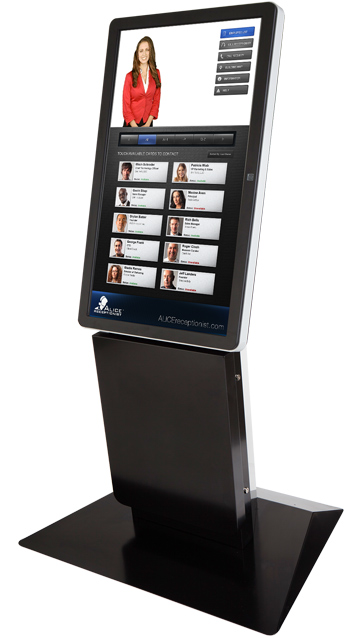 A virtual concierge can be anything from a fully immersive digital experience with live human interaction, or as simple as a mobile application that allows users to find information and services on their own. Regardless of the sophistication, virtual concierge services are on the rise, and more organizations are looking to virtual concierge kiosks as an efficient way to offer information to their guests in a user-friendly self-service format. An effective virtual concierge kiosk deployment can supplement or replace the need for full-time, on-premise staff, while at the same time increasing customer satisfaction.
Types of Virtual Concierge Deployments
With advancements in video conferencing quality and the proliferation of personal internet connected devices, the boundaries of what can be accomplished with virtual concierge kiosks is seemingly endless. Here are three common ways that organizations are utilizing virtual concierges.
Video Conferencing Kiosks:
Users are able to interact with a live person via a monitor and camera mounted on the kiosk. This application is completely immersive and is a very close substitute to live interaction.
The kiosk is equipped with a touchscreen and custom software designed to present the user with an intuitive workflow that allows the user to gather the information and/or services they seek.
Mobile Applications on Kiosks:
The mobile app can be hosted on a small interactive kiosk and can be also be made available for download on app stores, which gives the user the option for a multi-channel experience by interacting with the same app on multiple devices.
Examples of Virtual Concierge Deployments
When we think of a concierge, what typically comes to mind is an upscale hotel. But that is not necessarily true in today's world of escalating customer service standards. Businesses and organizations of all types, including retail, sporting events, and museums, offer information and assistance services. Whenever an organization has the need to staff someone to provide guest services, a virtual concierge kiosk is a viable option.
Virtual Concierge Kiosks at the Ball Park
Sports fans can use touchscreen kiosks to order food and beverages and have it delivered right to their seats. This technology decreases lines and wait times, and allows fans to spend more time in their seats watching the game! In addition, these same kiosks can be outfitted with ticket dispensing technology so that users are able to purchase tickets for a future events all through an easy-to-use touchscreen interface.
Virtual Concierge Kiosks at Apartments and Condominiums
According to one vendor, a full-time 24-hour front desk attendant will cost a property as much as $200,000 annually for payroll and expenses. For this reason, many properties choose to forego having a front desk attendant, and many are now finding that virtual concierge kiosks are a lower-cost alternative. A virtual concierge can monitor access, provide parking passes, and even receive packages.
A virtual concierge will save the property between 25 and 50% of the cost of live full-time staff. First, a virtual concierge can work remotely where labor costs may be less expensive. Secondly, the concierge can work for multiple properties at the same time, thus increasing their efficiency and cost-effectiveness. This results in less downtime where live staff would traditionally be on standby with nothing to do during slower hours.
Contact Olea Kiosks to Find out More about Virtual Concierge Technology
Virtual concierges can supplement customer service in virtually any setting where visitors to require information or service. Olea Kiosks is at the forefront of offering immersive user experiences, the latest in touchscreen and multi-touch technologies, and more. If you have the need to provide better customer service, contact Olea Kiosks today and find out how we can design a virtual concierge kiosk solution perfect for your business!