As we navigate the re-opening process for workplaces, hospitality venues and attractions, we know it has to be über safe, but it still has to deliver a knock-out guest experience.
It might seem strange to ask this question, "What problem are you trying to solve with your self-service kiosks?" But after the past year of closings, partial re-openings and business restrictions, we have noticed that some of our customers are looking at their self-service kiosks very differently today.
Self-service kiosk solutions can be dynamic as they can help to solve a number of business challenges. It's important to identify the primary purpose for your kiosks to ensure that you've optimized your deployment and are getting full benefit from your investment.
Even though you may have originally deployed kiosks to speed up the rate of service, you may now be thinking about the ability to use the kiosk to reallocate staff to higher valued tasks or to reduce human contact and increase social distancing.
Kiosks can be deployed to help with all of the following:
Increase revenue
Improve speed of service
Reallocate staff to higher valued tasks
Extended service hours (i.e. 24 hour bill payment)
Expand the number of selling points
Reduce human contact/social distancing
More convenient, frictionless experience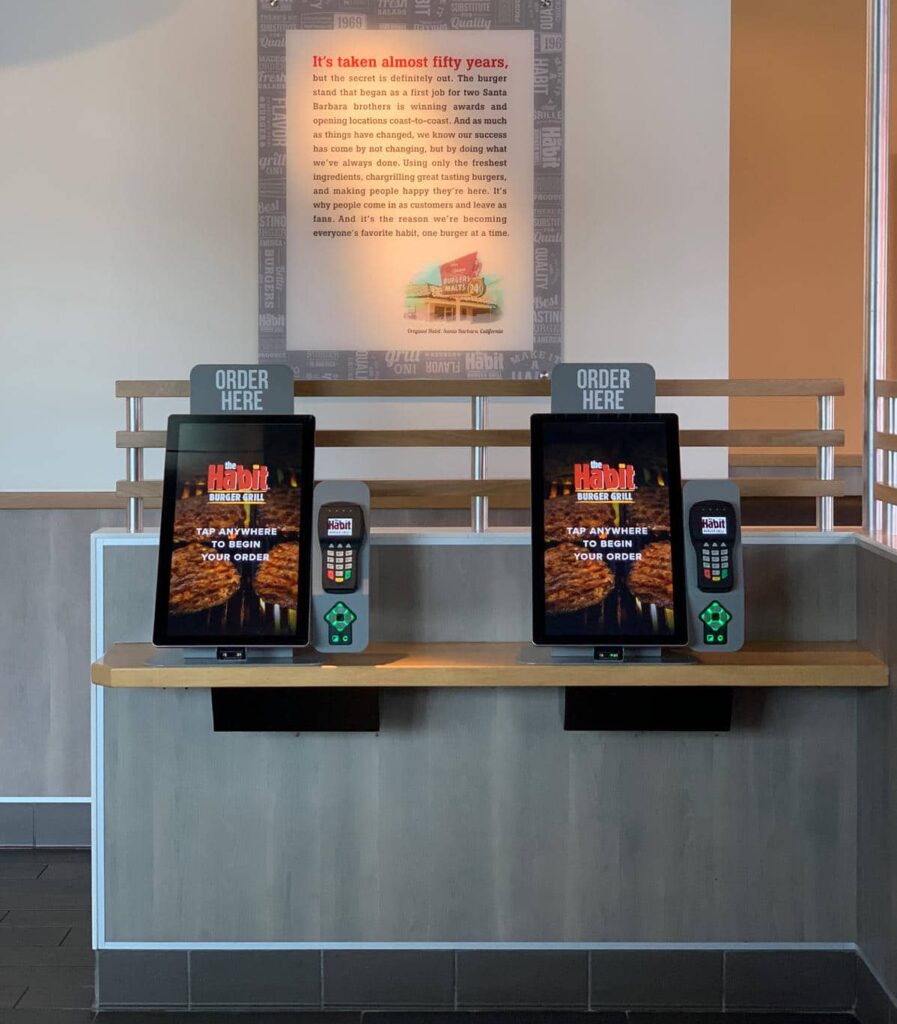 Increase Revenue
E-commerce knows this metric as "AOV"–average order value. Quick-service restaurants call it 'ticket lift'–or 'do you want fries with that?' And other brick & mortar retailers call it 'ticket size'.
Businesses often deploy kiosks because they can aid in increasing overall revenue and there is plenty of evidence to support that theory.
For example, Olea's software partner Appetize, noted the following at a college football stadium:
16% increase in average order size at kiosks vs. traditional POS terminals
25% more items per check at kiosks vs. traditional POS terminals
One of the reasons self-serve kiosks frequently deliver an increase in order size is because patrons often feel judged for their selections when ordering from another human. When ordering from a kiosk, that judgement goes away.
Self-service kiosks can also help increase revenue when you consider innovative ways to monetize other kinds of hospitality inventory. Casino and resort software company UrVenue, has booking software that allows guests to reserve and pay for various on-property experiences like pool and cabana seating or spa and nightlife packages and reservations. Deploying kiosks to increase the sale of these experiences is a cost-effective way of increasing revenue that can aid in improving profitability.
Improve Speed of Service
The length of time it takes to service a guest is a Key Performance Indicator (KPI) many organizations use to assess the guest experience. When guests recall their overall experience at a venue or amusement park, you want to avoid having them focus on the number of minutes they spent waiting in line as the most memorable part of their day.
Many venues look to kiosks to help improve their speed of service, and while there are a number of ways to measure this, one metric to look at is transaction time. In collecting data with one of our software partners, we observed improved transaction times for venues with General Admission and Reserved Seating.
General Admission—Box Office—3 to 4 minutes
General Admission—Kiosk less than 1 minute
Reserve Seats—Box Office 5 to 7 minutes
Reserve Seats—Kiosk—1 to 1:30 minutes
If you're looking to improve speed of service, it's also important to note the hardware components in your kiosks will need to be of a certain quality, otherwise they will simply slow down your transaction times. This is something to discuss as you consider the type of and list of devices to include in the kiosk.
Reallocate Staff to Higher Valued Tasks
The pandemic has forced businesses in all industries to reexamine how they deploy their most valued asset–their employees. One of the challenges facing businesses post-pandemic is a possible labor shortage. In some areas, it's hard to find service help and then you have to train, retrain and continuously update staffing methods to evolve and comply with new rules and regulations. And with local laws dictating capacity limits that might range from 10 to 50%, some venues are using kiosks to help assist with these workforce management challenges.
When staffing requirements are hard to predict, kiosks can provide flexibility and deliver an extra set of hands. Kiosks give businesses agility and the ability to easily adapt to emerging requirements to better manage labor and reallocate staff to other essential tasks.
Other businesses are looking to modernize and continue their digital transformation by using kiosks to automate the tedious, more repetitious tasks. In most cases, reallocating staff to higher value tasks results in a better customer experience overall and an increase in total sales. And it also means happier, satisfied employees.
Reduce Human Contact/ Social Distancing
At the beginning of the Covid-19 pandemic, we saw a number of businesses drive customers to kiosks to reduce human contact and create a service environment that reduced the risk of virus transmission as much as possible. Self-service kiosks allow you to do this with the following applications:
Pharmacy Check-in
Parking
In addition to social distancing, it's fair to say that the smart use of self-service technology is also designed to speed up otherwise labor-intensive parts of the process and helps to remove other inefficiencies so it is likely you will experience multiple benefits.
Extend Sale/Service Hours
Extending sale or service hours might not make sense for every business, but there are situations where this provides a tremendous value to the end-user. The following often deploy self-service kiosks to provide extended service hours:
Insurance Offices
Buy Here Pay Here Auto Dealerships
Utility Offices
Department of Motor Vehicles
Property Management Offices
Government Offices that accept bill payments and fine collection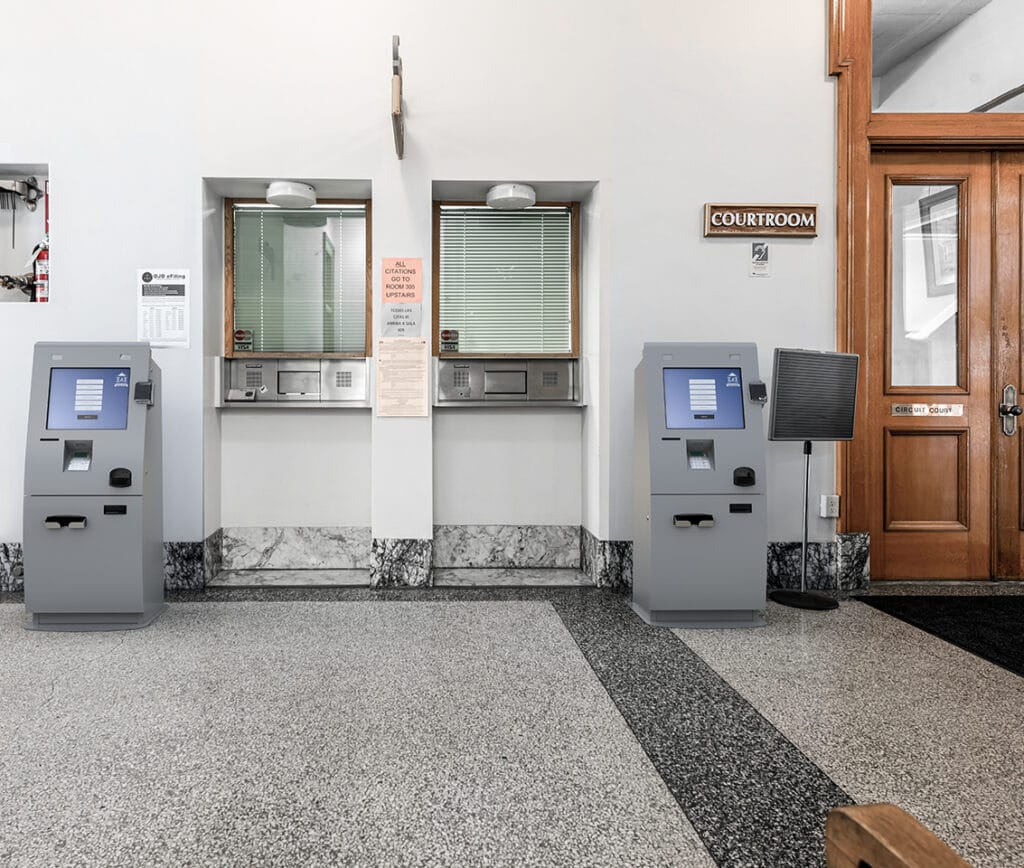 These offices typically deploy cashiering kiosks or bill payment kiosks. These kiosks most often serve the un-banked or under-banked community that prefer to make cash payments. For businesses, self-service kiosks can eliminate the frustrations and expense associated with cash management including reduced collection losses and billing follow-ups. Self-service payments can typically be processed in less than 60 seconds. Because self-service kiosks free up staff to focus on other value-added tasks, they can also help to reduce operational expenses.
More Convenient, Frictionless Experience
Consumer expectations were already on the rise prior to Covid-19. Self-service kiosks were instrumental in elevating convenience, but with Gen Z, and beyond, growing up with technology seamlessly integrated into their lives, consumers expect hyper-personalization given the access these businesses have to their personal data.
When the pandemic hit, digital transformation accelerated dramatically, and this, in turn, elevated customer expectations. Not only do consumers expect a seamless digital transaction, they're looking for anticipatory, personalized experiences. Businesses have to provide both a manner in which to access the technology and then ensure that the software is sophisticated enough to take advantage of all of that data.
Consumers expect experiences that will be frictionless, anticipatory, relevant and connected. And nothing should get in their way. There is still plenty of opportunity in this space—opportunity for improvement as well as the opportunity to differentiate.
If your business needs to make a change and adopt self-services to continue to provide the best guest experience cost-effectively, now is the time to consider making those changes. Consumers are looking for ways to get back to some level of normalcy, and they're ready and more than willing to use technology to do that.  If you would like to discuss ways for your organization to drive self-service revenue with transactions that are contactless, resource-free, branded and always open for business, contact us now to get started.