2013 Epic UGM Show Recap
September 23, 2013
Olea Kiosks Inc. recently attended the 2013 Epic User Group Meeting in Verona, Wisconsin.  The event saw an estimated 8,500 healthcare professionals on-hand for a variety of presentations and peer-to-peer educational sessions.
The conference gave Olea a great opportunity to showcase some of our latest innovative implementations of the Epic Welcome software with our healthcare kiosks.  Both the Epic Welcome software and our kiosks are very flexible, which allows for each individual customer to select the features that will be most useful for their specific needs.  Some of the most common features that are implemented with the Epic software and our kiosks are: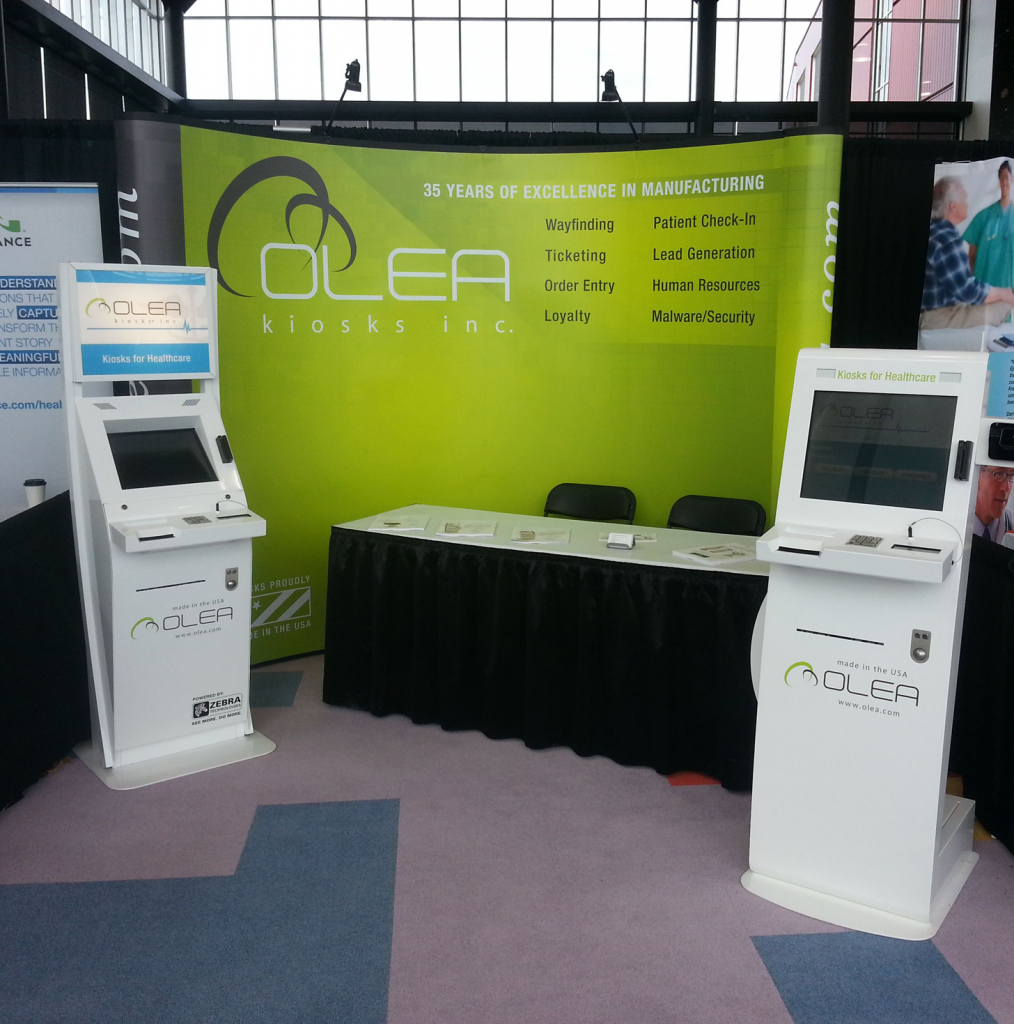 Patient Self Check-in Functionality – this patient check-in kiosk allows patients to check-in to their doctor's office or hospital through an automated electronic interface, which provides a highly efficient user experience and also allows the healthcare provider to streamline their admin staff.
Patient Payment Functionality – By allowing the patient to electronically pay for their co-payment, these systems streamline the check-out process for both the patient and the healthcare provider.
Card Scanning – By scanning the user's healthcare ID card and their driver's license, the provider can ensure that it has the latest customer information in its systems.
Electronic Signature – With an electronic signature pad, electronic consent forms can be digitally signed to give them full legal authentication.
Wayfinding Systems – With wayfinding functionality, the kiosk can provide a patient with directions within a specific building or inter-office directions for multiple buildings throughout an entire hospital campus.
Document Printing Capabilities – Adding a printer to the kiosk allows the patient to print a copy of office policies, their patient consent forms, and even directions provided by the wayfinding systems.
One of the newest pieces of functionality to be integrated into the Welcome software is biometric scanning functionality. Biometric scanning allows a system to identify a person based on unique identifiable biological information, such as fingerprints or the iris of the eye. The Welcome software supports integration with multiple different types of biometric scanners, and Olea has been at the forefront in integrating the latest and greatest scanning technology. Olea healthcare kiosks have been outfitted with an optional iris scanner that takes a picture of the person's eyes, saves that information to a database, and correlates that data with a user's profile. When that patient returns for future visits, they simply need to have their eyes scanned to check in, which is a very quick and convenient process.  In addition, Olea has also integrated optional fingerprint readers and palm vein readers as other forms of biometric verification systems.
In addition, we were also able to showcase our latest kiosk integrations that use Zebra printer technology. The Zebra printer has become the preferred printer peripheral for Olea kiosks as it allows for seamless integration into our kiosk systems, has a low failure rate, and is durable and long-lasting. The Zebra printer is a great addition to a healthcare kiosk as it allows for printing of everything from consent forms to wayfinding directions.
Overall, the 2013 Epic UGM show was a great opportunity to showcase our latest healthcare innovations. We look forward to continuing to push the envelope with new functionality that will provide better and more efficient patient experiences in the healthcare industry.