Biometric kiosks offer an ideal solution for any agency or organization that needs to instantly and accurately identify individuals at checkpoints or transaction point-of-sale locations. And, kiosks with biometric identification capabilities also help schools and businesses keep their spaces more secure.
Common deployments for biometric kiosk machines
• Police and sheriff departments
• Border control applications
• Licensing agencies, as for driver's licenses renewals and handgun permits
• Jails & correctional facilities
• Companies that need to remotely verify identification and credentials
• School districts and higher educational institutions
• Buildings and spaces that require identification for controlled access
Border security and law enforcement benefits from biometric kiosks
Biometric capability enables kiosks remote locations to send fingerprints to local, state and federal law enforcement agencies. This is useful for application processing for government services such as:
• Booking, fingerprinting and identifying arrestees
• Identifying and managing inmates in correctional facilities
• Self-reporting of offenders in home-incarceration programs
• Self-service renewal of driver's licenses and similar permits
Biometric security kiosks decrease customs wait times
Olea recently introduced the Automated Passport Solution (APS), a touch screen kiosk-based customs inspection system that is already revolutionizing the airport customs process and exponentially reducing customs processing times.
The APS kiosk first scans the traveler's passport, and then asks a series of questions that are similar to those asked by a human customs official. The kiosk then takes the traveler's photo and can be configured to include an optional fingerprint scanner for optimal security. In addition, the kiosk will have future biometric enhancement options, such as a retina scanner that will provide even higher levels of security. Already, the APS kiosk has been successful in cutting wait times at the customs checkpoints, but its use of biometric devices also ensures a high level of security is maintained.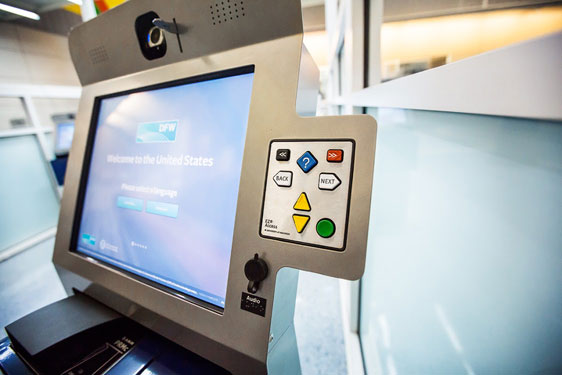 Biometric kiosks are fully customizable for any agency
Kiosk machines with biometric-identification capabilities are fully customizable to meet any agency's precise needs.
For example, kiosks for field use in correctional institutions are usually configured with multiple monitors, touch screen displays, mug shot cameras, fingerprint or palm scanners, signature pads, and a secure central processing unit. The equipment is configured for the exact tasks required, and the institution's safety and security are paramount.
And, self-service driver's license renewals and other public licensing through kiosks offer great benefits, such as shorter lines and reduced waiting times, faster application processing, and cost savings for taxpayers.
To renew a driver's license, the applicant can simply swipe his or her current license or other state-issued identification, and respond to a few instructions shown on-screen. The kiosk machine scans the fingerprints or palm prints, takes a picture of the applicant, and then submits the secure application electronically.
Schools and businesses rely on biometric kiosks for entry/access and point-of-sale applications
Businesses, schools and other organizations use these kiosks for:
• Confirming credentials of visitors and staff in any security-minded business enterprise
• Verifying identities of students, staff, parents and other visitors to schools of all kinds
The features & benefits of top-quality biometric kiosks
The best biometric identification kiosks are powerful tools with benefits for businesses and government agencies alike, as well as for the citizens they serve.
✓ Heavy-duty components for long life and trouble-free service
✓ Secure, tamper-proof enclosures
✓ Durable touch screen displays
✓ Dual monitors for best security
✓ Minimal footprint – One power plug, one Internet connection
✓ Fingerprint scanners and/or palm scanners
✓ Mug shot cameras
✓ Signature pads
✓ Magnetic strip readers for drivers' licenses and other coded IDs
Broader use of biometric kiosks
Biometric kiosk machines can help speed and secure a wide range of identification and ID control applications, in public agencies and private businesses alike.
Beyond the additional use of biometrics for identification by law enforcement agencies, and for building access and security, the future will probably see biometric kiosks offer more secure commercial transactions based on identifying users at the point-of-sale. As technologies continue to advance, it seems likely that biometric identification measures will soon be included in all interface hardware and applications in daily commerce.
To learn how easily a biometric identification system can benefit your organization, contact Olea Kiosks, the leader in biometric kiosk design.