In the hospitality industry, establishing a recurring customer base through the development of brand loyalty is a crucial revenue stream. Studies have shown that a five percent uptick in customer loyalty can lead to increased profits of 25 to 95 percent. Furthermore, it has been shown that loyal customers will even stay in less desirable locations or spend more for a hotel experience they trust.
Creating brand loyalty in the hospitality industry is dependent upon the brand being able to consistently deliver a service that exceeds customer expectations, and through the use of modern hospitality kiosks, many hospitality brands are succeeding in building trust by providing an exceptional interactive self-service experience.
Hospitality Kiosks Establish the First Impression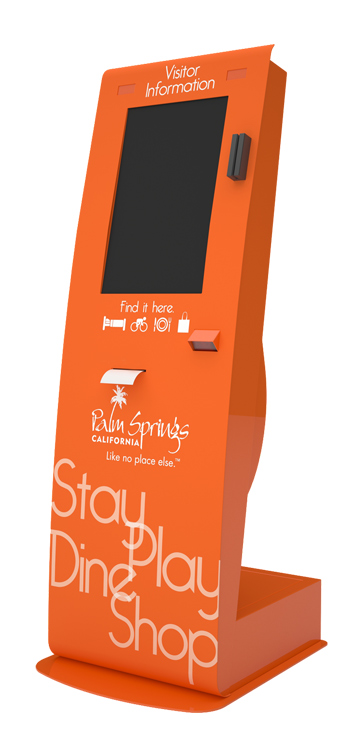 Throughout the hospitality industry, brands are opting for self-service options for everything from check-in, check-out and loyalty program enrollment, to virtual concierge services and more. It has become common in hotels for guests to be greeted by a bevy of check-in kiosks, with human customer service attendants standing by to direct and assist the self-service check-in process as needed.As a result, the customer's first in-person interaction is often with an automated self-service machine. This first impression is immensely important in demonstrating an ability to exceed the customer's expectations. While a well-developed can provide a fast, easy, and seamless self-service transaction, an outdated or poorly designed kiosk can create frustration to the point where the customer may doubt whether the brand has the ability to provide services that will meet the customer's expectations. An effective self-service kiosk can ensure that this first impression sets the stage for building long-term brand loyalty.
Automated Customer Assistance through Virtual Concierge Kiosks
Many hotels have moved away from the full-time on-staff professional concierge that historically would provide services from arranging transportation to suggesting a place to wine and dine an important client. As a result, customers are now often left to their own devices to explore the surrounding area. This approach misses out on a major opportunity to engage the consumer who may be looking for guidance as they explore their foreign settings.
Innovative virtual concierge kiosk solutions can fill the void created by the absentee personal concierge. These kiosks can be configured to provide information about a property's amenities and allow customers to make reservations for on-site restaurants and services. These versatile kiosks also can allow the customer to browse the internet or even view apps such as Yelp or OpenTable to find out more about the surrounding amenities and even make reservations for off-site properties.
Building Brand Loyalty with Customer Loyalty Programs


While long-term brand loyalty requires exceeding a customer's expectations, once a hospitality brand has built an initial level of trust with its customers, loyalty programs can be a great way to continue to build a long-term relationship with the customer. Studies have shown that 96 percent of Millennials are members of at least one loyalty program. In addition, this young demographic is poised to become the number one consumer spending demographic by 2018. As a result, hospitality brands are discovering that it is imperative to develop a Millennial-friendly loyalty program that can connect to this growing audience.
The good news is that hospitality kiosks can provide a one-stop-shop for a variety of hospitality services, including enrollment in loyalty programs. The same kiosks that provide check-in and virtual concierge services can be configured to provide easy self-service enrollment into a loyalty program. Furthermore, while the customer is using other services, such as searching for dining options, the kiosk can display unobtrusive promotional information about the loyalty program's benefits. Finally, the kiosk can also be configured to allow the customer to redeem their loyalty benefits, including printing vouchers for use with on-site services and venues.
Contact Olea Kiosks Today
More brands in the hospitality industry are finding that hospitality kiosks are an important building block in developing long-term customer loyalty. These versatile self-service machines can be configured to provide access to a variety of functionality that ensures that the customer's needs are met through an easy-to-use self-service interface. Contact Olea Kiosks today to find out how our award-winning hospitality kiosks can help your brand exceed your customers' expectations.
Sources:
http://hbswk.hbs.edu/archive/1590.html
https://www.aabacosmallbusiness.com/advisor/22-shocking-stats-millennials-help-chart-tomorrow-change-112531305.html