A check-in kiosk is a touch-screen device allowing individuals to self-check-in for a meeting, an appointment, travel, or similar.
Check-in kiosks allow businesses, clinics, and facilities to control the visitor experience while extending the check-in process to a self-service.
Check-in kiosks are sometimes referred to as visitor management systems or virtual receptionists, but each does essentially the same fundamental activity of checking people in. Some solutions come with additional peripherals designed to perform some other functions like future appointment setting or the collection of fees.
The intent for those deploying these systems is to know, without a doubt, who is in the building, at its most basic level. But for many organizations, it isn't enough to just collect those names. Most are looking for something more sophisticated to increase security and compliance, provide legal documentation, ID cards, badges, keycards, and more.
Where are Check-in Kiosks Used?
Just about everywhere.
Check-in kiosks are frequently used by all the following:
Healthcare facilities including clinics and emergency departments
Airports and other travel hubs
Corporate campuses and offices
Warehouses and logistics centers
Schools, pre-schools and elementary
Government facilities including courthouses, local, state, and federal buildings
Hotel check-in
Benefits of Check-in Kiosks
Check-in kiosks provide a host of benefits for both the visitor and the organization.
Improve Employee Productivity
Most offices no longer have a full-time receptionist because it just doesn't make sense from a productivity standpoint. Check-in software platforms can include visitor check-in process flows that provide fast host notification, the ability to create badges, capture documents like digitally signed NDAs, and reports and analytics to optimize the check-in process.
Improve Operational Costs
With improved productivity comes improved operational costs. While the intent is not necessarily to replace humans with machines, in this case, the organization can shift the human resources to higher valued tasks that are more suited to human skill sets.
Improve On-Site Transparency
Depending on the software platform used, these check-in solutions can deliver reports to monitor check-in data, and organizations can extract insights that they can use to improve facility access or security.
These reports can also be used to monitor contractors and vendors where time on site and access levels are important. For example, some hospitals have installed vendor check-in kiosks to reduce the amount of time staff spends providing access to pharmaceutical reps. With these check-in kiosks, the reps are provided a day badge and given access to certain floors and offices.
Improve Accuracy and Security
Most organizations are looking for a fool-proof method of validating who's in the building and the accuracy is so much higher than a solution that is subject to the possibility of human error. Now you don't have to worry about someone getting distracted and not checking the ID closely or using judgment. The kiosk will do as it's programmed.
Enhance Job Satisfaction
Checking people in all day can become rather monotonous. You've heard the calls answered and how people are greeted. Much of the time, the greeting sounds as though it's coming from a robot. Its repetitive nature makes it seem disingenuous. For many organizations, it probably makes more sense to automate this task with a kiosk. It's not terribly satisfying and it's really very effective to use kiosks to perform these tasks.
Functionality Beyond Checking-In
Check-in kiosks range in capabilities. The level of sophistication varies based on the purpose and industry for which they're used.
Healthcare Check-in Kiosks
The functionality within healthcare check-in kiosks starts with simple check-in to notify the patient has arrived and helps to inform the patient of wait times.
From there, the kiosk can perform several other tasks including intake—where the patient may fill out forms, validate identification, collect insurance information, make appointments, and collect co-pays or other payments.
These kiosks may also print individualized badges with barcodes that need to be scanned to allow entry to the clinic areas. As mentioned above, healthcare facilities often deploy vendor check-in kiosks as well to optimize flow in the facility and reduce the amount of time staff spend managing access for their vendors.
Airport and Travel Hubs
The first kiosk most of us remember using is the check-in kiosk at the airport counter. Those kiosks look for your reservation and confirm you are on-site to board a flight. They can also print boarding cards and bag tags.
In addition, many airports offer CLEAR Airport Lanes which enable access to predictable and fast identity verification to speed through security for its members. These kiosks are equipped with fingerprint sensors and retina scanners to verify one's identity.
Corporate Campuses and Offices
Check-in kiosks at corporate facilities can also vary widely in their functionality. Some are used as a virtual receptionist or visitor check-in. In some cases, the kiosk may connect you to a live agent that will interact with you and direct you to the correct location.
These check-in kiosks can be equipped with peripherals to deliver printouts or badges with photos on them. Badges include single-use adhesive badges all the way up to plastic ID cards with printing and mag stripes or contactless RFID chips with all the access and privileges appropriate for that visitor.
Warehouses and Logistics Centers
Check-in solutions in these facilities are likely to be more sophisticated as workers could be checking in to pick up loads or transfer materials to different facilities. They might just have ID cards with mag stripes or contactless RFID chips and others might require the insertion of a driver's license. These solutions may also be equipped with heavy-duty printers to deliver documents with approvals and transfer information.
Schools
Security at schools has seen several changes over the last couple of years. Pre-schools have long had sign-in and sign-out procedures to document the arrival and pick-up of children, so adding kiosks is an automation of that procedure that helps to increase security. Some schools are requiring students to check-in so they've recorded attendance and, in some cases, those solutions may also be taking temperatures and issuing late slips.
Schools are looking to screen and track everyone who enters the facility to eliminate uncertainty and have full control over who is allowed in the building.
Government Facilities, Courthouses, Local, State, and Federal Buildings
Despite being facilities for the general population, security at these buildings has been stepped up to ensure safety. Many of these facilities will require a photo ID for entry and to dispense a temporary badge with a photo.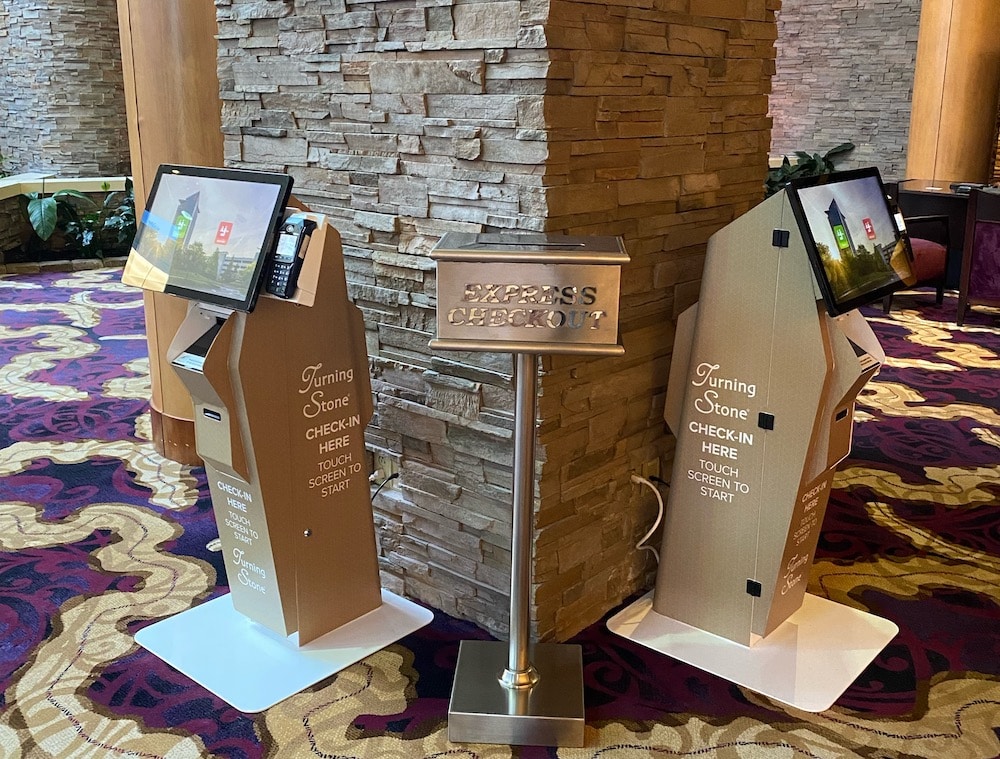 Hotel Check-in
At hotels, check-in kiosks enhance customer engagement and improve ROI by keeping lines shorter as they enhance and expedite service. These kiosks are typically equipped with scanners to verify identification and card encoders to deliver activated room keys. They will also include payment devices and printers to deliver receipts.
The Future of Check-in Kiosks
We predict that more and more check-in kiosk solutions will get deployed over the next three to five years. In addition to automating the role of reception or check-in, these systems will get more sophisticated with deeper integrations to security systems and other office management technology. In many cases, they will become a critical part of the access control system.
No doubt more functionality will be included and it's likely to incorporate higher levels of security including facial recognition and potentially checking with various databases to further verify individuals. If you'd like more information, our dedicated team of experts can help you navigate the world of check-in kiosks. With more than four decades of experience and over 50,000 self-service kiosks deployed, we can help you determine the best solution for your environment. Connect with us to discuss how to create the right check-in kiosk solution for your organization.