While self-service kiosks enable businesses to improve the customer experience, they have also emerged as an opportunity to boost profits. Businesses from a variety of industries are discovering that digital kiosks help them remain competitive in an ever-changing business environment, effectively engage customers, and generate more revenue.
From quick-service restaurants (QSR), financial services, and healthcare to hospitality including amusement parks, cinemas, casinos, and zoos, implementing kiosks has been shown to encourage higher customer spending per visit and help reduce operating costs.
How Do Kiosks Generate More Revenue?
Businesses today are struggling. Hiring and retaining staff is a struggle. Navigating the constant changes in our post-peak-pandemic world is a struggle. Managing the rising costs of running a business is a struggle. Many companies are just trying to stay afloat. For some business owners, increasing revenue seems like an unattainable goal.
However, organizations across numerous industries have found that incorporating self-service kiosks is helping them overcome some of these challenges and deliver more revenue per transaction on the kiosk.
For example, CEFCO Convenience Stores recently found that deploying self-service kiosks led to an uptick in transaction values. On the revenue side, CEFCO saw a 27% ticket lift on orders. In addition, they also noticed customers are spending money on other items in the store as they make their way to the checkout counter with their printed order receipt. Let's take a closer look at three key ways self-service kiosks can promote revenue generation for businesses:
#1: Kiosks Are Programmed to Upsell or Cross-Sell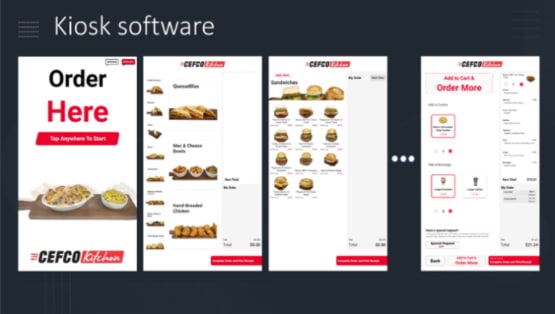 It's seemingly effortless to upgrade at fast-food restaurants. They have the upsell/cross-sell down to a science. With a self-service kiosk, businesses can leverage this same successful, streamlined process to upsell or cross-sell, across any industry.
What's the benefit of using kiosks to upsell? Even though employees can be trained to offer the upsell, they don't always follow the script. Even with a script, it can become monotonous over the course of the day, for an employee to ask every guest, and, at points, it can even sound robotic and insincere. In addition, humans are not conditioned to deal with rejection, and, when it's busy and they have a long line of people watching them, they might not feel comfortable taking the time to ask every single guest.
However, kiosks can be programmed to offer the upsell or cross-sell each time, flawlessly.
Presenting the upsell opportunity to customers visually on a kiosk screen is faster and more effective because the user controls the speed. Businesses can customize the kiosk software to offer a premium item instead of the less expensive option or it can suggest a complimentary item, like the drink or fries.
What kind of upsell and cross-sell results are businesses experiencing? Self-ordering kiosks for the food industry have been shown to generate up to 30% higher value orders than in-person orders. In addition, businesses have seen large increases in add-ons, which are an upsell item such as extra meat, premium sides, beverages, desserts, etc., when they transition to self-service kiosks.
#2: Kiosks Lead to Lower Costs Which Generates More Revenue
Another significant benefit of self-service kiosks is the ability to reallocate employees to higher-valued tasks. Kiosks present the perfect opportunity for specific repetitive tasks such as ordering food, checking in, or buying tickets, where many guests would prefer to do this on their own without assistance.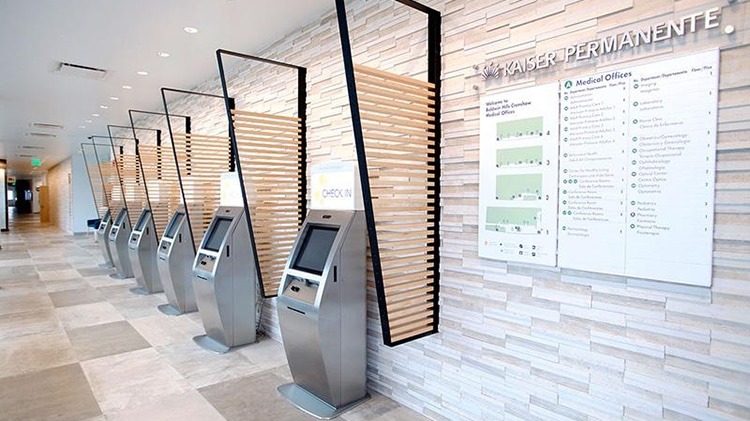 The intent of self-service kiosks is not to replace people or a personal interaction. It's just the opposite. A strong self-service offering helps your employees shine. By automating tedious tasks, it lets employees focus on other activities that result in a better guest experience and that helps with customer loyalty to ultimately increase sales over the long run.
First-level guest service like order taking and box office services or check-in will still require a human who is tasked with overseeing these activities in the event of an issue. However, for most businesses, it will mean fewer staff in these positions, therefore less money invested in training and benefits, and ultimately, it will lower operational costs.
While there will always be employee turnover, a kiosk can fill in the gap and keep businesses operating at top efficiency and profitability.
Self-service kiosks have also helped healthcare facilities lower costs and deliver more revenue because they can collect co-payments and outstanding balances. Healthcare, too, will always need an employee overseeing collections, however, self-service kiosks offer a very cost-effective means of increasing collections while delivering a far more positive experience for both the facility and the patient.
#3: Users Spend More When They're in Control at the Kiosk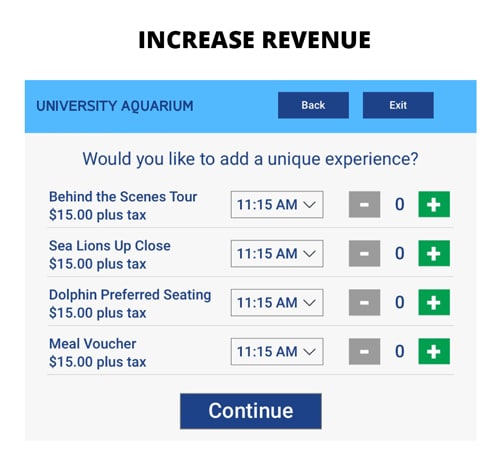 Because self-service kiosks are programmed to offer upsells and cross-sells for products and services at the right time, it's faster, more convenient, and more comfortable for users. The software generates the purchase flow on the screen so users feel like they're in control of the entire process. This often leads to the customer spending more money per visit.
For example, Georgia Aquarium has deployed six kiosks just outside their building. Once a visitor selects a day to visit, they are then offered other opportunities like a behind-the-scenes tour or an animal encounter. The aquarium reports a higher per-capita spending at the kiosks than in box office window transactions. In this case, the user can see the options and what they entail and he or she can move at their own pace. It allows the user to give thought to the offer.
Hospitality venues like movie cinemas started out simply doing ticket sales on self-service kiosks. After having time to learn from their deployments, some venues have upgraded to also offering food and beverage in the purchase flow so that guests can get their tickets and their snacks at the same time. This option reduces the amount of time a guest spends waiting, and they don't have to swipe the credit card again.
Self-service kiosks can also function as marketing tools that help to establish and nurture customer loyalty. Through the software, businesses can easily gather contact information and intelligence about each customer. Then, they can customize offers based on the guest data. Furthermore, customers appreciate the ease and convenience of a user-friendly kiosk. Kiosks present a great opportunity to offer memberships and VIP perks which also help increase guest loyalty while contributing to the bottom line.
Whether using a kiosk as a building directory for wayfinding or an interactive kiosk to make purchases, users receive instant gratification. Today's consumers appreciate being independent and getting things done on their own time. They don't want to stand in long lines or deal with wait times. Self-service kiosk deployments allow customers to achieve the satisfaction they want and expect. A happy customer will spend more and is more likely to become a repeat customer.
Learn More About Boosting Business Revenue with Self-Service Kiosks
Regardless of the industry that you're in, self-service kiosks can promote customer continuity and enhance overall business performance, generating an ROI by increasing sales and reducing operating costs. To learn more about implementing self-service kiosks for your business, get in touch with the experts at Olea Kiosks, Inc. to schedule your consultation.