Over the summer we built a set of unique Monaco Gaming Loyalty Kiosk systems for Sands Casino's worldwide. The loyalty kiosks were shipped to Las Vegas, Singapore, and Macau to the Venetian and Marina Bay Sands properties. In total nearly 200 loyalty kiosks were deployed all around the world for this project.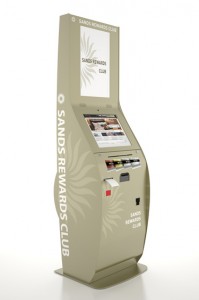 One of the more unique features of the deployment was that each property had their own loyalty kiosk. On the outside each loyalty kiosk system looks distinctly the same and blends well with the properties décor. But on the inside the differences are immense. Some of the properties chose to print new and replacement loyalty cards right at the loyalty kiosk machine which required a full color card printer with magstripe encoding. While other properties had the need to print out Ferry tickets to allow customers to get tickets for a boat to get back to the mainland using Loyalty points. In all three versions of the loyalty kiosk were produced and each included a dual 16:9 monitor configuration. The user interface resides on a 19" 16:9 mounted in landscape while the upper advertising monitor was a 24" 16:9 mounted in portrait mode. Each property also received its own graphic treatment. Units meant for Signapore and Macau were also built to run on 220V instead of the 110V that the Las Vegas machines use.
Between the three properties customers can lookup Loyalty accounts, replace cards, sign up for new accounts, print vouchers, print Ferry tickets, and play loyalty games all on the kiosk.
Loyalty Kiosk Systems for Any Application
Contact Olea today about a quote for your casino loyalty kiosk program, or loyalty kiosks machines for any application such as grocery store, restaurant, and retail.