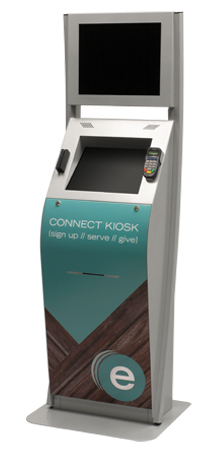 We hear plenty about kiosks for commercial applications like retail, healthcare and hospitality, but what about leveraging the benefits of kiosks for not-for-profit endeavors? First, do not box in non-profit kiosks to the notion that they can only serve as fundraising kiosks, because that greatly diminishes the full spectrum of the features and benefits that kiosks can offer non-profits. As with any commercial application, kiosks for non-profits can handle
Logistics
Human resource management
Memberships
Merchandising and more
Outsourcing certain tasks to automation affords non-profit personnel more time to focus on fundraising and building awareness. Here are just a few examples of ways Olea Kiosk's solutions can help your non-profit achieve its mission.
Fundraising Kiosks at Non-profit Events
A non-profit event fundraiser is like any enterprise: you must increase bottom lines for your stakeholders and one way to do this is to increase the average size of the donation from each attendee. Here are just a few ways fundraising kiosks can increase fundraising efforts.
Use pre-set donation amounts. We have seen in other articles how up-selling and cross-selling are key benefits when deploying kiosks. Quick Serve Restaurants (QSR) rely on QSR kiosks to increase average check size by recommending add-ons and related items. Your fundraising kiosk should be no different. Perhaps your average donation size is $27 and you aim to increase that average to $30. On your donation screen offer buttons for $30, $50, $75 and Other as the go-to options and guide donors towards the amounts you aim to achieve. The "other" option gives donors the option to donate less or more than the target, should they choose to.
Alleviate congestion at check-in. Not all non-profit events are fancy dinners where attendees expect to be greeted and seated by real person. Have you ever been to a fun-run fundraiser? If so, then you know how hectic these types of events can be. Check-in kiosks can be used to check in attendees and provide wayfinding services so that attendees know where to go next. Special printers can be used to print racing bibs at marathons or name tags and conventions. Once again, looking to increase donations? The check-in kiosks can also double as fundraising kiosks, accepting donations as attendees check in.
Fundraising Kiosks for Places of Worship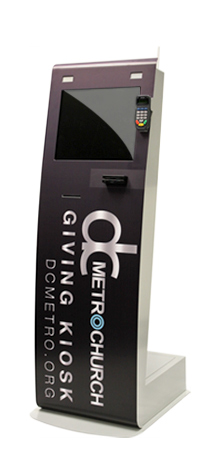 Churches, temples, mosques, and other places of worship typically have some sort of established donation practice. These days, however, the day of digital payments, the traditional passing of the basket seems somewhat dated. Less and less people are carrying cash or checks, so offering a way to accept contributions that is easily available for membership is a must.
Fundraising kiosks are a great way to accept contributions with payment cards as well as through electronic methods such as Apple Pay. Moreover, institutions do not have to wait until the ceremonious "pass the basket" routine to raise funds, as the kiosks are available any time the place of worship is open to visitors, therefore making it possible for visitors on off-days to make contributions at their leisure. As with any kiosk that Olea Kiosks develops, kiosks designed for places of worship can also serve as cross-functional units. The kiosks can provide wayfinding, information, and even coordinate sign-ups for programs like youth groups.
Contact Olea Today
Increase your fundraising capacity, do more for your stakeholders, and better serve your membership. Contact Olea today to find out how we may help you design a kiosk that is right for your non-profit.