Internet Kiosks
April 29, 2013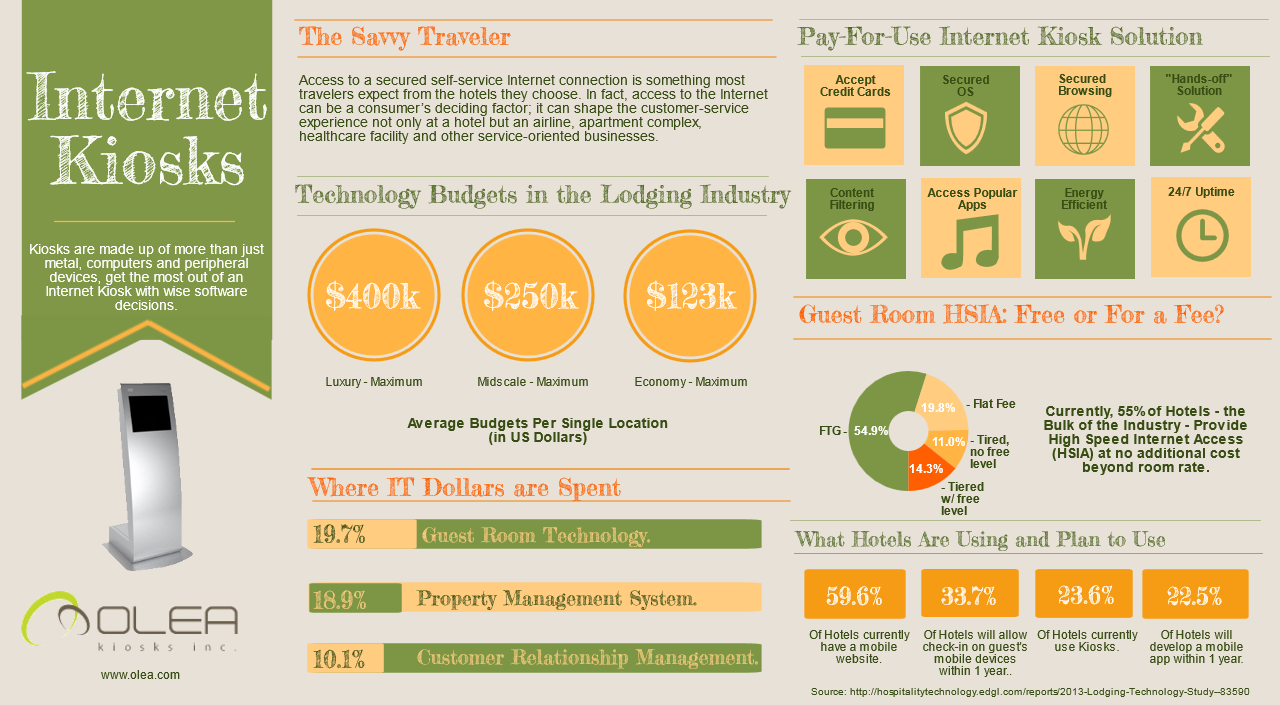 Internet Kiosks
Kiosks are made up of more than just metal, computers and peripheral devices, get the most out of an Internet Kiosk with wise software decisions.
The Savvy Traveler
Access to a secured self-service Internet connection is something most travelers expect from the hotels they choose. In fact, access to the Internet can be a consumer's deciding factor; it can shape the customer-service experience not only at a hotel but an airline, apartment complex, healthcare facility and other service-oriented businesses.
Technology Budgets in the Lodging Industry
Average budget for a single location:
$400,000 Luxury
$250,000 Midscale
$123,000 Economy
Where IT Dollars are Spent
19.7% Guest room technology
18.9% Property management system
10.1% Customer relationship management
Pay For Use Internet Kiosk Solution
Accept credit cards
Secured OS
Secured browsing
"Hands-off" solution
Content filtering
Access popular apps
Energy efficient
24/7 Uptime
Guest Room HSIA: Free or For a Fee?
Currently, 55% of Hotels – the Bulk of the Industry – Provide High Speed Internet Access (HSIA) at no additional cost beyond room rate.
44.9% Free to guests
19.8% Flat fee
11.0% Tiered (no free level)
14.3 Tiered with free level
What Hotels Are Using and Plan to Use
59.6% Of hotels currently have a mobile website
33.7% Of hotels will allow check-in on guest's mobile devices within 1 year
23.6% Of hotels currently use Kiosks
22.5% Of hotels will develop a mobile app within 1 year