Although mobile apps were once predicted to overshadow self-service kiosks, both have become a key component of many businesses' digital strategy.
Seven years ago, the CEO of a restaurant technology firm predicted that self-service kiosks were on the way out, their purpose made irrelevant by the spread of mobile apps. Why would a customer bother with a kiosk when they could perform the same functions on their mobile devices, he asked? Kiosks just weren't that interesting.
Today, the market for self-service kiosks continues to expand, with the latest of many rosy projections forecasting a compound annual growth rate of 5.7 percent over the next six years, reaching $30.5 billion by 2023.
At the same time, the outlook for mobile ordering apps continues to improve as well, with foodservice players such as Starbucks, Panera Bread and Chick-fil-A banking on much of their sales growth to come via mobile ordering. Research firm App Annie indicated that more than 90 billion apps were downloaded in 2016, while an August 2016 study by Business Insider predicts that sales on mobile ordering apps will grow at a rate of 57 percent per year through the end of the decade, reaching $38 billion by 2020.
The fact that both methods of transacting business continue to thrive indicates that rather than one resulting in the elimination of the other, both self-service kiosks and mobile applications are going to be an integral part of a successful omnichannel strategy.
An abundance of options
Although that CEO can't be faulted for hanging his hat on a hot new technology, there are plenty of examples of how a new way of transacting business can take its place side-by-side with existing methods. The fast-food drive-thru, for example, didn't kill the inside ordering counter, and the ATM didn't eliminate the need for the brick-and-mortar bank. Offering multiple ways for consumers to interact actually helped increase customer satisfaction and improve operations for those industries.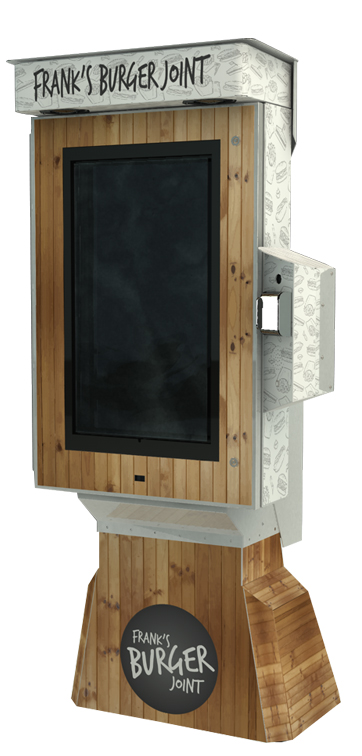 Even as companies such as Panera Bread invest in mobile ordering apps and add delivery services, they continue to outfit stores with self-order kiosks. In fact, the company said last year that one of its Boston locations was doing 60 percent of its business via those kiosks. In addition, industry giants such as McDonald's and Subway have recently announced plans to incorporate kiosks into their offerings as a way to improve efficiency and increase sales.
There are a few simple reasons why apps won't supplant the use of self-order kiosks. "A mobile ordering app really only makes sense if it's for a restaurant you visit on a regular basis," said Frank Olea, CEO of Olea Kiosks.
"If it's a place you visit every so often, you probably won't go through the trouble of downloading and configuring an app to place an order," Olea said. "With apps competing with music, photos and emails for phone storage capacity, it's unlikely that consumers will load 10 or 20 apps on their phone on the off chance they may visit one of those restaurants."
"If a restaurant has kiosks and I'm not a likely app user I'll use the kiosk versus downloading and configuring an app," Olea said. "Plus, as a kiosk user I'll never be prompted to update my app."
Even if a particular food outlet is a regular in the dining rotation, mobile apps typically require the user to pre-program payment card information. While that may be a convenience for some, others would like the flexibility of being able to choose the payment method they'll use without having to enter new information in the app.
Also, while mobile ordering apps are likely to be a fixture of any business's digital strategy, some studies indicate they just don't have the staying power of other channels. An essay written by Silicon Valley entrepreneur Andrew Chen indicates that the average app loses 77 percent of its user base within the first 3 days after install, and 95 percent of its user base after 90 days.
Finally, while the number of smartphones in the marketplace continues to rise, there will always be a segment of the population who just won't use apps. In fact, information from research firm comScore indicates that app usage declines with age, and that nearly half of smartphone users don't download any apps at all.
The broader market
While much of the faceoff between mobile apps and self-service kiosks is taking place in the restaurant industry, the lessons learned can be applied to other markets as well. Retail, hospitality, health care, transportation and event ticketing are just a few of the verticals offering opportunities for both kiosks and mobile apps.
For most of these industries kiosks were being used before mobile apps, so many consumers are already familiar and comfortable with the technology. While there is a segment of the population that is happy to live their lives through their mobile devices, there's an even larger segment that desires more, not fewer, choices on how to conduct business. Trying to force those people into a single method is likely to be a losing proposition.
"I think mobile absolutely has its place, but I think trying to go strictly mobile isn't likely to work," Olea said.
"It's all about being the path of least resistance in order to become the consumers' frequent choice," he said. "Options such as kiosks as well as walk-up, drive-thru, web and mobile all make that possible in an omnichannel strategy."
The best way to provide a self-service solution that is accessible by all types of users, is compliant with privacy rules and helps improve operations for the deployer, is to work with an experienced kiosk vendor who is well-versed in the ever-changing regulatory environment. Olea Kiosks stands ready to help.