What if someone offered your Quick Serve Restaurant (QSR) chain an easy way to increase sales by 15%? What if this same solution could also reduce operating costs? And what if this solution cemented your brand's leadership position for the next 25 years or more?
There is such a solution, and virtually any QSR restaurant chain – on any budget – can afford it.
QSR Kiosks are quickly changing both customer experience with better accuracy and convenience, and bottom lines with higher throughput. Operators that adopt QSR Kiosks now will position themselves for future success in the same way that McDonalds dominated fast-food in the 1960's as they introduced the innovative "drive-thru window" to revolutionize the quick order dining experience.
Drive-thru QSR Kiosks Solve the Customization Issue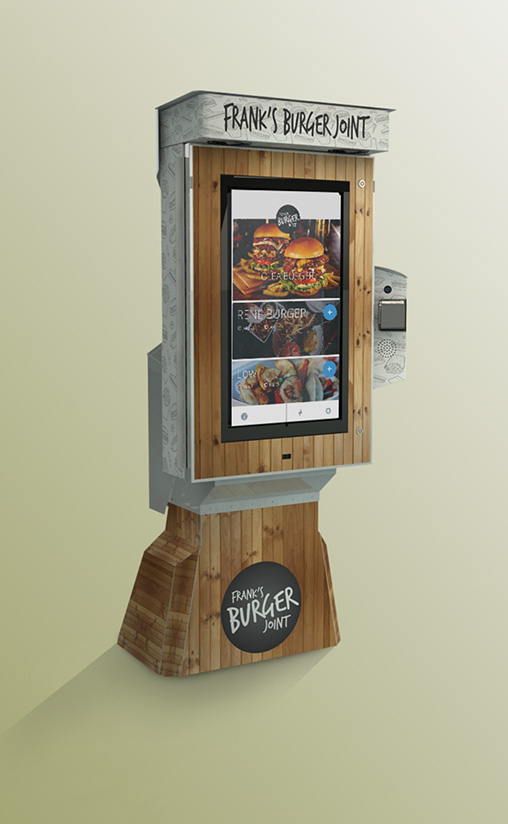 For the average national fast-food chain, the drive-thru can represent 75% or more of all revenue. This model works well in traditional fast-food where menus and offerings are limited, but with major growth in healthy and fresh quick order restaurants, customers are starting to demand more customized offerings in niche categories.
Olea Kiosks is leading the way with the development of a revolutionary QSR order-entry kiosk designed specifically to handle highly-customizable fast food menus through a user-friendly self-service interface that is easily accessible by drive-thru patrons.
The Olea QSR order-entry kiosk has already been deployed to over 200 fast food restaurants, including a prominent national sandwich chain.  During the initial test phase, the sandwich chain found that drive-thru sales increased by 15% and the average pay-back time for the investment was 24 weeks at each location.
This sandwich chain had found that previous tests using a standard drive-thru model with a human communicating through a speaker was too slow and challenging for both the patron and the drive-thru attendant.  With the use of the drive-thru QSR kiosk, this chain found that the efficiency of the ordering experience improved exponentially.  Interviews with managers at the test stores said that the QSR kiosks alleviated previous issues with speed and accuracy that they had encountered when testing a standard human-to-human drive-thru model.
Olea's Revolutionary QSR Kiosk
Olea's QSR kiosk is built specifically to handle the challenges faced by an outdoor kiosk that will be used by a high volume of users.  The 32" touchscreen monitor uses "high bright" technology to ensure that it is easy-to-view in any weather condition.  The large user interface provides ample space for a highly customizable menu, such as that used by sandwich chains that allow for customized meats, sauces, toppings, and bread.  Additionally, the screen is movable to accommodate a variety of car window heights, ensuring that everything from a small compact car to a large full-size truck or SUV can easily interact with the touchscreen interface.
The Olea QSR kiosk is also configured to accept a wide variety of payment methods, including traditional payments through cash, debit and credit card, but also the new wave of payment systems that use Near Field Communication (NFC), such as Apple Pay and Android's mobile payment system.  Additionally, the unit is manufactured entirely in the United States and built using the most durable materials and components to ensure longevity in a high-volume environment.  The unit also is built with internal air conditioning to further ensure that it will run well in any outdoor environment.
Contact Olea Kiosks Today
QSR kiosks are the next "big thing" in fast food dining.  The ease and speed of ordering, as well as the major improvement in order accuracy, are creating major benefits for both the consumer and the restaurant owners.  Contact Olea Kiosks today to have a custom QSR kiosk built for your fast food or quick dining restaurant.