Custom Digital Kiosks at the Space Needle
August 18, 2014
Seattle's iconic Space Needle recently received a major upgrade with a set of new custom digital kiosks. The main attraction is an 8-foot tall by 20-foot wide interactive touchscreen called "SkyPad". The interactive experience is a journey through "52 years of sunsets, celebrations, history, and imagination" according to the Space Needle's website. Visitors can interact with this colossal custom digital kiosk screen in an augmented reality experience taking them on a visual journey to local landmarks.
Throughout the rest of the space are 10 customized 32-inch landscape digital kiosk machines that complete an interactive virtual tour. The 520 Teleporter experience is powered by Olea Milan kiosks, the cutting edge in digital kiosk technology. Visitors can take a journey throughout the entire attraction, from the observatory to the gift shop via an interactive tour.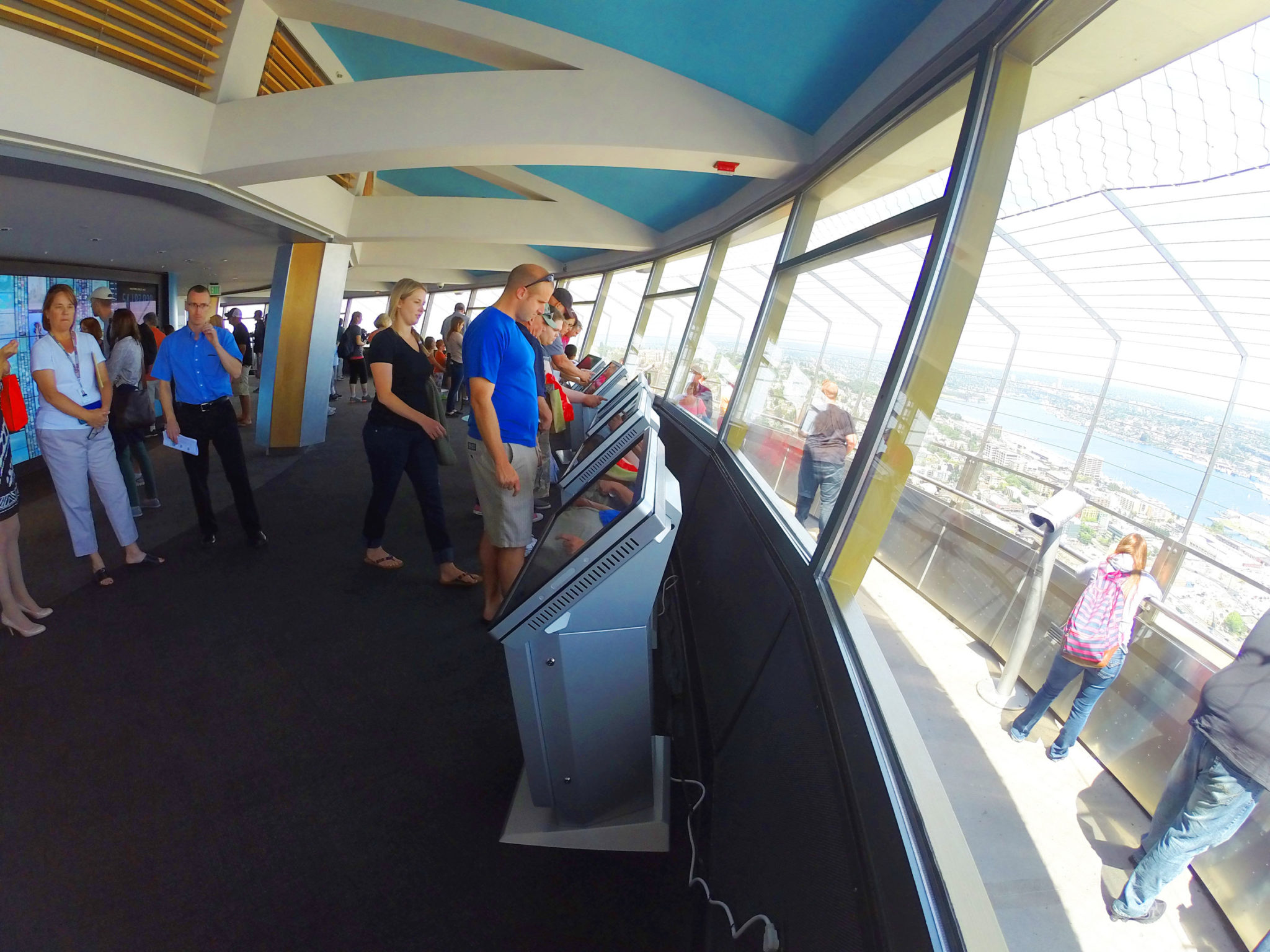 Custom Digital Kiosk Machines
For those wanting to capture the memories of their outing, the Milan kiosks at The Space Needle are equipped with a system called SpaceBook. This program takes photos of your journey for you! No camera needed. At the end of your journey visitors to scan their entry ticket at a digital kiosk machine and choose from their personalized photos that can be emailed or shared on social media.
"We are excited to have our product deployed at such an iconic landmark," says Frank Olea, CEO of Olea Kiosks. "The entire digital experience was very impressive. All of the Space Needle's new interactive applications are world class and add an exciting new element to the visitor experience."
This is Olea Kiosks second engagement with The Space Needle. Olea was first commissioned to deploy digital kiosk systems as ticket vending machines. This relationship has blossomed from ticketing to custom digital kiosk machines that provide a cutting-edge, memorable experience to the attraction's millions of annual visitors.
An interesting design element of this deployment is that the standard 32-inch Milan Landscape kiosk machine comes stock with a wider base. But, given the space limitations in a structure such as The Space Needle, Olea Kiosks developed a custom digital kiosk system that reduced the size of the kiosk base to accommodate a less intrusive footprint.
The Seattle Space Needle kiosk machines are the latest in a long line of high profile custom kiosk projects from Olea Kiosks. To find out more about how Olea's world class kiosk systems can enhance your business, contact Olea today!