"Please check-in at the kiosk. Let me help you." Hearing these simple words from a greeter makes patrons more willing to adopt new self-service kiosk technology.
Do organizations need greeters to manage self-service kiosks? Kiosks are deployed to improve visitor flow by eliminating congestion at traditional reception desks and box offices. However, that doesn't mean a need for actual human-to-human interactions no longer exists. Customers still appreciate having a person nearby to answer questions, aid in use, or make them feel valued. Greeters fill this essential role.
What Is a Kiosk Greeter?
As their job title implies, greeters welcome patrons as soon as they enter a facility. They are well-versed in customer service and always maintain a positive attitude. Greeters are knowledgeable about the establishment, direct visitors where to go, and put out fires as needed. Nearly every successful kiosk program has used these vital workers to help guests transition to the new devices.
Benefits of Using Greeters
A misconception is that self-service kiosks replace the need for human workers altogether. While theoretically, this could happen, it's not ideal. Customers crave person-to-person contact, and some will avoid places without live employees. Kiosk greeters bridge the gap between full human service and technology to create an optimized guest experience.
Here are the top reasons to utilize greeters during kiosk deployment:
1. Prevent Technology Hesitancy
Kiosks have been around for decades, but they didn't become commonplace until 2000 when self-service stations first appeared in airports. Back then, most people didn't know how to use them. These kiosks quickly became the norm. Although most visitors have seen and used kiosks at some point, the devices are still brand new to others.
Not all customers will welcome self-service technology with open arms. Older patrons and those with limited technology exposure might find kiosks intimidating. Some may even leave a facility to avoid using one. Greeters take the uncertainty out of kiosks by lending a helping hand to assist hesitant visitors. After guiding them through the process a few times, even the least tech-savvy customers will continue using kiosks for future transactions.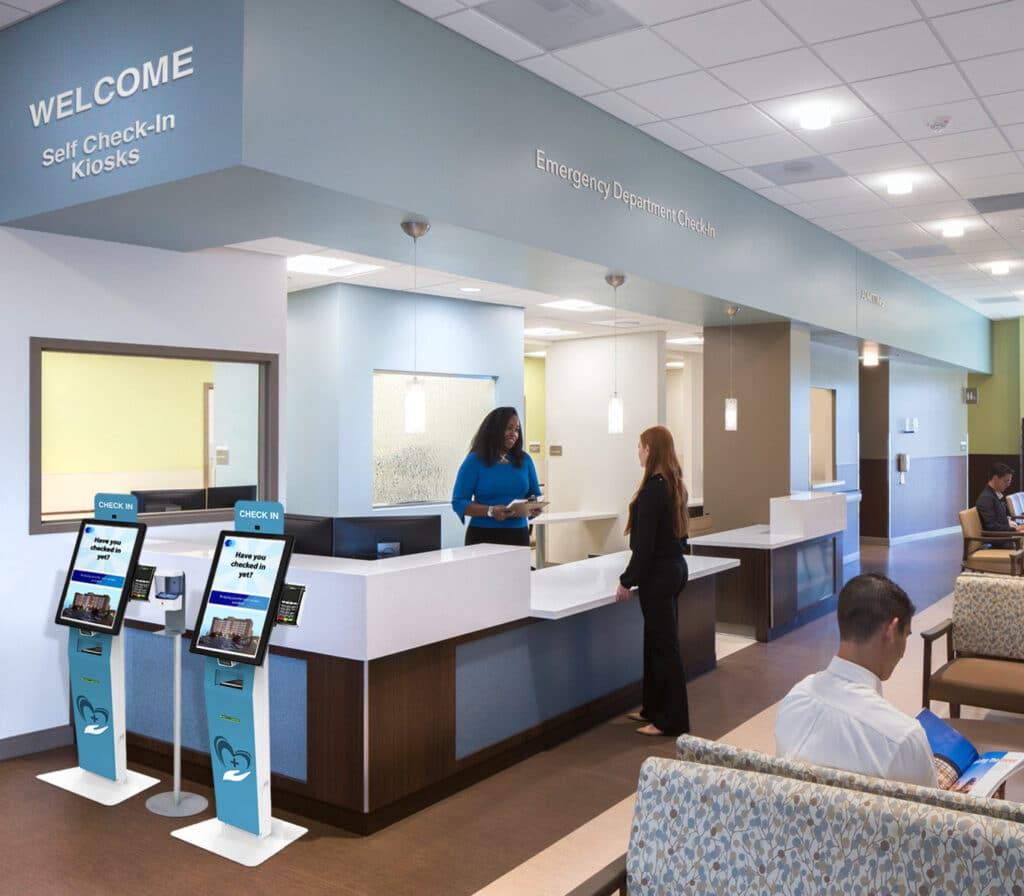 2. Guide Guests in the Right Direction
When walking into a new facility, most visitors glance around for a reception desk or ticket booth. It's easy for them to overlook kiosks—even predominantly placed ones. After investing in self-service technology, you want to make sure people actually use it. Directing customers towards the kiosks is a must, and greeters do just that.
Immediately when a patron walks through the door, a greeter acknowledges their arrival. A friendly, "Please check in on the kiosks. Would you like some assistance?" guides guests where to go next. This simple human-to-human interaction reassures visitors they are in the right place.
3. Create Competent Kiosk Users
Not every visitor walks in a kiosk expert. Some guests require more time to acquaint themselves with the devices. It's common for people to need a few guided tries before they feel comfortable doing it independently. Greeters act as mentors for these patrons.
If someone seems uneasy with the kiosk interface, a greeter will immediately jump into action to resolve the situation. They can explain and demonstrate the system clearly and in a way that makes sense to new users. Other guests might even overhear this conversation and get enough information to teach themselves how to use the kiosks.
4. Improve Visitor Flow
There's an undeniable truth: Visitor congestion happens around box offices. Patrons end up waiting in long lines to buy tickets. Even with kiosks in place, some people will still gather around the reception desk to ask a simple question. These traffic jams impact the customer experience.
A better solution is to place greeters throughout the facility. Greeters can walk around and direct visitors towards self-service booths to help improve visitor flow. Kiosks are more efficient than standing in line. It only takes a few minutes (or less) to complete the transaction. Customers can sign in or make a purchase without delays.
5. Encourage Kiosk Use
People tend to congregate in clusters. If they notice other patrons standing in line, they'll usually follow suit—no matter how long the wait. And if they don't see anyone using the kiosks, they might assume they are out of order.
Assigning a greeter to encourage kiosk use is a better option. The greeter can redirect traffic to the devices and demonstrate how to use them. As other people enter the facility, they'll see others using the kiosks and naturally copy their actions.
6. Qualify Patrons
Kiosks streamline most ticketing and check-in processes, but there are still some tasks they don't or can't offer. This situation is more common in healthcare settings. However, the average patron won't realize this until they try to use the device. Greeters can qualify users when they arrive to determine if they should head over to a kiosk or seek help from another representative.
7. Maintain a Clean Facility
Walking into a messy, unkempt facility is a turn-off for patrons. However, keeping employees inside a ticket booth or behind a reception desk prevents them from maintaining the space. Greeters have the freedom to move about and wipe down kiosks between guests. They can also tidy up the area during slow periods. Keeping the facility looking its best is an easy way to show guests you value their comfort and health.
Creating Highly Effective Kiosk Greeters
Successful kiosk deployment depends on talented greeters. They are front-line workers who represent the face of your organization. As the first point of contact, you want dedicated greeters who have superior people skills and enjoy problem-solving. Skilled greeters can help organizations:
Build brand awareness
Increase customer acquisition
Improve retention rates
Boost sales
Enhance visitor experience
Luckily, you probably have the best kiosk greeters on your team already. There's no need to hire additional staff. Instead, transition your existing customer service workers to this position. The best employees for the job might include your ticket sellers or receptionists. After all, they are already familiar with the organization and have a standing rapport with the customers. In most cases, they will continue utilizing already learned skills as they take on the new role.
Properly training kiosk greeters is a must. Engage them early in the process to ensure they understand the ins and outs of the entire system. They should be experts on the kiosk workflows and functions. Familiarity with the various screens is also paramount. The best greeters provide accurate assistance quickly.
Words also matter when training greeters. For example, instead of asking visitors if they would like to use a kiosk, they should be more direct. "Check-in at the kiosk" is the most effective way to sway patrons to the devices.
Some companies make the mistake of using greeters temporarily. They may only keep them on for a few weeks or months after deployment. However, this isn't wise. Not all guests will visit during that short window, and your kiosk features may change over time. Someone will always need help navigating the system. Greeters are not disposable workers. They will serve the organization well for the long haul.
Transition Your Patrons to Kiosks with Greeters
Kiosks revolutionized how customers check-in and buy tickets. They eliminate the need for traditional box offices and reduce traffic at reception desks. While patrons want self-service technology and want to be in control, they still desire person-to-person interactions. Greeters fill this void. The sooner you adapt patrons to kiosks, the sooner they become long-term users. Ready to install high-tech kiosks at your facility? Olea can help. Contact us to learn about the options and tools that best fit your organization's needs.