The best way to mount and secure your iPad ® in public.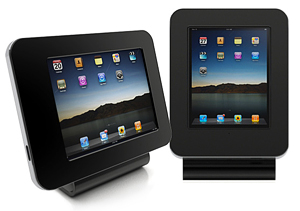 The comPADre iPad kiosk enclosures have made their way into the hands of your local retail store and restaurant all the way up to Fortune 500 and high end retail companies.
comPADre, which means "buddy" in Spanish, is designed to be the coolest and safest companion for all generations of the iPad. It allows your iPad business to take advantage of the multi touch screen capabilities of this hip device in a whole new and secure way. The comPADre comes in three variations: table mount, wall mount, and free standing in either landscape or portrait configuration.
You can see more on this iPad enclosure by contacting Olea Kiosks Inc.