If you work in IT, most likely you have heard of Symantec. Their products are used throughout our industry by consumers and professionals alike. In partnership with San Francisco based Red Shift and New York based Big Human, Symantec's Norton Campfire team created a custom Multi-Touch Kiosk that aggregates data statistics, such as usage and sales and displays them in a dynamically visual and interactive presentation.
Each different type of data is displayed via the touch screen using an innovative user interface design. A great example is total sales figures are shown in real time and are displayed as rain drops falling and filling the screen. On another screen, sales in individual countries are shown as their nations flag growing brighter and larger in size. The data being displayed doesn't stop at sales figures; it displays acute information such as a location specific individual's tweet about their experience with a Symantec product.
Olea collaborated with Symantec to develop this kiosk hardware that would perpetuate the brand identity that Symantec has spent years creating. The custom Olea designed kiosk uses a 42" infrared multi-touch LCD monitor and a Dell OptiPlex PC. Olea also carefully selected a custom yellow paint that would promote the traditional color scheme Symantec products are notably recognized for.
Another testament as to why Symantec is a pivotal player in the internet and network security industry.
For a more information and a detailed look at the UI of this award winning Multi-Touch Kiosk project please visit the links below: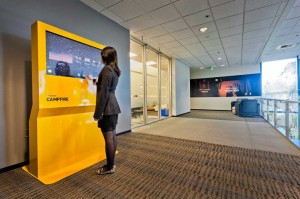 To learn more about the Design Week Awards please visit their site at:
To learn how your company can take advantage of an Interactive Kiosk call one of our kiosk specialist at (800) 927-8063 or email us at [email protected]