Self-service kiosks are an increasingly popular way for businesses to provide a convenient, efficient experience for their customers. For example, self-service kiosks can be used to check in for a flight, print boarding passes, or even pick up a rental car. In the healthcare industry, self-service kiosks are also being used to check in for appointments and to access medical records.
While self-service kiosks have picked up in terms of popularity, it's important for us to help our customers maximize the use of their kiosks. While some guests may still prefer to use the front desk or the box office, the time has come to show them how to take advantage of self-service and how the experience is enhanced.
1. Place Kiosks in High Traffic Locations
One of the best ways to increase usage of self-service kiosks is to ensure that they are placed in high-traffic areas. This makes guests aware of the self-service option and makes it more likely that they will use it.
After thousands of successful kiosk deployments, we suggest that the best way to gain user adoption is to position the kiosks front and center so users cannot miss or avoid them.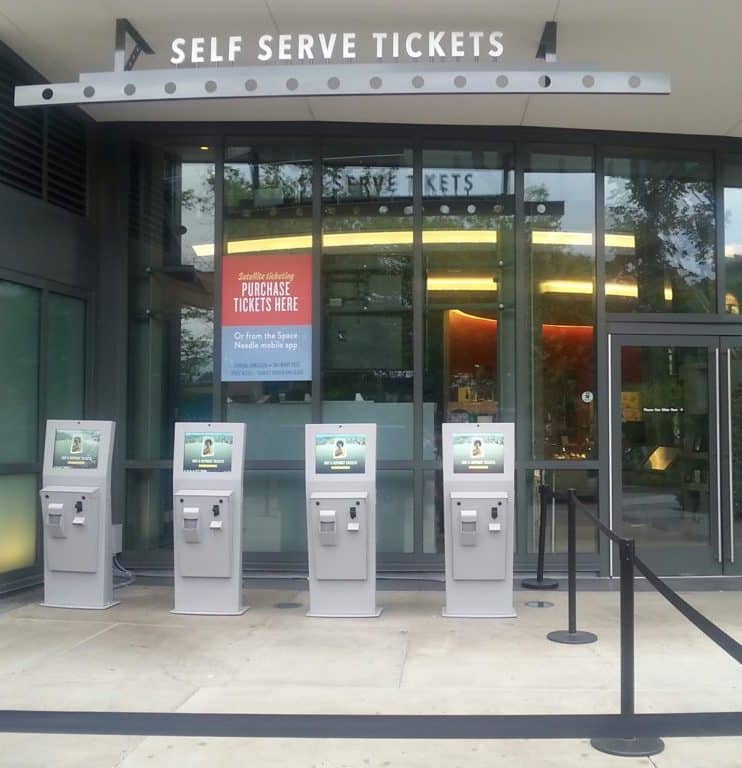 Some amusement parks and aquariums are placing ticketing kiosks in parking garages and just outside of entrances so that all guests see them before entering the facility. Healthcare facilities encourage patients and visitors to use the kiosks when they're placed in front of or around the reception desk. By placing self-service kiosks in strategic locations, businesses can ensure that they are used to their full potential.
To promote usage, the kiosks have to be convenient. If the kiosk is placed in a less-than-convenient location, you defeat the purpose.
2. Greeters
Another way to increase the use of kiosks is to employ greeters or facilitators to encourage guests or patients to use the kiosk.
Upon initial deployment, guests might feel somewhat apprehensive about using the technology, however, if a greeter is there to walk them through the transaction, guests will be more receptive and feel more comfortable using the kiosk.
Customer service representatives and greeters can play an important role when using vocal and physical cues to guide and escort guests directly to the kiosk and then assist them as they navigate the user interface. "Here, let me help you check in on the kiosk," along with a hand pointing toward the kiosk will prompt patients away from the reception desk and to the kiosk.
Redeploying reception desk staff or box office staff to act as greeters can still help streamline operations and create a better user experience with self-service kiosks because it's typically a much faster interaction with the kiosks. As a result, businesses can increase self-service kiosk usage without compromising on customer service.
3. Signage
Signage is frequently used to help trigger self-service kiosk usage. Overhead signage lets people know as they're approaching the vicinity that there are self-service kiosks and can be used to drive traffic to the kiosks.
A simple floor sign saying "try our new self-order kiosks" can help drive users to the technology. Overhead signage and signage around the kiosks should indicate what purpose the kiosks serve—for example, are they for ticketing, check-in, food and beverage orders, etc.
In facilities that have deployed kiosks for various functions, graphics or signage on the kiosk itself can help users understand the purpose of the kiosks. Healthcare kiosks often have a sign on the top of the kiosk indicating "Check-in". Additional signage near the kiosk or as the screen saver with the phrase "Just touch the screen to begin" will prompt some customers to take the plunge.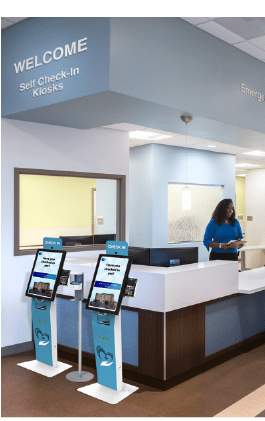 4. Downsize or Remove the Reception Counter
One of the most effective methods of increasing kiosk use is to downsize or remove the box office or check-in counter. While this might seem self-serving, this physical cue tells guests that you want them to use the kiosks and helps to streamline the guest experience.
The data tells us that individuals can check in or perform their transactions on a kiosk much faster than a human interaction. This increases the speed of service and reduces queues. And for those who require assistance, businesses can redeploy those workers as greeters who can assist while using the self-service options.
By making self-service kiosks more visible and accessible, businesses can increase their usage and improve the guest experience.
Self-service kiosks are a growing trend in many industries as businesses strive to enhance the user experience, streamline operations, and improve the ROI of their deployments. To ensure your kiosks are being used effectively, it's important to consider placement, signage, and greeters. By following these best practices, you can enhance the guest experience, increase the number of guests using your kiosks, and see a corresponding boost in efficiency for your business. If you're interested in learning more about how self-service kiosks can benefit your business, reach out to our team today.