As long as a meaningful portion of the population is underbanked, self-service solutions will drive positive ROI for billers, deployers and their hosts
Few routine tasks are more annoying than paying bills. Not only is the act predicated unpleasantly on surrendering hard-earned cash, but the mechanism of the payment itself can be a significant bother.
Consider for example the tedious antiquity of writing checks. Although many people still use them, the number written every year has declined by 50 percent from 2000 to 2012, according to a Federal Reserve Study. No wonder that's the case, given the complexity of the process: One must keep a supply of checks on hand, manually write the relevant information, log the amount in a register in order to balance the account later, all while ensuring stamps are on hand to mail the check to the appropriate address. Oh, by the way, where is the nearest mailbox again?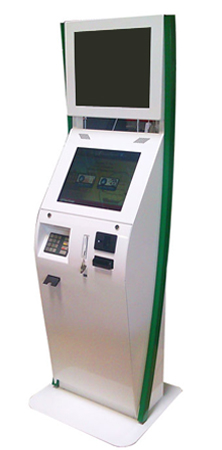 As more people and businesses have embraced the full potential of the Internet, online bill-payment came to represent a huge increase in convenience. Now, while sitting in front of the television or even waiting in line at a restaurant, any debtor with a laptop or other mobile device can visit a website, enter his or her credentials and in a matter of seconds make a payment on a utility, car loan, mortgage or virtually any other kind of obligation.
Even that system, however, has its shortcomings. First, many people rightly are concerned about security. While data storage at financial institutions and retailers is generally safe (Target's and other infamous breaches notwithstanding), less certain is the integrity of one's personal Internet connection or any public Wi-Fi link that may be engaged as part of the transaction string. Second, keeping track of the various log-ins and passwords can be daunting, especially if one interacts with different devices throughout the day. Best practice is to use different passwords for different accounts, but that puts a not insignificant burden on the user to keep them all straight.
Adding another layer to the matrix is the fact that so many people in the United States and many more across the world are either unbanked or under-banked.
According to an infographic published by the World Bank, 2.5 billion people do not have formal financial accounts, nor do 75 percent of the world's poor, owing not only to a lack of bankable resources but also to travel challenges. Fear of paperwork among groups where many are illiterate also can have a chilling effect.
The condition is not limited to the second- or third-world regions or the destitute. Even in high-income economies, 11 percent of adults forsake financial institutions altogether. Many do so owing to immigration status or prohibitively poor credit history, or simply out of a belief that banking is too complex in a world where there are so many other, simpler options, such as receiving compensation electronically on bespoke debit cards. The Federal Reserve says that an additional 14 percent have only minimal access to them.
What that means is that not only abroad in developing regions but even in the United States and Europe, there is a strong case for the deployment of bill-payment kiosks, and that their use-case is undiminished in the glare of the computer or smart phone screen.
In fact, says Bradley Cooper, a technology editor at NetWorld Media Group, which publishes KioskMarketplace, many people prefer kiosks over online payment for one reason alone: convenience.
"Businesses still need that bill-pay kiosk, because it is still easier for customers to get chores done while they are out shopping rather than at home," he said. "Also not every business has a good mobile app yet for payment."
Furthermore, "It's less that online is eating into bill payment's business and more that bill payment kiosks have become just another piece in the omni-channel puzzle," he said.
Cooper also says that in areas where virtual currency is increasingly popular, such as India and the Caribbean, bill-pay kiosks are an especially effective deployment.
The Models
<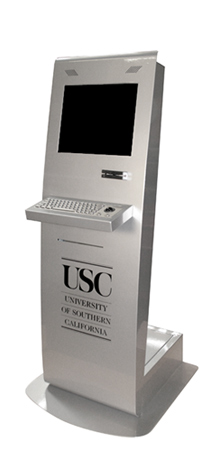 Bill-pay kiosks are deployed in several different scenarios, with the common denominator among them that a consumer uses an electronic kiosk to render a payment to the institution to which it is owed.
One variation once inside that simple model is whether the kiosk accepts cash and cards or cards only. Obviously, not having to accept cash simplifies the deployment significantly. Cash-acceptance adds considerably to the initial and long-term cost of a kiosk and foists upon the deployer the additional onus of fraud potential and cash servicing. That further hassle may be necessary, depending on the specific demographic, but where there is a customer base largely in possession of cards, a deployer might do well to limit transactions to plastic and eschew paper and coin altogether.
Whatever the means of payment, a second set of variables addresses who owns the kiosk and where the kiosk is deployed. Anywhere from one to three parties may be involved in these arrangements.
ONE PARTY
Example: ACME Cellphone Company deploys kiosks in its lobbies so customers can pay their bills without distracting store staff.
Pros: No intermediary to pay a share of the transactions. Complete control over the units at all times. Brings customers to the store where they can be exposed to new products and offers.
Cons: Limited footprint limits convenience for customers. No opportunity to use the bill-pay kiosks for marketing to non-customers.
TWO PARTY
Example: ACME Cellphone Company contracts with U.S. Food Stores to place kiosks in its row of kiosks at the front of the store.
Pros: Added convenience for ACME customers. Kiosk wrapping and attract-loop can market to potential new customers.
Cons: Added costs to maintain offsite technology. Either share of transaction or set fee goes to kiosk host.
THREE PARTY
Example: John Doe Kiosks LLC decides to get into the self-service business. He buys a number of bill-pay kiosks and approaches the town's largest grocer and largest convenience store chain, who agree to host his machines. Armed with economies of scale and the ability to provide a hands-free payment-acceptance solution, he is able to secure contracts not only with ACME, but also the local utility providers and the cable company.
Pros: Potentially lower transaction costs than in a two-party arrangement. No capitol expenditure. Turnkey solution means fewer staff hours are needed to oversee the kiosks.
Cons: The unpredictability of having another company be wholly responsible for part of your payment-remittance program. Not being in directly in touch with part of your customer experience. Increased potential for payment errors.
There is no one choice from the above that is inherently better than the others; rather, parties investing in bill-pay kiosks need to carefully evaluate the matrix of trade-offs for the model (or models) that suits them best.
In Part II of "Bill Pay Kiosks: The Business Models and Keys to Success", we examine how to maximize the ROI of the deployment regardless of its iteration.
Contact Olea Kiosks Today
Many executives of service providers are seeking to increase revenues through the employment of cutting-edge digital kiosks. Kiosks provide organizations with flexibility, and user-friendly software can be easily configured to suit your customers' unique needs. Contact Olea Kiosks today to find out how to maximize ROI potential with our first-class, award-winning digital kiosks.