As governments face increased cost pressures, government kiosks can further advance the efficiency of government organizations by facilitating transactions that a typical personal device cannot.  Mobile applications and sophisticated web sites have greatly improved government efficiency, but there are limitations.  Mobile applications cannot test vehicle emissions, print live checks for payment, or verify identity via biometrics.  This article will show just a few of the exciting new ways that government kiosks are connecting constituents with services while at the same time streamlining government and increasing satisfaction.

Airport Customs Kiosks
With international travel to the United States on an upward trend and budgets for homeland security under strain, customs officials are always looking for ways to increase efficiency while maintaining security.  Olea's airport customs kiosks deployed at Dallas Fort Worth (DFW) international airport have done just this.
In 2013, Olea introduced the Automated Passport Solution (APS) kiosk, an innovative self-service customs inspection kiosk that exponentially reduced processing times for international travelers.  This automated kiosk system scans passports and administers a series of automated questions to allow users to pass through customs using this self-service technology. Meanwhile, a live customs official monitors multiple kiosks, and as passengers complete the initial scan, they continue to the live official for final screening. This setup gives one official the ability to handle a greater number of passengers at a given time.
Government Kiosks for Law Enforcement, Courts, and Corrections
Just like other areas of government, the judicial system is under growing strain from increasing obligation and decreasing budgets. Here are two ways where hardware and software are combining to increase efficiency.
1) Pre-trial Monitoring
Pre-trial monitoring for a defendant facing a pending hearing is a burden to law enforcement. In many cases, officers rely on a phone system to check in with defendants, and this system comes with a few drawbacks. One, verifying that the defendant is actually in their designated area is unreliable over a telephone-based system. Two, the phone call requires an officer to take time to conduct the call.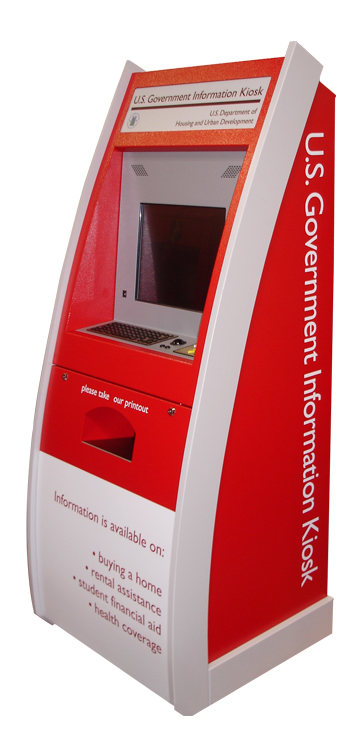 Government kiosks for law enforcement allow defendants the ability to check-in via biometrics. Methods include fingerprinting, voice recognition, retinal scans, hand structure, and more. These authentication methods not only verify the true location of the defendant, but they also reduce the resource overhead required to operate a manual telephone system.
2) Jury Duty
Checking-in and checking-out for jury duty, once meant waiting in a long line. Now, jurors can simply visit a government kiosk and scan a barcode on their jury duty summons to complete check-in/check-out. These check out kiosks have the ability to provide jurors with wayfinding and other information upon check-in, as well as administer immediate juror compensation and proof of service for employers.
Government Kiosks for Emissions Testing
Those of us living in states which require emissions testing will be very excited about this new – and much welcomed – application. In late 2015, Maryland drivers were granted 24-7 access to vehicle inspection kiosks that administer testing for the state's Vehicle Emissions Inspection Program. The kiosks plug into a vehicle's computer and the diagnostic test takes approximately 10 minutes to complete. One slight drawback is that the system works only for most vehicles newer than a 2005 model; however, that addresses a significant portion of the vehicle pool and should provide much greater efficiency for those drivers requiring emissions testing.
Contact Olea Kiosks Today
If you are a government agency looking to bring better services to your constituents while at the same time reducing costs, then contact Olea Kiosks today. We offer free quotes and over 40 years of experience to help you solve just about any challenge.