NFC Technology and Interactive Kiosks
July 29, 2015
Over the last 20 years, the mobile phone has evolved from a simple portable device used to make calls to the newest smartphones which are miniature handheld computers with more computing power than all of NASA's computers that were used in the Apollo moon missions combined!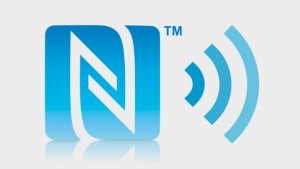 One of the latest technologies to hit mobile devices is Near Field Communication (NFC) which allows smartphones and other NFC-enabled devices to communicate with each other using radio waves.  NFC is becoming a standard feature on smartphones, and the number of NFC-enabled smartphones worldwide is expected to reach 556 million by the end of 2015, with growth to 1.9 billion by the end of 2018.
As NFC phones become the norm, it is allowing for the implementation of new features and functions in interactive kiosks that give kiosk operators the ability to provide greater levels of convenience and interactivity never before seen.  A few of the ways that NFC is enhancing user experience with interactive kiosks are outlined below:

Cashless Payments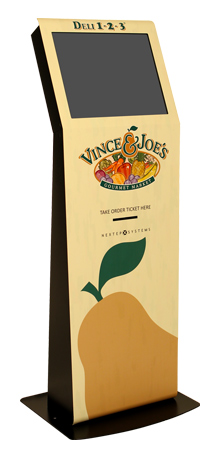 Many smartphone payment systems, such as Google Wallet, utilize NFC to allow users to simply "tap and pay" through NFC-readers, such as self-checkout payment kiosks.  The user's credit card or bank account is configured through the payment app on their phone, and by simply tapping or even swiping their phone near the NFC reader, the transaction is completed extremely quickly and efficiency, without the use of cash or credit card.
Consumers are rapidly becoming more comfortable using self-checkout systems, such as retail kiosks, and the ability to provide an NFC cashless payment system through a kiosk provides the user with unparalleled level of speed and convenience in the checkout process.

Better Marketing through Digital Signage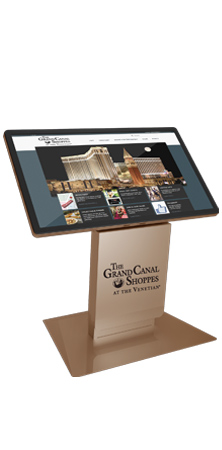 NFC technologies are opening new channels of interactive marketing through digital signage kiosks.  Similar to QR codes, NFC allows for the user to swipe their phone over NFC-enabled devices and have a website launch on their phone.  Unlike QR codes, NFC is built into new smartphones, which means a secondary app is not required for users to view NFC content, and this will lead to much higher consumer utilization.
One example of how NFC can enhance the marketing experience is through a wayfinding directory kiosk that guides users to their desired destination in an office building.  By incorporating NFC into the wayfinding kiosk, the directory listings can include a "more info" link that will send the user to the company's website on their smartphone when they swipe over that link, and thus giving the company the ability to communicate much more information to the user than would be reasonably possible through a wayfinding solution alone.
Additionally, through digital signage kiosks that are running video advertisements on the kiosk, each advertisement can include a call to action that the user can swipe using an NFC-enabled phone, and that will launch a contact submission form on the user's phone.  While users are often less likely to submit their personal information on a public device, such as a digital signage kiosk, by launching the submit form on the user's phone through the NFC swipe, the consumer can feel more secure about submitting their information, and this increases the marketing conversion rate.

Better Healthcare through NFC-enabled Kiosks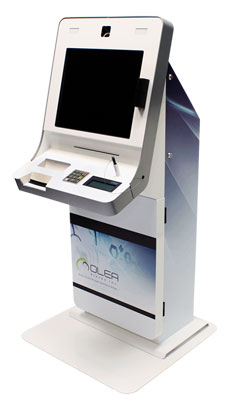 As healthcare kiosks are becoming commonplace in doctor's offices, pharmacies, drug stores, medical buildings, and even non-medical locations, such as grocery stores, users are gaining huge benefits in convenience and efficiency with everything from scheduling appointments, patient check-in, bill pay, diagnostic scanning, and managing prescriptions.
With NFC-enabled healthcare kiosks, users can verify their identity with a simple swipe of the phone, making the check-in process quick and efficient.  Similarly, once the patient completes their visit, by using NFC payment on their smartphone, the user can check-out in a matter of seconds.  In addition, through NFC-enabled pharmacy kiosks, users can confirm their identity through their NFC smartphone, which then allows them to view status of their prescription and request refills, all in just a few seconds.

Keyless Entry through NFC Security Kiosks
As mentioned above, NFC smartphones can be used to confirm a user's identity, and thus is a great fit for security kiosks.  For low-to-medium level security applications, using the NFC technology to gain entrance is gradually replacing ID badges as the preferred method of managing automated entry.  Users may sometimes misplace or forget an ID badge, but users rarely are without their smartphone!

Olea Kiosks – 4 Decades of Award-Winning Kiosks!
Olea Kiosks has been building award-winning interactive kiosks since 1975.  During that time, we have maintained a commitment to building the most technologically-advanced, efficient, user-friendly, and aesthetically beautiful kiosk machines.  Contact Olea Kiosks today to find out how the latest NFC kiosks can bring greater efficiency to your business!