An Overview of Kiosks Applications
August 20, 2012
Kiosks make a wide spectrum of applications that involve electronic retrieval and recording of information much faster and more efficient. Generally, these are self-contained computer terminals that utilize a touch screen, along with any additional peripheral necessary for its applications such as a card reader or barcode scanner. It's common to find these kiosks in locations where large populations of people need quick and convenient access to information like airports, hospitals, retail malls and banking terminals. The pool of industries that have not adopted the use of Kiosks to give people access to on-demand information continuously grows smaller.
Whether they are used as product displays in retail stores, ticketing dispensers or HR employee portals, kiosks' vast applications and inherent self service capabilities continue to make them more relevant to businesses every day. Modern interactive kiosks offer secure and robust hardware and software to ensure the consistence of user experience as well as preventing unauthorized modifications. As a leading designer and manufacturer of custom modern kiosks, Olea's aim is to develop specialized features and solutions ideal to your specific needs. Contact our engineering team today to see what we can develop for you.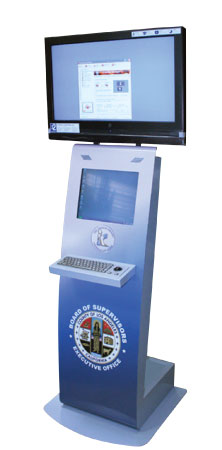 Here are some of the most common applications for our kiosks:
Check-Out Kiosks
Grocery stores and supermarkets now offer more convenience for their shoppers through check-out kiosks. These have the ability to scan bar codes on products, as well as handle monetary transactions by accepting either cards or cash. They help eliminate long congested lines, and reduce the risk of human error.
Internet Kiosks
These interactive kiosks allow people to easily navigate the internet to pull up web pages at any location that the kiosk is located. Simple tasks such as emailing and research are available on these internet kiosks. They are especially helpful in facilities when long waits are expected such as hotel lobbies and hospitals.
Ticketing Interactive Kiosks
The wait involved with purchasing tickets is reduced significantly with these interactive kiosks. Whether you are trying to purchase tickets to a concert, amusement park or movie theatre, these ticketing kiosks expedite the entire process. They also handle monetary transactions and generally help lower the cost of overhead by reducing the need for cashier staff.