When healthcare providers search for new ways to grow their bottom line, they often start by looking for new ways to cut administrative costs. Per one study, U.S. hospitals spend roughly 25 percent of their budget on administrative expenses annually, and many organizations are reducing costs and improving the patient experience by using healthcare kiosks to increase check-in speed, simplify repeatable tasks and help patients find their way around sprawling facilities.
Quick Check-in Improves Efficiency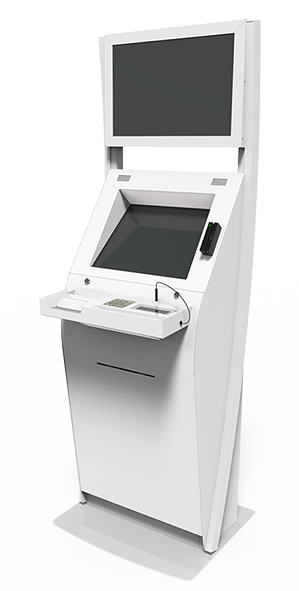 Self-service medical kiosks in the reception area allow patients showing up for medical appointments to check-in quickly and easily through an intuitive digital touch screen interface or in many cases, even with a simple swipe of a health plan member card.
In one case study of a hospital that deployed healthcare kiosks, 75 percent of patients thought that self-service check-in time was faster, and 60 percent preferred kiosks because they had shorter lines.
Once patients check in, they can also make any necessary updates to their personal information, and the kiosk can transmit the data simultaneously to the billing office, the reception area, and the health records department. This newly found efficiency typically results in medical practices cutting their costs significantly. One provider with multiple locations estimated that the average cost of kiosk check-in to be between $0.74 and $1.12, compared to $8.12 per check-in through a reception clerk.
Kiosks can also allow patients to update necessary forms. A kiosk's electronic signature pad allows patients to read and sign documents such as general consent, patient rights, HIPAA privacy notices, and Medicare utilization forms, effectively digitizing the process. Some organizations have reported up to a 50 percent reduction in staff time spent scanning and handling completed paperwork.
Self-Service Makes Payments and Scheduling Easy
Healthcare kiosks can help streamline the process of collecting payments and setting future appointments, freeing staff to speak to patients who have questions about insurance, doctor referrals or medical record transfers.
Each year, patients in the U.S. spend more than $326 billion in healthcare payments directly to their providers. Thus, providers find a lot of value in providing convenient onsite methods of payment. In fact, healthcare facilities can configure kiosks to display outstanding patient balances, accept credit or debit cards with either magnetic strip or EMV chip technology, and print receipts.
In several case studies, providers have reported significant increases in collection on overdue bills and co-payments with payment kiosks. Furthermore, patients can use kiosks to check their future appointment dates, search for the next available opening, and print appointment confirmations to take with them.
Kiosks Can Help Visitors Find Their Way Around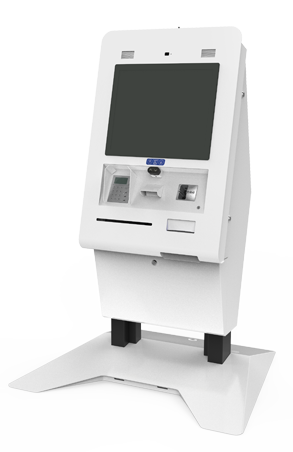 In large and complex medical campuses, puzzled visitors often ask the nearest hospital employee for help finding where they need to go. What seems like a harmless act can be expensive for organizations; studies have shown that redirecting a lost patient takes an average of three minutes, meaning that medical providers can experience significant losses in productivity over the course a year. In fact, one study calculated that a hospital lost $280,000 a year if it had its 150 doctors stop just twice a day to give directions.
Healthcare kiosks with wayfinding capabilities are a dynamic and efficient solution to help a visitor quickly locate any doctor or department, as their brilliant high-resolution screen can display clear directions with multilingual instructions. On the way out, patients can also use the wayfinding technology to direct them to the parking garage or nearest transit stop.
Contact Olea Today
Our award-winning healthcare kiosks can assist reception areas while cutting administrative tasks for providers. Contact Olea Kiosks today to find out how our ADA-compliant kiosks can help your organization increase patient loyalty and satisfaction while freeing your staff to provide efficient medical care.