One of the largest home improvement retailers saw their online sales grow by 37% in 2014. In 2015 online revenue grew another 36%, accounting for over one billion dollars in new online sales. For a business that is traditionally based on in-person sales at brick-and-mortar locations, this growth in online retail is both surprising and inspiring. One of the keys to this online growth is that this retail chain has been a leader in deploying effective omni-channel retail strategies that integrate a sales strategy across multiple mediums.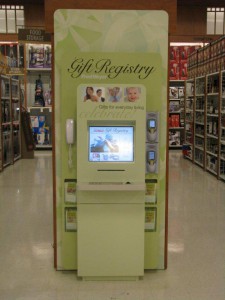 This article will show you how leverage digital retail kiosks and signage into a supercharged omni-channel retail strategy that will drive more revenue to your business through multiple sales channels. But first, what is an omni-channel strategy?
What is Omni-Channel Retail?
Omni is derived from the word "omnis" which means "off all things" and omni-channel retail is the synthesis of multiple sales channels into one seamless sales experience – with a focus on seamless.
For a true omni-channel experience, each touch-point with the customer must be consistent. The home improvement retailer mentioned above is a great example because shoppers are able to shop for and buy their items online (e-commerce channel) from the convenience of their own home, and spend as much time as they want considering options.
With an omni-channel experience, the customer can purchase the item online and choose "pick up in-store" which allows the customer to visit a nearby store for a final in-person inspection of the product. If satisfied with their purchase, the customer leaves the store with the product. However, if unsatisfied, the customer is able to deny the item, leave it at the store for a full refund, and hopefully choose another item.
A key element of the supercharged omni-channel strategy mentioned above is that the retailer installed digital retail kiosk banks to help facilitate completion of online orders in-store. The kiosks are part of an integrated strategy that allows customers to track their existing orders, check inventory, and complete new orders through multiple channels including an online portal, mobile app or kiosk. This, by definition, is a true omni-channel strategy and is likely driving this retailer's stellar growth in new channels.
Up-selling and Cross-selling with Digital Retail Kiosks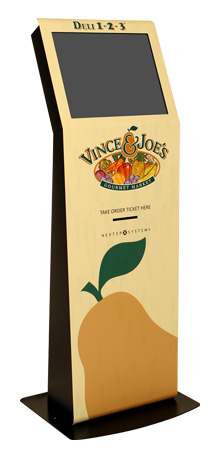 Suppose the customer arrives in-store to complete their purchase of a light fixture that they started online. They visit the retail kiosk to complete their order and the kiosk is able to recommend complementary products the customer might need for this job (cross-selling) such as: wire cutters, volt meters, electrical tape, etc. and of course safety glasses!
The kiosk could also suggest a more expensive light fixture that is superior to the one the customer chose (up-selling). Perhaps there is an energy efficient model available in the same style, and the kiosk can suggest to the customer "Upgrade to the Energy Efficient model for only $12 more and you can save 30% per year operating costs." In a recent infographic we discussed how Amazon has banked on 35% of its revenue coming from cross-selling and up-selling for over a decade.
Imagine the windfall opportunity that is growing an online channel, inviting the customer into the store, and then using cost-effective omni-channel retail kiosks to introduce customers to complementary and possibly better products. This is supercharged omni-channel retail!
Retail Area Kiosks: Supercharging the Planogram
The planogram is a retailer's architecture of where certain products are placed to maximize profit. An essential element to the planogram should be digital kiosks and signage, and there are a few simple ways to supercharge a planogram.
Retail Information Kiosks allow customers to price check, locate items in-store (wayfinding), and if the retailer is omni-channel, the customer can locate an item in another store if their current store is out-of-stock. Also, like with any retail kiosk, the customer can be introduced to cross-sell and up-sell opportunities.

Customer Loyalty Kiosks strategically placed throughout the retail area will drive loyalty program sign-ups. One great way to drive sign-ups and profits is to offer a discount on the customer's next purchase by signing up for the loyalty program. Integrating loyalty program messaging into a retail kiosk experience allows for easy tie-ins of loyalty program enrollment with the customer's current shopping experience.
Self-service Retail Kiosks are a great way to decrease wait times for customers. In a recent infographic we pointed out that 72% of customers want self-service when they have a limited number of items, and 55% of customers will defer to self-service when there is a line in the traditional check-out line.
Digital Signage is extremely effective at providing your customers with up-to-the-minute promotional messaging on latest product and pricing specials. Not only does digital signage give retailers real-time ability to influence buying decisions, but digital signage stands out! Digital signage allows retailers to grab attention and direct customers to the most profitable offers in real-time.
A basic omni-channel retail strategy is the culmination of synchronized back-end systems that provide a consistent experience to the customer at each touch-point. A supercharged omni-channel experience is an investment in digital retail kiosks and signage that help combine channels, increase sales, and increase customer satisfaction.
If you are thinking about supercharging your omni-channel retail strategy, then contact Olea Kiosks today! We have over 35 years of experience helping retailers supercharge their profits with our innovative technologies.